Explore the different ways PLNU strives to promote creation care.
Waste
PLNU's initial steps toward sustainability revolved around waste diversion and minimization. It is because of this that our waste program is so robust. With the help of our campus community, PLNU's waste reduction program has received over 16 awards since 2004 and includes mixed recycling, composting, and specialty recycling.
Mixed Recycling
Blue bins are located in all residence halls, offices, classrooms, and lounge areas. Concrete recycle bins are also located outdoors throughout the campus grounds. All these recycle bins can accept paper, cardboard, aluminum, glass, and sturdy plastics. Some items that unfortunately are NOT recyclable include paper coffee cups, paper towels, and malleable plastics such as grocery and Ziploc bags.
Composting
Pre-consumer food is donated, and all post-consumer food waste at the cafeteria is composted at Miramar Greenery, but we also do on-campus composting. All residence hall kitchens and many office lounges have compost bins where coffee grounds and food scraps can be composted and collected by our student recycling team. Flex residents can also elect to have a compost bin in their kitchen and empty it into the compost rotator located near the Flex laundry room.
Donations & Special Recycling
At the end of each semester, SustainPLNU puts donation bins at each residence hall so students can donate clothing or other items still in good condition. We partner with the Rock Thrift Store, which benefits the local San Diego community.
All residence halls and offices have a special box to collect ink and toner cartridges, cell phones, and batteries. Larger cartridges can be sent via inter-department mail to Sustainability. Mail Services accepts styrofoam peanuts for reuse.
Additionally, the SustainPLNU student team will pick up any electronics and metal items for recycling. Place a work order and we'll come to you!
Energy
PLNU has made significant strides in energy procurement. Our first solar panel installation was placed in 2008 with panels located on Golden Gym, Goodwin, Bond, and Fermanian. Our second solar panel installation was placed in 2011 and includes panels on Cooper and Nicholson Commons as well as solar carports that send power to Nease, Klassen, Hendricks, Young, and Draper. In 2011, we also installed a solar thermal system on Nease that provides hot water to the residence hall.
In addition to our solar power, which is generated on campus, PLNU also purchases renewable energy credits (RECs) from our direct access energy provider in the form of wind RECs, which cover 100% of the energy purchased from this provider. Approximately 20 percent of our energy needs are met with our solar generation and approximately 60 percent are covered by wind RECs through our direct access provider. The remaining 20 percent is currently powered by the standard California energy mix.
Water
Due to our location, water conservation is always a sustainability priority. Over the past few years, the landscape crew has been making changes to the grounds and has removed lawns from areas that are not used by the student population and replaced them with drought-tolerant plants. PLNU is also transitioning our water fixtures (including toilets, urinals, faucets, and showerheads) to water-conserving models. Additionally, in 2009 our cafeteria went tray-less. This transition saves approximately 100,000 gallons of water each year.
Carbon
In 2007, PLNU joined hundreds of universities across the nation in signing the Second Nature Carbon Commitment. This commitment states that our campus will be carbon neutral by 2050. As part of this commitment, PLNU submits annual greenhouse gas (GHG) inventories to monitor our progress. Much of our carbon offsetting efforts focus on green energy.
Bike the Jam
Besides energy, one of PLNU's largest contributors of carbon emissions is student and employee commuting. Commuters are encouraged to use green transportation, including carpooling, biking, walking, and taking public transportation. To reward those who use these forms of green transportation, SustainPLNU puts on a monthly event known as Bike the Jam. Anyone who uses green transportation on these days is encouraged to stop for free coffee and breakfast snacks, courtesy of SustainPLNU.
iCommute
For more information about sustainable transportation alternatives, green transportation events, and more visit iCommute.
Food
Food is sometimes an overlooked area when it comes to sustainability, but at PLNU we strive to be sustainable in all our choices. Sodexo, PLNU's food partner, has a number of sustainability initiatives, including commitments to purchase locally. Read more about Sodexo's commitment to sustainability.
Food Recovery Network
While our post-consumer food waste (food that is taken, but unfinished) is composted at Miramar Greenery, any pre-consumer food waste is packaged up and donated to the San Diego Rescue Mission. The Food Recovery Network is a student-founded and student-led initiative supported by the Sodexo staff and a collaboration of students who volunteer to package up food. If you are interested in participating in the Food Recovery Network, please contact Brandon Murray at brandon.murray@sodexo.com for more information.
Community Garden
If you're interested in growing your own fruits and veggies, you should consider joining the Community Garden! Students collaboratively grow fresh crops and maintain the garden facility. In addition to growing your own plants, you'll also cultivate new friendships. The garden is overseen by the Sustainability Department. If you have any questions about the garden or are interested in participating, you can email Alessandra at acaseyba@pointloma.edu.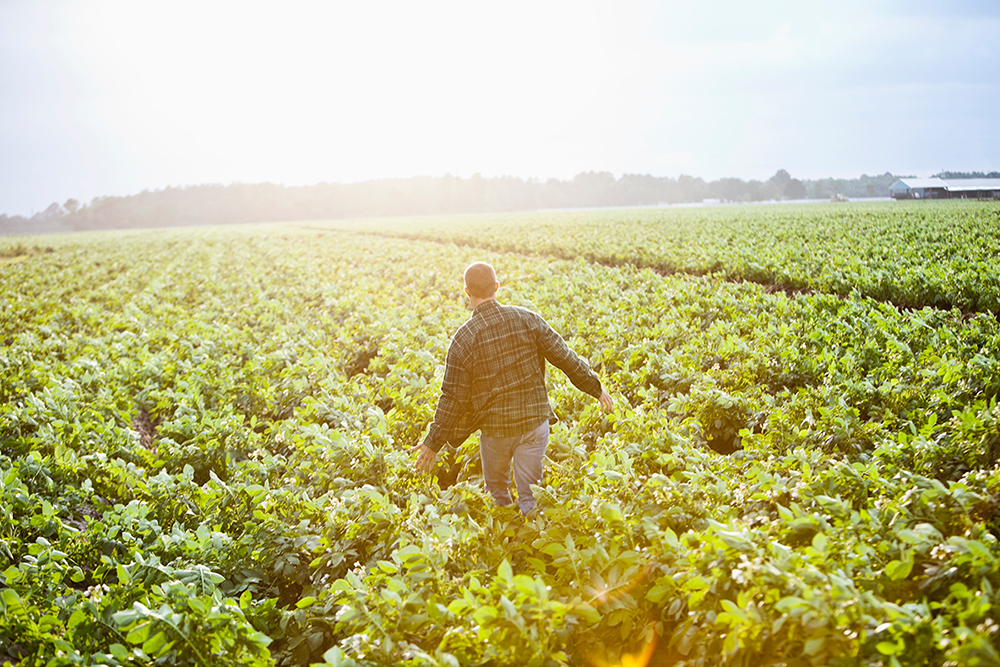 How Do We Live Like Every Day Is Earth Day?
How can we convert small actions like bringing a reusable water bottle to work or biking on our commute into a lifestyle change that makes a real difference?

Read More in the Viewpoint Online Magazine