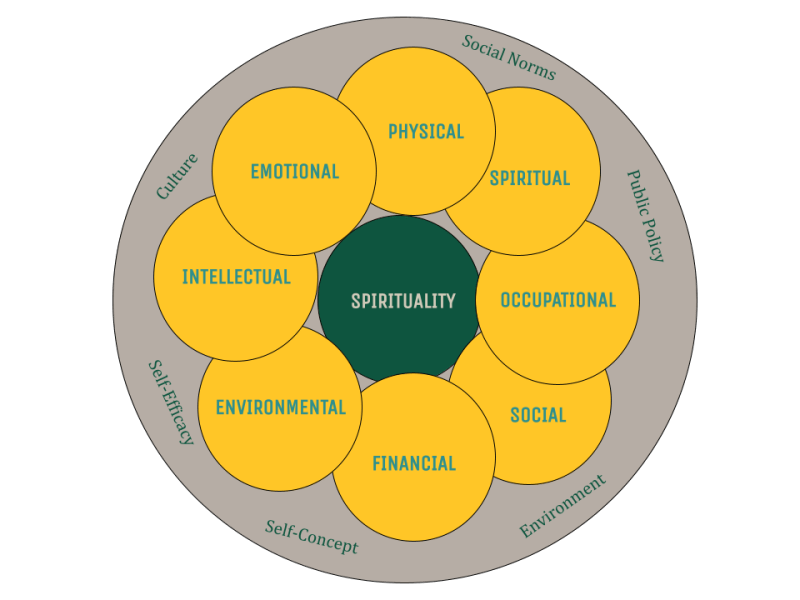 Wellness is often only thought of in physical health terms, such as eating a healthy diet or getting enough physical activity. However, wellness can be defined as being sound in mind, body, and spirit; both internally with oneself, and externally among one's surroundings. This incorporates getting quality sleep, participating in intellectually stimulating activities, and holding a positive life outlook, as well as being satisfied in the workplace, establishing supportive relationships, and connecting to nature. Wellness doesn't necessarily mean doing yoga every morning and drinking green juices, running a financially successful business, or being free from illness or pain; it's subjective and personalized, it's flexible and fluctuating, it's a balance and a journey. Each of the aspects of wellness are interrelated and interdependent upon each other.
(SAMHSA; TEDx Talks, 2019; Travis, 1972; Witmer et al., 1998).
Definition of Categories
Core value

Spirituality: The core value and guiding principle of all aspects and outworkings of wellness, spirituality is the foundation of one's existential meaning and purpose, source of values and decision-making, influence on emotions, and interactions with the world.

The Wheel of Wellness, developed by Witmer, Myers, and Sweeney found spirituality to be "the core characteristic of healthy people and the source of all other dimensions of wellness" (p. 253).

Dimensions of wellness (SAMHSA-8)

Physical: Physical wellness is concerned with a healthy body and what makes the physical body function well. This area of wellness includes topics such as physical activity and exercise, nutrition and diet, sleep, preventive medicine and healthcare, and risky behaviors (i.e., use of alcohol/drugs, seatbelts, sunscreen). 

Emotional/Mental: Emotional wellness, also commonly referred to as mental health, focuses on a healthy mind and emotions. Being emotionally well is a process of identifying and expressing feelings, adjusting to and coping with stressors, taking care of oneself, and finding enjoyment in life. 

Intellectual: Intellectual wellness is centered around a healthy brain and intellect. This area of wellness expands on education and learning, personal interests and hobbies, games and puzzles, perspective-taking, and discussions. 

Spiritual: Spiritual wellness functions as a centering and cultivation of one's spirit — personal beliefs, values, purpose, and meaning. Topics in this realm include exploring personal strengths and values, searching for greater meaning and purpose, participating in religious services and traditions, mindfulness, and appreciation for life and nature.

Social: Social wellness encompasses the life-giving relationships and support in one's life. This area of wellness includes friendship, family, community; belonging, love, support; quality time and interaction with others.

Environmental: Environmental wellness emphasizes safety and conscientiousness. Specific areas include preserving and harnessing clean air, food, and water; access and use of community safety resources; making surroundings clean, pleasant, and rejuvenating; and spending time in nature.

Occupational: Occupational wellness is involved with the balance, peace, and purpose we experience in our work, whether that be in a career or defined area of employment, service or volunteering, or other role or identity.

Financial: Financial wellness is about monetary and material security. To be financially well does not mean that one has to be "wealthy," but that one is intentional with possessions and gifts, and that they steward them appropriately.

Context

Attitudes & Beliefs

Self-concept: Envisioning oneself a particular way based on internal beliefs and external stimuli. This concept affects the choices we make.

"I was raised Christian so those values impact everything I do.
"I've never liked vegetables so I cannot eat 'healthy.'"
Identity (gender, social, racial or ethnic, etc.)

Self-efficacy: The confidence and belief in being able to participate in and accomplish any area of self-improvement or health.

A student who's struggling with a particular subject but feels confident they can learn the information to get back on track and do well on a test or assignment.
Someone who has accepted a job position in a new career field but feels they have the ability to engage with others and perform the job well.

Societal Norms: Standards of acceptable behavior or rules shared among a group of people. Societal norms in a student's hometown may differ from those in San Diego, for example.

E.g., Someone raised in an area with abundant farmers market options as opposed to an area that has no local farmers.

Culture: Similar to and encompassing of societal norms, culture is a broader term that also includes the customs, arts, social institutions, laws, and beliefs of a particular people or social group.

Culture affects what you eat, what you do vocationally, what religion (or not) you identify with, how you interact with others, what job/career you pursue, etc.
Establishing a sense of identity within the subcultures is largely determined by interests and hobbies, such as subcultures common within PLNU including the surf community, artistic community, nursing community, etc.
There may be a discrepancy between a student's culture at home vs. the culture in San Diego. This may be a more significant adjustment for out-of-state students.

Environment: At its core, the environment is equivalent to one's surroundings. More specifically, this could refer to nature/planet, community and social support, safety, supply of resources, and cleanliness/clutter.

E.g., access to gyms, parks, sidewalks, safe neighborhood, access to whole/fresh foods, parents/guardians, socioeconomic status, access to the beach, good weather (ability to be outside, vitamin D).

Public Policy: Whereas societal norms are informal and implied rules of life and behavior, public policy refers to established and explicit regulations by the governing authority one lives within (federal government, local community, PLNU guidelines, etc.).
Evidence & Further Exploration
Bronfenbrenner, U. (1979). The ecology of human development: Experiments by nature and design. Cambridge, Mass: Harvard University Press.

CDC.gov. 2020. The social-ecological model: A framework for prevention. CDC. [online] Available at: https://www.cdc.gov/violenceprevention/publichealthissue/social-ecologicalmodel.html

Egger, G., Binns, A., Rössner, S., & Sagner, M. (2017). Introduction to the role of lifestyle factors in medicine. Lifestyle medicine (pp. 3-13).

Foster, L. T., & Keller, C. P. (2007). Defining wellness and its determinants. The British Columbia Atlas of Wellness, 9-19.

TEDx Talks. (2019, August 21). Reclaiming Wellness | Jessica Matthews | TEDxPLNU [Video]. YouTube. https://youtu.be/aXJZgIX1fsg

Travis, J. (1972) Illness-wellness continuum.

Witmer, J.M., Sweeney, T.J., & Myers, J.E. (1998) The wheel of wellness.