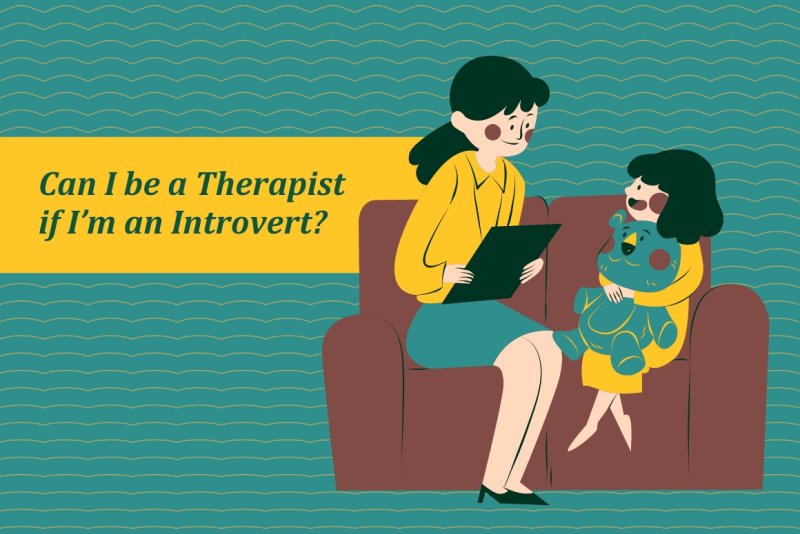 You hold the most sought-after shoulder to lean on. You constantly lend a listening ear to others' woes. You speak from the heart and offer the powerful gift of helping others feel genuinely understood. You're called to study psychology and become a therapist! These dreams don't have to come to a screeching halt because you're an introvert. 
A common misconception about introversion is automatically equating it to shyness or being antisocial. In reality, your values align with quality friendships over quantity. This works fantastically with the career of a psychologist or clinical counselor. In this field, you're working on deepening relationships with your clients individually or in small groups.
Your familiarity with quiet activities and active listening will propel you into a meaningful career as a therapist. Let's break it down further:
What is an Introvert? (Introvert vs. Extrovert)
If a night alone curled up with a good book is the only thing on your wishlist (and a big-city social mixer is the opposite of a fun time), then you may closely align with introversion. According to Insider, introverts enjoy alone time and need downtime before and after socializing, whereas extroverts tend to feel energized by social attention. Introverts still grow meaningful bonds with others, though it may only be a few at a time.
Susan Cain, New York Times bestselling author and expert on introverts, says the two also have different nervous systems. In an article about the misconceptions of introverts for Forbes, Cain explains: "[T]he quiet child in a noisy classroom or the reserved person at the meeting — what's really happening is that person's nervous system is communicating to them that there's too much going on here and that the way to achieve equilibrium is to quiet things down. It has nothing to do with disengagement or dislike." 
The difference between introversion and extroversion isn't so black and white. Once you identify where you land on the spectrum, you can choose a career choice that best fits your personality. 
Is Psychology a Good Career for an Introvert?
Who says introverts only enjoy working in cubicles? Becoming a licensed psychologist or clinical counselor is about wanting to connect with people. And introverts can connect with others in a special way. Introverts are great listeners; they do more listening than talking, which is the number-one skill to have as a therapist. 
Being OK with silence and tapping your active listening skills with the goal of truly understanding is a top priority as a Licensed Marriage and Family Therapist (LMFT) or Licensed Professional Clinical Counselor (LPCC). 
As an introvert, connecting with clients one on one or in small groups is your type of party. You have the superpower to empathize and think critically before you speak. A 2018 study shows that introverts have high levels of observation — in the study, introverts made more accurate observations about human behavior than extroverts. This is likely a nod to spending less time interacting and more time observing.
It's important to note: Creating an open, therapeutic space while working back and forth attentively and intensely would be draining for anyone — introverts and extroverts. But this could potentially be an extra challenge for introverts, whose energy is easily lowered by extensive social interaction. 
__________
Who are you called to be?
Pursue your purpose at PLNU.
__________
Can an Introvert Become a Successful Psychologist?
Author Susan Cain explained that a common misconception about introverts is that they're "less friendly or somehow misanthropic," when there isn't any research to support this. While an extrovert may excel more in sales or forward-facing careers, a psychologist is an ideal career for an introvert. Since you may prefer solitude, intimate one-on-one sessions can be the recipe for success. 
Tap into what you're naturally good at: 
Listening
Building long-lasting relationships
Thoughtfulness 
Plus, being sensitive to how many back-to-back sessions you have in one day could help subside a level of overstimulation. Take time alone in between sessions to recharge, too. A great career goal would be to own and operate your own practice so you can be creating a safe space for clients to come and feel truly heard. 
Since you're passionate about your work in mental health as a licensed therapist, you'd be surprised how your enthusiasm takes the lead over any lack of social viability. Laura Swanson, LMSW explained in an episode of The Social Work Buble Podcast how this happens to her as an introvert. "Because I'm so passionate about the work, and because I love what I do," Swanson adds, "that passion does override that sense of shyness and that desire to not speak a lot."
Qualities That Make a Good Introvert Therapist (or Clinical Counselor) 
In a blog post on Time2Track, introvert therapist Fallon Goodman, Ph.D., shared tips on how to not only be an introverted therapist but to thrive. She explained how in any productive therapist session, a therapist's responsibilities are active listening, deciding when to respond to a client's comments, maintaining body language, and managing time. If you're an introverted therapist, this social multitasking could be exhausting.
Here's how Goodman suggests mastering those skills day to day:
1. Scheduling is Key
If you're in control of your scheduling, be strategic. Don't overload yourself with too many consecutive sessions.
2. Make Sure to Take a Break
Pencil in a 10- to 15-minute break after each client. Each therapy session could go from 50 minutes to an hour. Don't try to cram in notes from the last session, but instead stretch, walk around your office, or do a deep-breathing exercise. 
3. Decompress Afterward
Allow yourself to recoup and reenergize how you best see fit — even if that's a nap on your therapy couch. No judgment!
Take the Next Steps — Get a Master's Degree in Clinical Counseling
An ideal next step for you may be to learn more about Point Loma Nazarene University's Master of Arts in Clinical Counseling, including the types of courses you'll be taking and what specialties the program offers. Watch our video below to hear from professors and students about their experiences in the program.