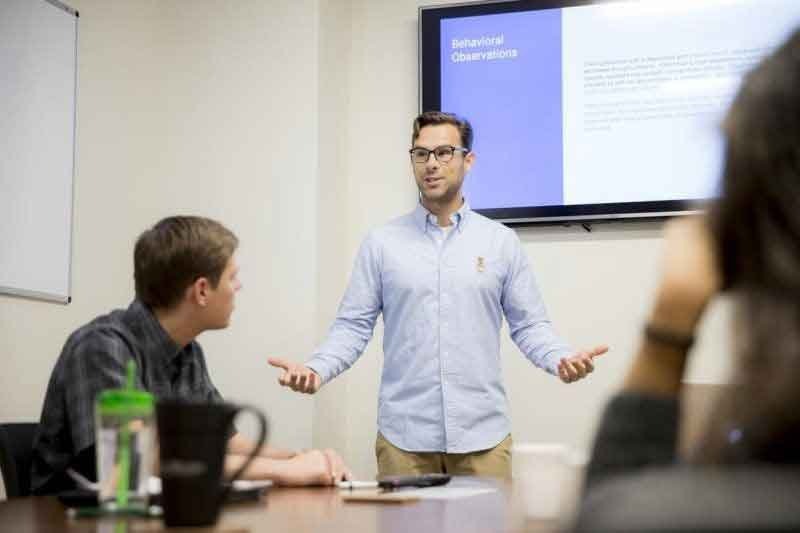 If you're interested in becoming a therapist, having a clear understanding of the right path to get there can make the process easier and more accessible. Therapists are admirable professionals who aid people in living happier and more enjoyable lives.
In fact, the American Psychological Association reports around 75% of those who receive therapy experience beneficial results. If you're interested in helping people maintain a state of mental well-being, a career as a therapist is a viable way to earn a living while doing what you enjoy. Given the broad nature of the therapy field and related fields — such as counseling — you can benefit from having a clear vision of what these roles entail and how to qualify.
Therapist vs. Counselor: What Are the Differences?
It can be tricky to distinguish between the roles of therapists and counselors. The job duties of these roles often overlap, and to make matters more convoluted, people often use the terms interchangeably. Though it may seem confusing at first, each of these roles has both qualifications and practices that are specific to themselves. To put these roles into perspective, it can be helpful to understand what each role's responsibilities are and the qualifications required.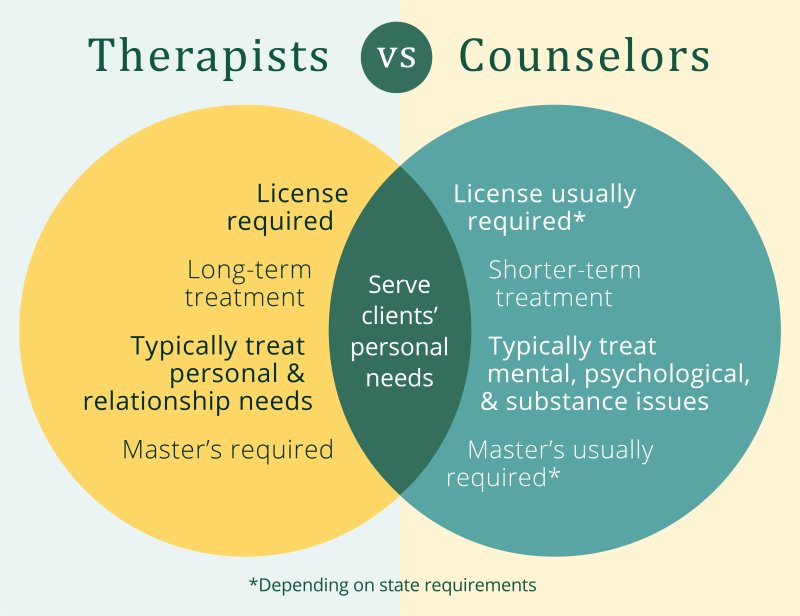 Therapists
Therapists are professionals who are licensed in their state to provide therapy to their clients. Therapy often involves a focus on talk therapy and usually aims to explore clients' pasts to uncover insights about their current feelings, behaviors, or traumas. Therapists typically specialize in a specific field, such as marriage and family therapy. Therapists hold at least a master's degree, while some choose to obtain a doctorate.
If a therapist chooses to advertise their practice as "psychotherapy," then they must be licensed in the state in which they intend to practice. A licensed therapist is often qualified to practice specific types of counseling if they choose to, and in some cases do.
Counselors
Counselors, much like therapists, aim to help their clients with specific problems. However, counselors tend to focus more on helping their clients deal with psychological, mental health, and substance abuse issues than their therapist counterparts, who may concentrate on a client's relationship-based and social needs.
It is typical for counselors to provide their clients with coping strategies and advice to deal with their problems practically and immediately.
Counselors can be sought out if someone has a problem which they want to receive treatment for a short duration of time, such as anxiety about a new career. Though some counselors are certified, some are not and rules vary in states about who is allowed to practice as a counselor. Some counselors hold only a bachelor's degree while others are master's degree holders.
__________
Advance your career and purpose.
Start a graduate degree at PLNU.
__________
How to Become a Therapist
When pursuing a career as a therapist, there are several requirements that you'll have to complete before beginning your career. Having a clear understanding of this process can make becoming a therapist less daunting and more manageable. Here are the steps you'll need to complete to become a licensed therapist: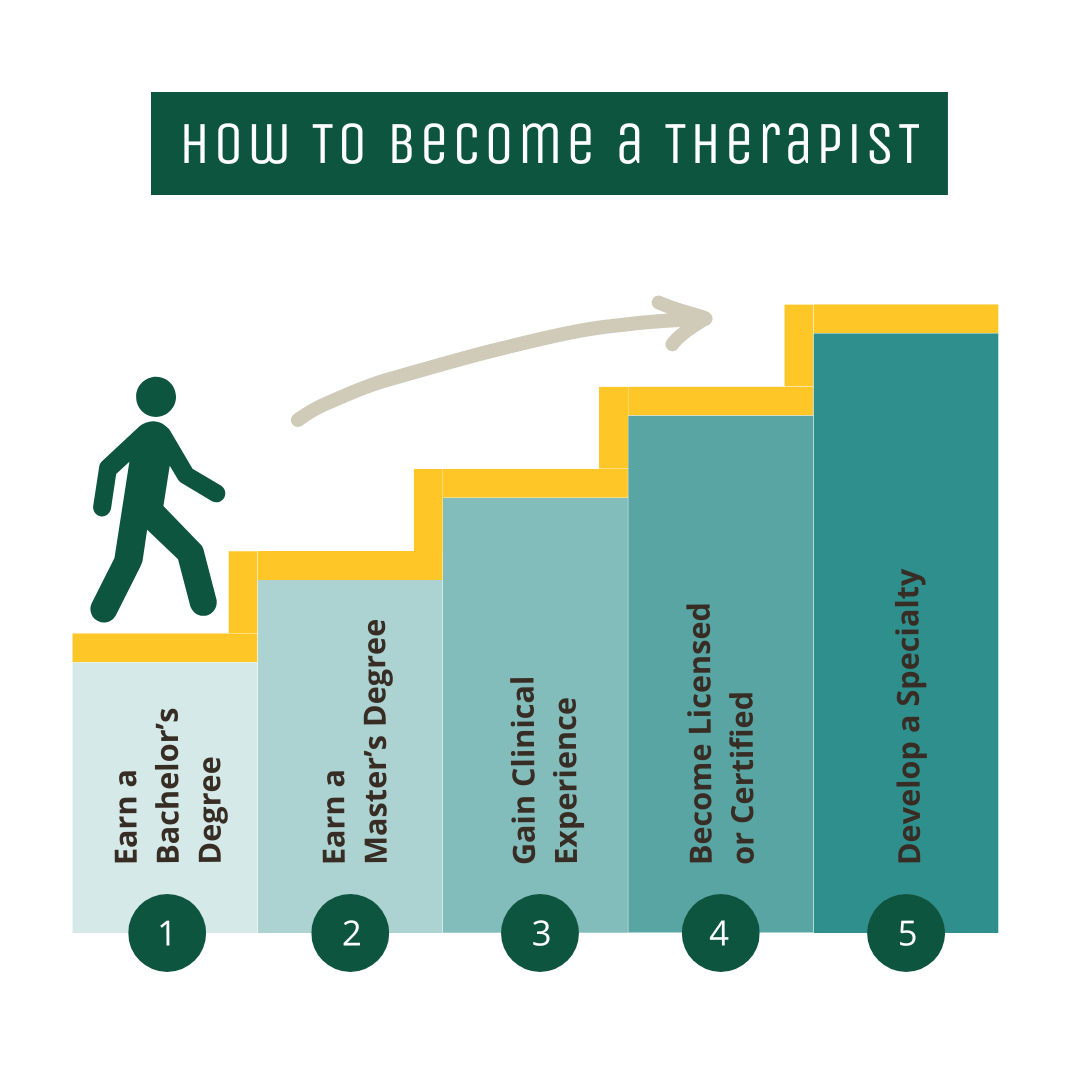 1. Earn a Bachelor's Degree
The first thing you'll need to do to become a licensed therapist is earn a bachelor's degree. If you're intent on becoming a therapist, then you should major in psychology or a related field. Gaining a foundational degree that exposes you to principles and practices of psychology will help prepare you for graduate school, and ultimately, a career as a licensed therapist.
2. Earn a Master's Degree
Once you've obtained your bachelor's degree, it's time to pursue a master's degree. When choosing your master's program, it's important to be clear about which specific field of therapy you wish to enter. Most fields of therapy require you to have a certification before practicing, and many certificates require that you have a master's degree before certification. 
The master's degree you pursue will depend on which certification you eventually intend to obtain. It will typically be a master's degree in counseling, psychology, or social work. Be sure to know the specific requirements of your prospective certification before applying to a graduate degree program to ensure that you're meeting the necessary requirements. 
3. Gain Clinical Experience
To become a certified therapist, you'll need to gain around 3,000 hours of supervised clinical hours, though this can vary depending on different certification and state requirements. Master's degree programs that meet the requirements of specific licenses will often offer guidance and support when it comes to gaining the hours needed to become a licensed therapist. 
4. Become Licensed or Certified
There are several avenues you can pursue to become a licensed therapist. Examples include the Licensed Marriage and Family Therapist (LMFT) certification and Licensed Professional Clinical Counseling (LPCC) certification. Each certification has unique requirements, such as a certain amount of supervised clinical work and master's degrees that meet specific standards.
It's important to have a clear idea of which certification you eventually intend to obtain, as this will inform which program you'll choose when pursuing your master's degree. 
5. Develop a Specialty
As you practice, you'll gain insight into where you want to specialize. Therapist specialties could include:
Addiction
Anxiety
Depression
Grief and loss
Significant life transitions
and more 
Therapist Licensing Requirements and Salary
To become a licensed therapist, you'll need to finish all of the requirements of the specific licensure path you wish to pursue. There are various licenses, each with its own requirements, which typically include at least a bachelor's degree, clinical experience, and in many cases, a master's degree.
For example, If you plan on becoming a licensed marriage and family therapist in the state of California, you'll need to obtain a Licensed Marriage and Family Therapist (LMFT) certificate to practice. The LMFT requires that you first receive a master's degree in a relevant field and gain a certain amount of clinical experience before becoming certified.
Whatever certification you plan to pursue, be sure to choose a program that meets the requirements for that license. Choosing a program that doesn't meet the criteria for the license you're pursuing can cost you a tremendous amount of time and money unnecessarily. One program that does meet the requirements for certification is Point Loma Nazarene University's Master of Arts in Clinical Counseling. 
Therapist salaries can vary widely based on field, level of education, location, and industry. According to the U.S. Bureau of Labor Statistics, the average annual salary of a licensed marriage and family therapist is $49,880 while they report that the annual median income of all other therapists is $59,500.
To gain a clearer view of licensed marriage and family therapist salaries, it's important to unserstand that salaries can vary depending on both region and industry. For example, according to the U.S. Bureau of Labor Statistics, the annual mean wage for marriage and family therapists who work in the home health industry was $97,780 as of 2021 while the annual mean wage for marriage and family therapists practicing in Utah was $86,490. Other industries that boast higher than average marriage and family therapist salaries include physician's offices and schools.
How Long Does It Take To Become a Therapist?
The process of becoming a therapist can vary depending on which path you choose and the amount of education you choose to pursue. Those who intend to stop schooling after a master's degree can typically expect to spend around seven to ten years studying and becoming certified before becoming a therapist. This includes the typical four years and two to three years typically needed to obtain a bachelor's degree and master's degree respectively.
After schooling, most certification requires you to gain clinical work under the supervision of other professionals for a certain amount of time. This amount differs depending on the license, but you can typically expect to need around 3,000 hours to meet therapist licensure requirements.
Discover How a Master of Arts in Clinical Counseling Can Elevate Your Career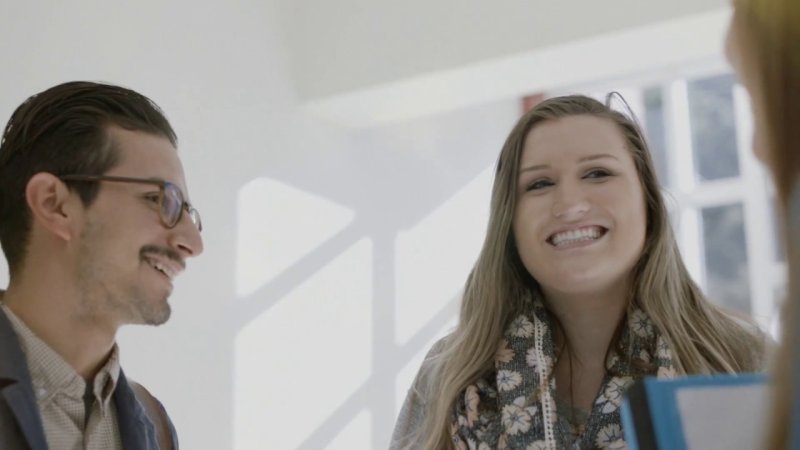 By gaining on-campus clinical experience, professional training, and career guidance, Point Loma Nazarene University can help you elevate your career and pursue the therapist role you've always aspired to reach. PLNU's Master of Arts in Clinical Counseling program offers you the opportunity to meet the requirements you need to gain LMFT and LPCC certification and take your professional career as a licensed therapist to the next level.