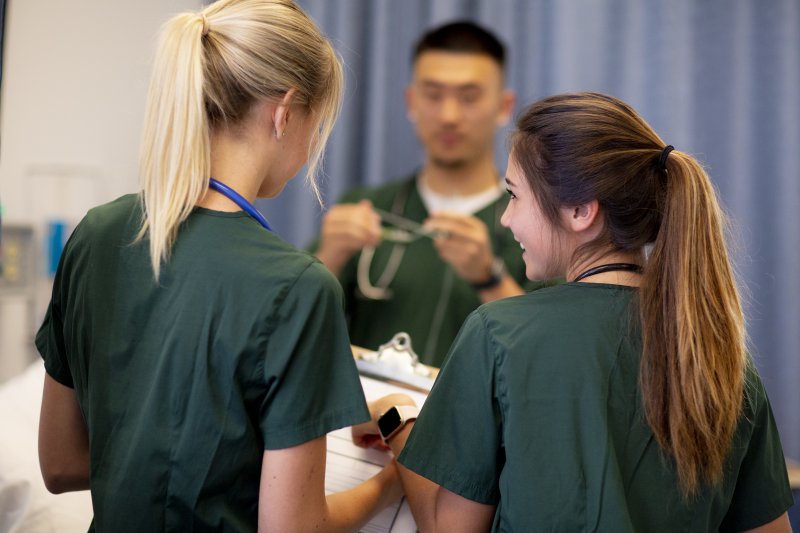 Becoming a nurse isn't just a career decision; it's a lifestyle choice. Nurses have the ability to touch the hearts and lives of countless patients who are medically, mentally, emotionally, or spiritually struggling. Nurses not only administer medication, but they also administer care and comfort. 
According to the American Association of Colleges of Nursing, approximately 3.8 million registered nurses (RNs) currently practice in the U.S. Every year, about 200,000 positions open up for nursing students to become licensed RNs. But what does the process of becoming an RN entail? 
How to Become an RN 
Becoming a nurse can look a little different for everyone. If you want to start out by earning an associate degree in nursing (ADN) or an associate of science in nursing (ASN), most programs only take two to three years. Through one of the two nursing programs, you'll develop a foundation of knowledge in the classroom as well as gain hands-on experience through clinical training.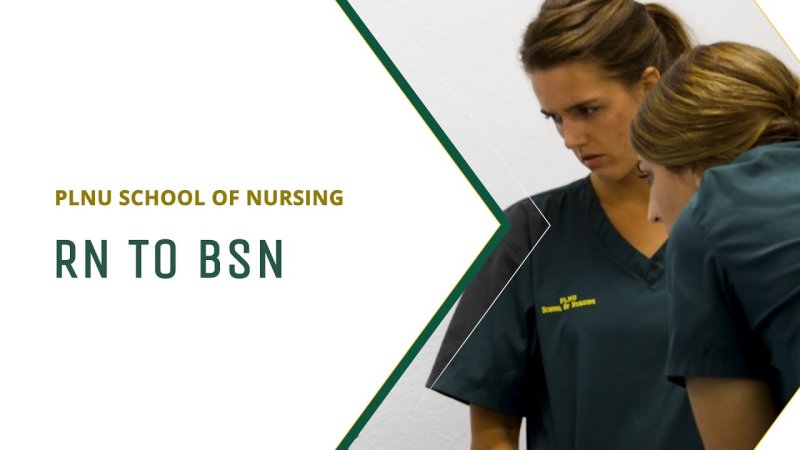 After graduating from a state-approved ADN or ASN program, you'll qualify to sit for the NCLEX-RN exam and become a licensed nurse. Additional requirements can vary across states as well as medical facilities. The state you work in or your employer may recommend or require that you earn certification in a specialized area of study, such as pediatrics or gerontology. 
What Is an RN to BSN Degree? 
Becoming an RN and gaining experience in the field is a great way to start your career. However, after working for a few years, you may have a desire to go back to school and earn your Bachelor of Science in Nursing (BSN). Colleges, such as Point Loma Nazarene University, offer RN to BSN programs which make the process of going back to school easier for nurses. Instead of having to complete another four years of college, RN to BSN programs allow you to earn your BSN in about 15 months. 
__________
It's not too late to start your journey.
Pursue your purpose at PLNU.
__________
After becoming an RN, the next step is to apply for an entry-level nursing job. According to the U.S. Bureau of Labor Statistics, 60% of RNs work in hospitals. RNs also work in ambulatory healthcare services, nursing homes, residential care facilities, the government, and educational services. RNs can expand their job horizons as they gain more experience and can be promoted to work in different locations. 
In order to graduate with a bachelor's degree, most individuals need to earn approximately 120 units. An RN to BSN program usually entails about 36 units, since you completed over 70 units for your ADN and 15 units while taking the NCLEX-RN exam. Since you may be working full-time as an RN while earning your degree, it can help to apply to a program with hybrid and online options; PLNU offers both. 
Why Earn an RN to BSN Degree?
If you're already doing well in your career as an RN, you might be wondering why you should earn an RN to BSN degree. A primary benefit of earning a BSN degree is that you'll have opportunities to grow in your career. For instance, nurses with BSN degrees and several years of experience can become nurse leaders or RN supervisors in their departments. When nurses have more credentials, employers can often be more willing to promote them to leadership positions. 
Another benefit of earning a higher degree is you can increase your salary potential. According to PayScale, RNs with an ADN earn an annual salary of $70,299. This salary can range depending on multiple factors, such as job location, state, medical facility, and years of experience. On the other hand, RNs with a BSN can earn an annual salary of $86,091 according to PayScale. Salaries can vary for numerous reasons; however, on average, RNs with a BSN earn a higher annual salary than RNs with an ADN. 
Career Opportunities with a BSN Degree
If you enjoy working in a clinical position, earning a BSN can help you prepare for a variety of roles besides that of an RN. You can expand your career opportunities by earning more credentials and degrees. For instance, after several years of experience and an MSN degree, you can consider a long-term career as a nurse practitioner, clinical nurse specialist, nurse anesthetist, or nurse-midwife. These four jobs are the highest-level clinical nurse positions. 
If you enjoy working in a clinical position, earning a BSN can help you prepare for a variety of roles besides that of an RN. 
Additionally, if you prefer more administrative positions, a BSN can help you prepare to become a nurse administrator, nurse supervisor, or nurse manager. With additional experience and an MSN or MBA, you could become a medical and health services manager and help make decisions for your medical facility. Having a background as an RN can prepare you for the clinical aspects of a more business-centric job. 
While you may need to earn a graduate degree to qualify for some of these other roles, you can also have a rewarding career as an RN with a BSN. Experience alone and connections in the field can help you succeed in your career. Earning an RN to BSN degree can set you apart in the job market from other nurses who may only have an ADN or ASN. 
Earn Your RN to BSN Degree at PLNU
If you've already earned your ADN or ASN and are looking to enhance your skillset, career opportunities, or salary earnings, pursuing your bachelor's degree might be the right choice for you. At PLNU, we offer hybrid and online options for our RN to BSN Adult Degree Completion Program. And employers throughout San Diego County recognize the quality of their employees who come from PLNU.
Courses such as Communicating and Following Faithfully, Caring Faithfully in the Community, and Leading Faithfully in Diverse Health Systems can help you prepare for a rewarding career as an RN or prepare for a long-term career in a clinical or administrative job. Learn more about how you can take the next steps at PLNU by reaching out to an admissions counselor today. 
---
About the Author 
McKenna Themm is a poet who has her BA in Literature and Writing and is earning her MFA in Creative Writing. She is a freelance writer for PLNU, a Content Strategist at Circa Interactive, and the Managing Editor at The Los Angeles Review.