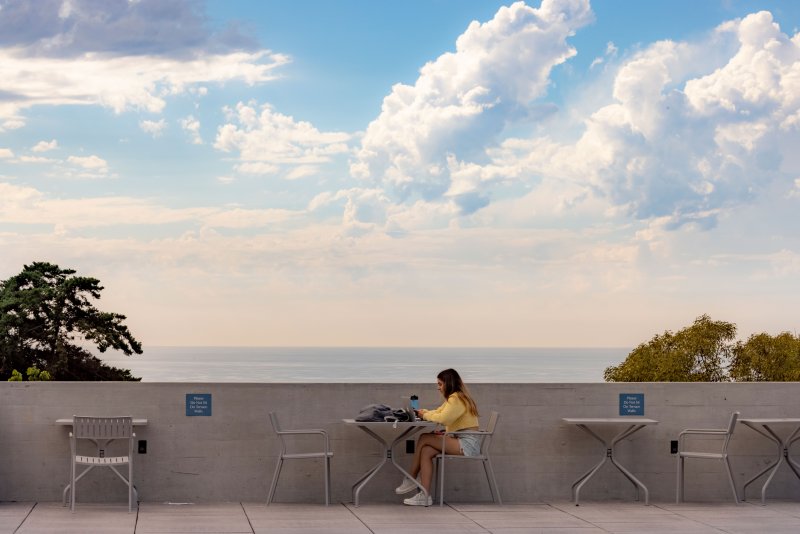 On a college campus, you can meet people who've known what they wanted to major in their whole life and others who declared their major two days prior. Sometimes you feel confident in your choice and other times you feel debilitating anxiety. What you might not hear often enough is that all of these emotions are valid and commonly felt by most people.
According to a Penn State research brief, "An estimated 75% of students change their major at least once before graduation." 
Alex Sajjadi, admissions event manager at PLNU, said that in planning events for prospective students, it's common to meet students who are still trying to figure everything out. 
"The fact that you don't know what you want to study is totally fine," said Sajjadi. "That's normal."
With AP classes and dual enrollment predominantly filling high school schedules, you might feel the pressure to have it all figured out before freshman year of college, but research shows you really don't have to when you enter college. The following is advice from PLNU's Career Services and Admissions Offices on how to navigate the emotions and stress often related to finding your calling in college.
Take Stock: What Are You Feeling?
Starting college without a solidified plan can be scary, but the first step toward establishing a strategy is recognizing the emotions you're feeling and processing them. Tré Watkins, senior program manager of PLNU's Office of Career Services, works on a daily basis with students who are experiencing a wide range of emotions associated with the unknowns of college. 
Watkins said, "I get a lot of tears. Acknowledging the fear and anxiety and saying, 'Hey you're taking action,' and then starting to unpack. Then, we look beyond that and start to move there and get some form of action." 
Sometimes the best thing you can do is let go of the old pressures to welcome a new perspective. As Watkins said, "It starts with the inside and knowing yourself."
""It starts with the inside and knowing yourself."
Reflect and Reach Out: Get Connected with the Right Support
Another helpful step is finding people who can rally around you and support you. Peter Alkatib, who is also a senior program manager of PLNU Career Services, said getting support amid the questioning is key. 
"Conversations might be uncomfortable but that's okay," Alkatib said. "We don't have to have all the answers, but we just want to have conversations and dream about what could be."
Sajjadi said that in planning events for prospective students, she takes into account the fact that some might not know what they want to do. From the get-go, she said the events are about helping students feel they're not alone in this process.
"We do an academic session at every event where they get to talk to professors," explained Sajjadi. "During the events that are geared toward applicants, we do a session where they get 20 minutes with one department and then a five minute change and then 20 minutes with others. We encourage students to talk to multiple departments. We do that because there are a lot of students who come in and don't know what they want to do. Broaden your horizon and see at least one other area of study." 
"We don't have to have all the answers, but we just want to have conversations and dream about what could be."
Set a Game Plan: Move from Anxiety to Agency
Now that connections have been made and resources are established, it's all about taking action. Watkins and Alkatib describe this as the phase where you shift from "anxiety to agency." You move from feeling anxious about your future to taking control of it. 
Whether it's taking personality tests to better get to know your strengths and weaknesses, making a life map, or setting up a LinkedIn account, there are steps you can take to be the agent of change in your career and life goals. 
Watkins and Alkatib suggest branching out and trying new things:
Keep an Open Mind: There's Still So Much to Do and Learn
Elective classes and clubs are a great segue into finding your interests. But it's also valid to realize that at one point in your life you might love doing one thing, and at another point you might want to try something new. 
As Alkatib said, "Knowing that you don't like something is just as important as knowing you do like it." 
"Knowing that you don't like something is just as important as knowing you do like it." 
Life is all about learning and growing, and college is a huge part of that experience. 
In Career Services, Watkins said they're all about helping students feel safe enough to ask the hard questions: "We get to dream in these offices. We try to take the blinders and limitations off."
PLNU's Foundational Experiences (FE) general education program also helps students explore all the options available to them at college. The FE program requires all students to take a series of courses often unrelated to their major. Check out the following video to learn more about the FE program.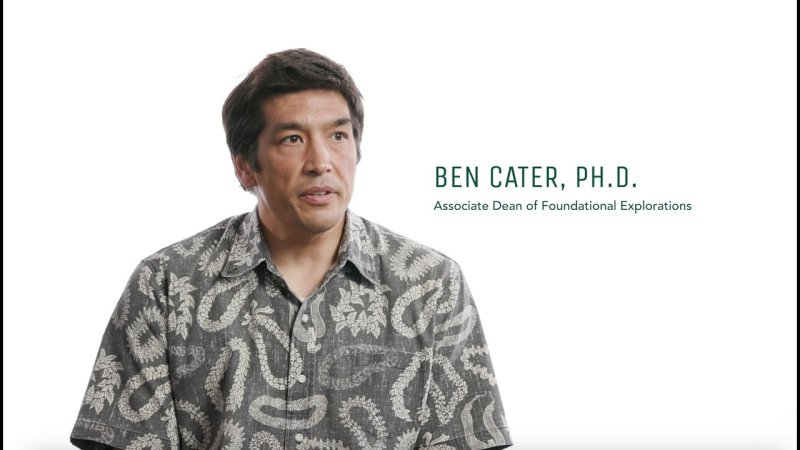 "The fact that we're a liberal arts university is really helpful," Sajjadi said. "We have students take classes in so many different areas of study. Even if you don't think you want to be a history major, you still need to take two classes."
Some of the courses offered through FE program include:
PSY 1001 — Psychology of Personal Development 
COM 1000 — Principles of Human Communication 
SWF 1000 — Living Justly in Contemporary Society 
BIO 1006 — Global Health and Pathogens 
BIO 2011 — Ecological and Evolutionary Systems 
PHY 1034 — The Physics of Sound and Music
SPA 3020 — Mexican American Literature and Culture 
College shouldn't just be about getting your degree; it's also about getting to know yourself and finding your purpose. 
Knowing Yourself Means Advocating for Yourself
A huge part of becoming an adult is having self-awareness that helps you bring your best self into each new environment. 
As scary as it can be to leave home and become an independent person, it's also a beautiful part of the college experience. And in that process, you often have to distinguish between societal or familial pressures toward one career over another. Sajjadi said, "It's pretty common for students to not know what they want to do. It's common for their parents to know what they want to do."
As many students learn in the intro to psychology courses at PLNU, our family units impact the way we see the world around us. When we enter into new environments like college, we have the opportunity to form our own thoughts, opinions, and actions.   
As our worldviews and confidence in our individuality grow, advocacy for our own well-being, interests, goals, and beliefs is a key part of growing. Finding a major you really care about is also part of that process.
"My biggest advice is you should be excited about what you're learning about," Sajjadi said. "There's a lot of students who come in and think they want to learn something and they spend years assuming that's what they want to do, and it's a hard reality to face. I thought I had this path and now it's totally different."
Sajjadi added, "You're paying a lot of money to get this degree and you should be studying something you're interested in, because if you're not studying something you're interested in, it's going to feel like work. You deserve to be interested and should be interested in what you're studying."
"You deserve to be interested and should be interested in what you're studying."
In your time at college, you'll probably change your major multiple times, join different clubs, and make new friends. All of those new experiences are a natural part of this period in life. Finding something you don't like is just as valid as finding something you do. And when you do find something you like, advocate for it and live into it.
Make the Switch: Changing Your Major Shouldn't Be Scary
Returning to an earlier statistic, 75% of students change their major during their undergraduate experience. That number conveys that you might not be the same major as you were during your freshman year, and that's normal. While it's usually not recommended to switch after your junior year, the learning experience is unique for everyone and timing should not be compared. 
However, there are some majors that have restrictions. Nursing at PLNU, for example, is not a major you can switch into. Contact an admissions counselor to learn more about  or limits to switching majors. 
The process to switch majors at PLNU is relatively simple. Reach out to the Office of Records to request a switch. 
As you consider switching majors, here are some things to think about:
Can you afford an extra semester? Is it worth the extra cost?
What's the benefit of changing to a different major?
Can you switch to major that has similar requirements?
Next Steps: Take Action
While this guide may not be a one-stop shop for all the answers you may have about college, it's supposed to help normalize that the questioning you might be struggling with. The advice from PLNU's Career Services and Admissions Offices convey that students aren't alone in this key stage of life. Even if you're not sure PLNU is right for you, reach out with your questions. It might even help you discern your next step.
To get connected with Tré Watkins or Peter Alkatib at Career Services, contact them at careerservices@pointloma.edu or (619) 849-2446. You can also follow PLNU Career Services on Instagram @plnucareerservices.
In addition to Career Services, PLNU offers a variety of ways to help you get connected and stay connected throughout your college experience.You can even get plugged in today.