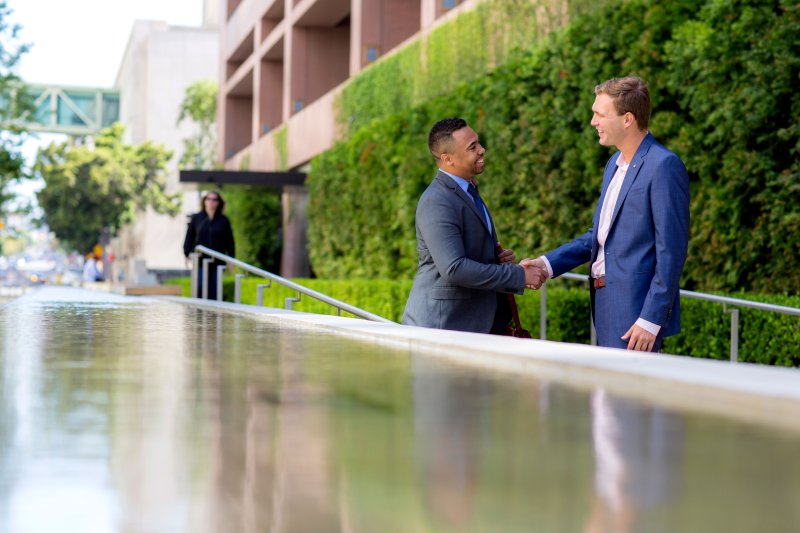 Do you have a business idea that will change the world? Or a passion for helping others find solutions to current problems? If so, a college degree can help you learn how businesses operate, gain hands-on experience, and explore how your ideas can advance the world. But which degree is right for you?
What is an Entrepreneur?
First, let's define what an entrepreneur actually is and does. An entrepreneur is a person who starts or operates a business. This involves coming up with an innovative idea, obtaining the mandatory funding for the proposal, and hiring and managing a team. While this may bear financial risks, it provides the opportunity to distribute a product or service that will improve the lives of others.
__________
Advance your career and purpose.
Earn a degree at PLNU.
__________
Multiple skills of a successful entrepreneur include but are not limited to:
Customer service
Communication
Business management
Critical thinking
Leadership
Problem-solving
Planning
On a positive note, these skills can be obtained through various undergraduate degrees. Below is a list of the top seven degrees you should consider if you aspire to become an entrepreneur.
Business administration
Finance
Marketing
Computer science
Communications
Psychology
Engineering
Top Degrees to Become an Entrepreneur
1. Business Administration
According to the National Center for Education Statistics, business was the most common bachelor's degree in 2019-20. It's also one of the most popular degrees among aspiring entrepreneurs. A business degree provides students with a proper understanding of the organizational, operational, and managerial responsibilities of companies and industries. Students pursuing a business degree will also develop leadership, communication, and critical-thinking skills; all beneficial in an entrepreneurship position.
Learn more about PLNU's B.A.in Business Administration 
2. Finance
Knowing how to manage finances is a necessity when starting a business, especially with the risks that come with it. Entrepreneurs must know how much to pay their employees, optimize their budget, and track their company's cash flow. All of these skills are covered in a finance degree.
Finance majors have a strong understanding of long-term investments and company operations. They're also insightful in corporate restructuring, financial planning, and capital markets. Familiarity with finance will decrease the chance of economic problems in a new company.
Learn more about PLNU's B.S. in Finance
3. Marketing
When pursuing a marketing degree, students practice spreading innovations to new audiences; a vital skill for entrepreneurs. Entrepreneurs must be able to effectively communicate their product or company with a target audience. This can be done through the development of advertising campaigns, brand imaging, and digital media. Marketing strategies investigate consumer behavior and pinpoint marketing ethics, which are foundational for new companies to comprehend and incorporate.
Learn more about PLNU's B.S. in Marketing
4. Computer Science
In every market, many competitors have developed apps that connect their customers to their products. Having familiarity with app development and software helps entrepreneurs promote their services and protect themselves with online security. It has also become increasingly popular for new companies to start in the information technology field. Exposure to quality assurance and project management calls for detail-oriented, forward-thinking individuals like entrepreneurs.
Interested in learning more about how a computer science degree can enhance your entrepreneurial goals? 
Learn more about PLNU's B.A. in Computer Science
5. Communications
Entrepreneurs must maintain strong relationships with internal and external stakeholders to ensure the success of their company. A communications degree teaches future entrepreneurs how they can effectively communicate verbally and in writing to maintain positive connections with customers, investors, and suppliers. This is especially important with the advancement of technology, as the communication landscape is and will be ever-changing.
A communications major can help entrepreneurial-minded students become familiar with:
Management
Marketing
Advertising
Public relations
Human resources
Learn more about PLNU's B.A. in Communications
6. Psychology
A psychology degree helps entrepreneurs understand what consumers want and the ways they can be influenced by a product or service. Similar to a communications degree, a degree in psychology promotes positive and effective connections and relationship-building between customers, investors, suppliers, and entrepreneurs.
Studying methods of persuasion and consumer habits will enhance an entrepreneur's understanding of how their products can be best promoted. Courses on personality, industrial-organizational psychology, and research can be found in undergraduate psychology programs, giving entrepreneurs a head start on their client-dependent careers.
Learn more about PLNU's B.A. in Psychology
7. Engineering
With an engineering degree, entrepreneurs will have a thorough understanding of problem-solving and product development. Entrepreneurs will have the opportunity to create their own products while pursuing their undergraduate engineering degrees. Their innovative skills will deepen their knowledge of how complex items operate and may lead them to make the newest invention. General engineering courses also help students set realistic goals, and have an ethical responsibility in the workforce.
Entrepreneurs interested in technology-oriented services are likely to thrive in electrical engineering. It's common to work in fields like aerospace, cellular communications, solar technology, and many more.
Learn more about PLNU's B.S. in Engineering
Get Your Degree at PLNU
If you are planning to start your own business and want guidance, hands-on experience, and the opportunity to obtain more skills, Point Loma Nazarene University offers many degrees that will help.
Learn more about the bachelor's programs that this San Diego-based university provides.