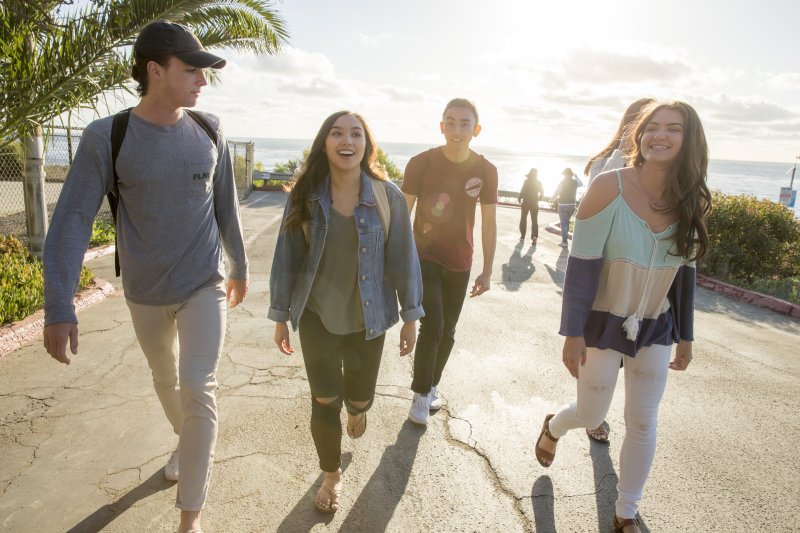 Earning a degree can be an enriching experience in many ways: taking classes from professors who are experts in their fields, academically preparing for a future career you love, and making lasting connections and friendships.
With that in mind, it's important to be aware of the cost of tuition, fees, and college-related expenses. Understanding your financial aid and scholarship options before you even graduate high school can potentially save you a lot of time and money during your college experience. So what are some scholarship options at Point Loma Nazarene University?  
What Merit-Based Scholarships Does PLNU Offer New Students?
PLNU offers a variety of scholarships based on academic accomplishments. One of the biggest categories of scholarships for first-time freshmen includes merit scholarships, which come from the admissions office. By applying to PLNU for admission, students are automatically considered for merit-based awards, meaning you don't even have to apply! Once students go through the admissions process and are accepted to PLNU, the admissions office evaluates their transcripts and determines what merit-based scholarship award they qualify for. 
You may have taken honors or AP classes, but your high school doesn't weigh GPA. On paper, for instance, your GPA might read like a 3.4, but when our admissions team re-evaluates it on a weighted scale, it could go up. At PLNU, we evaluate each transcript individually to see what students qualify for. We take whatever GPA is the highest to ensure you're getting the best possible aid we can offer. 
__________
Who are you called to be?
Pursue your purpose at PLNU.
__________
Scholarships for Returning Students
Students hoping to earn merit awards will have until the end of their senior year to achieve qualifying grades. A student that is already receiving a merit-based scholarship will have until the end of the school year to make it into the next bracket and earn a higher scholarship. The admissions office automatically updates GPA changes for students in their second, third, and fourth years at PLNU. 
Additionally, students have the opportunity to apply for additional scholarships. At this time, PLNU offers approximately 300 endowed scholarship opportunities for which returning students can apply.  
What Are Performance-Based Awards?
At PLNU, we value the different strengths each student brings to our university, and therefore offer different performance-based awards through various departments across campus. We encourage students to begin the application process for performance-based awards during their junior and senior years of high school due to their popularity. Even before applying for PLNU, students can look into different options that could potentially help.  
The process of earning a performance-based award looks a little different for each student. However, once a department decides to offer a student their scholarship, the department chair will communicate with the financial aid office and add that scholarship to the student's financial aid package.   
Athletics  
Student-athletes typically want to start by getting in contact with the coach of the team they wish to join. You can contact the intercollegiate athletic department at (619) 849-2265. Because PLNU is NCAA Division II, student-athletes should start reaching out as early as junior year of high school since that's when they're legally allowed to start the recruitment process. Typically if a student is reaching out senior year, it can be too late to earn the full amount of funding the athletic team has for new incoming and returning students.
Music and Theatre 
PLNU also offers music and theatre performance-based scholarships for students. Students can contact the department assistant in the Department of Music at (619) 849-2445 and the department chair in the Department of Communication Studies at (619) 849-2605. By getting in touch with these departments, students can begin building relationships with department leaders and coordinating auditions. 
Speech and Debate
Students interested in speech and debate can contact the forensics coach in the Department of Communication Studies at (619) 849-2391. When the speech and debate team recruits students, they'll explain how much money their department has to offer each student.
How Do I Begin the Process of Applying for Financial Aid? 
When it comes to applying for financial aid, you can never be "too prepared." While most students don't often begin college applications until senior year of high school, you can begin planning for financial aid even earlier. 
PLNU's admissions office encourages all applicants to file the FAFSA, which helps identify need-based aid. Everything outside of merit aid — FAFSA, grants, and need-based aid — go through the financial aid office, which helps compile a student's financial aid package, determining what the family qualifies for through FAFSA, and making sure students get their scholarship aid. Ensuring students receive the funding they need is one of the main priorities of the financial aid office. 
Staff on the admissions and financial aid teams are happy to work through the FAFSA process with families who need help. Even if you feel like you may not qualify for any government aid, filing the FAFSA can help you earn community grants or other need-based aid at PLNU. It allows PLNU to see a fuller picture of what a student needs in order to be successful. 
Contact an Admissions Counselor Today
At Point Loma, we want to provide affordable and accessible education for all students. We have admissions and financial aid staff who are specifically there to help you walk you through the process of scholarships and financial aid. If you're interested, you can take the next step by connecting with a counselor, visiting campus, or applying today! Talk with an undergraduate admissions counselor to see what scholarship options you may qualify for.