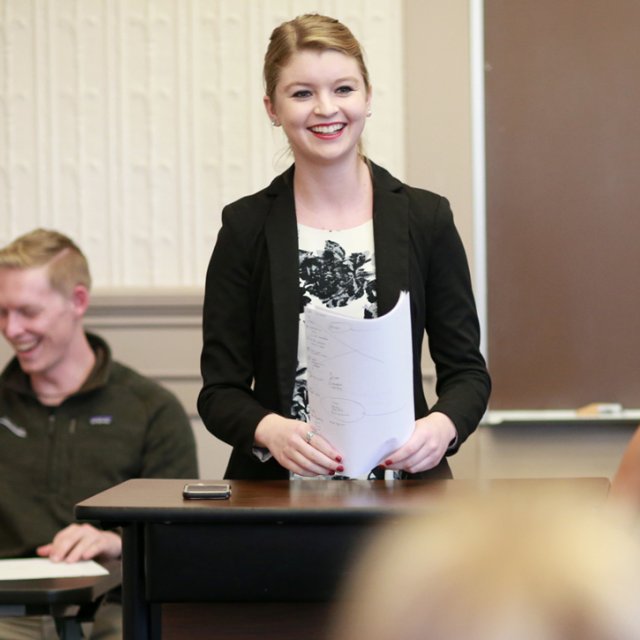 Welcome to PLNU Speech and Debate!
With an overarching goal toward advancing Christian principles and ideals, we strive to develop each student's full potential as a self-confident, organized, critically aware public speaker capable of competent self presentation of original or interpretive concepts and/or material in public or private settings, and to represent PLNU in the intercollegiate speech community in the highest manner possible.
Recent Team Highlights
In the 2016 fall semester, PLNU's Speech and Debate team achieved continued success. It recently earned the top spot in the country as the NPDA's  #1 team in the national sweepstakes race. The beginning of the year started out with a larger team than previous years, with numerous freshman recruits and transfer students joining our debate family, and PLNU alums Angela Compton, Joel Day, Jordon Cherry, and Chris Gutierrez staying for another year, this time as coaches. Despite a larger team competing, increasing travel costs, and strained budget concerns, PLNU has again proved to be one of the most competitive teams in the nation.
Historical Standings
Latest NPDA Results
PLNU's NPDA Debate Accomplishments Through 2017
For more information about PLNU's Speech and Debate team and forensics scholarships, contact Dr. Skip Rutledge.
Hosted Tournaments and Camps
The PLNU forensics squad will be hosting several tournaments on the PLNU campus in the coming year.
Sunset Cliffs Classic
The PLNU forensics squad is pleased to invite you to our annual Sunset Cliffs Classic 2020 Invitational tournament. The tournament will be held February 8 – 9, 2020. We hope you can come enjoy our beautiful seaside campus and the typically sunny weather.
Point Loma Classic
On Thursday, January 9 through Saturday, January 11, 2020, PLNU welcomes the Christian home school community to the 2020 Point Loma Classic, a Stoa home school forensics speech and debate tournament.