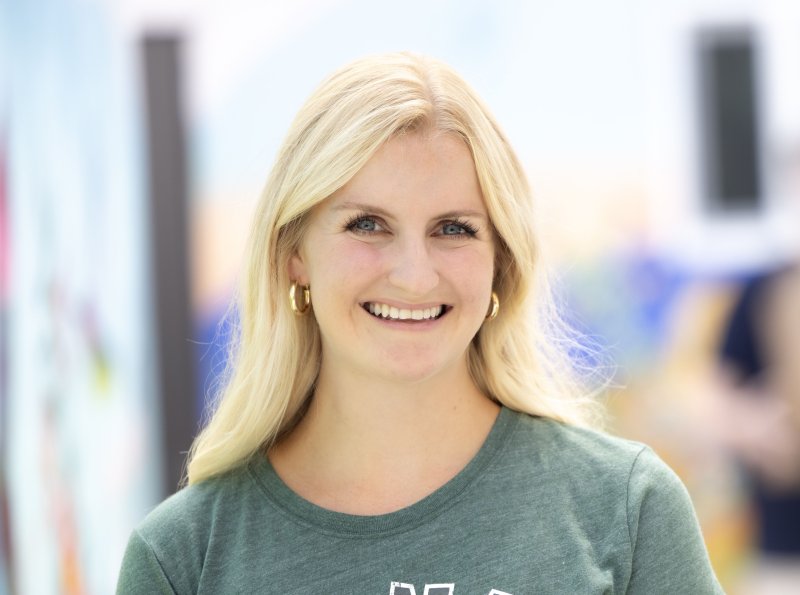 A typical week for a PLNU Master of Science in Nursing (MSN) graduate student includes classes, clinical rotations, and finding time for homework and test prep, but it's also the most rewarding work for Becca Sellner (23) and the rest of her cohort. Sellner recently completed the program and is finishing up her final classes in the summer of 2023. She shares how she managed being a full-time nurse while going to classes and completing her clinical rotation.
Why is a graduate degree in nursing valuable?
Current registered nurses or undergraduates who are about to go into nursing careers may be asking themselves why further schooling is helpful or even necessary. Becca and her classmates have all chosen to continue their nursing education for a few reasons including:
More job opportunities
Better pay rates
Ability to specialize
"I went back for my master's because I saw a big need for advanced practice registered nurses (APRNs)," Becca said. "Once I read about the career path, I realized it's so versatile and it would give me the opportunity to do more and grow in my career." 
Becca joined the program in 2021 after applying early and being accepted. Though the normal start date for the program is usually the fall, Becca was able to start early and would recommend that option for anyone who knows that they want to go to PLNU. "It helped me a lot to be able to start early. I was just in class for that time and I was able to study some things that I really enjoyed," she explained.
What does a typical day for a nursing graduate student look like?
A typical working nursing graduate student enrolled in PLNU's program will usually start their day with work. Nursing day shifts are anywhere from eight to 12 hours and start early in the morning. After working a shift, nurses in the program head to class. 
Class sessions are about three hours and take place twice per week in person at PLNU's Liberty Station campus in the afternoon. In addition to class, each student in the program completes clinical hours at least once per week. These shifts are usually eight hours. During the rest of the week, a student can expect to spend time doing homework and research. 
As a registered nurse in the program, Becca took classes and fulfilled clinical hours while continuing to work her normal day shift hours. 
She explained that the support from staff and faculty made it possible. 
"My favorite part of this program was the faculty," Sellner said. "They were so supportive and interactive and very approachable. The smaller class sizes meant it was easy to speak up and ask questions as well."
Becca found that while managing her clinical rotations on top of classwork and nursing was challenging, the support of faculty and cohort members made it possible. PLNU's professors also go above and beyond when it comes to helping their students find the right clinical rotations as well. Each student is presented with a list of information on each opportunity and encouraged to research the best fit for the type of nursing they'd like to work in. From there students are placed in clinical rotations.
"It is very common at other schools for students to have to find their own clinical rotations," Becca said. "It's very stressful because you have to reach out and find someone who is willing to be your precept and you have to do all the work yourself. But PLNU has faculty members specifically for our clinicals and they help us find our placements." 
How do you become a nurse in California?
To become a registered nurse in California, there are a few steps to follow:
Earn an undergraduate degree in nursing from an accredited university like PLNU.
Take and pass the National Council Licensure Examination (NCLEX) to become a registered nurse (RN).
From here nurses can make the decision to specialize further with more schooling in a graduate program in nursing. The Master of Science in Nursing degree from PLNU helps prepares nurses to specialize as clinical nurse practitioners (CNS) in the following areas:
Adult gerontology
Pediatrics
Women's health
Family nurse practitioner
Healthcare leadership
Nursing education
After completing the MSN program at PLNU, graduates can go on to more schooling such as PLNU's Doctor of Nursing Practice which includes specializations in some of the same areas:
Graduates will also be qualified to apply for APRN roles. Some may take certification and licensure examinations such as the CNS certification examination by the American Nurses Credentialing Center (ANCC) and American Association of Critical-Care Nurses (AACN). Clinical nurse specialists will find themselves with a variety of job opportunities upon completing licensure. 
For nurses like Becca, the choice to specialize ultimately tied back to why she became a nurse. 
"We get to do so much for our patients working with interdisciplinary teams," she said. "We work with doctors but we really have a lot of autonomy and get to call the shots on what the best care for our patients looks like. I can't imagine working somewhere else." 
Learn more about PLNU's MSN program or School of Nursing online or start your journey by applying today.