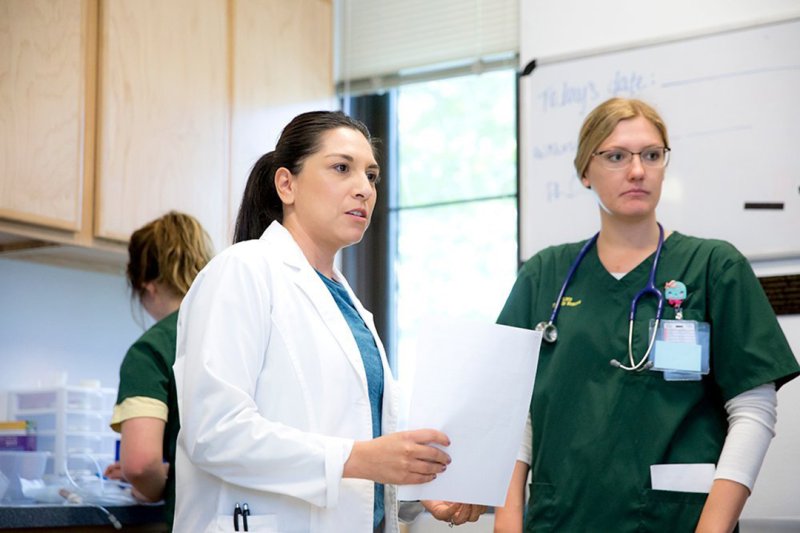 The push for those in nursing to obtain their doctorate degrees has grown substantially. There are certain clinical nursing roles that don't currently require an advanced degree but that trend is changing. Additionally, the nurses who do have a doctorate will only continue to have an advantage in the healthcare setting.
Whether you already have your master's, are currently working in a nurse specialty, or are considering enrolling in a graduate degree program, it's worth thinking about whether a terminal degree makes sense to further your career as a nurse. 
Ph.D vs DNP
There are two doctorates that are available for nurses looking to earn an advanced terminal degree. A terminal degree refers to the highest academic credential for a given discipline.
What is a Ph.D?
The Ph.D. stands for a doctorate of philosophy, which is primarily a research doctorate. You're probably familiar with the Ph.D. because this is what most professors at four-year universities have. It's a terminal degree for those focused on researching and adding new knowledge to a specific discipline.
That discipline could be literature, biology, mathematics, or one of the many others within the higher education system. A Ph.D. in nursing is designed for those who want to research and find new knowledge within the field of nursing. It's also for those who specifically want to teach at a major research university (although you can still teach with a DNP at some smaller universities). 
What is a DNP?
In comparison, the DNP, which stands for Doctor of Nursing Practice, is focused on clinical practice rather than research. DNP programs are typically modeled after and have a similar structure and style as other clinical practice doctorates like the medical doctorate (MD), occupational therapy doctorate (OTD), or pharmacy doctorate (Pharm.D.).
"As a Ph.D.-prepared nurse you're gathering and creating new knowledge in your field," Barb Taylor, Ph.D., RN, the dean of PLNU's School of Nursing, explained, "For those with the DNP, they're taking a look at a current problem and finding a way to solve that problem by applying knowledge that already exists." 
__________
Who are you called to be?
Pursue your purpose at PLNU.
__________
While you can find a full-time job teaching at a smaller university with a DNP, there are many universities that don't offer tenure-track positions to nursing faculty unless they have a Ph.D. A tenure-track position within higher education is a position that, after a few years of being reviewed for research production and teaching competence, you are guaranteed a full-time job at the university until you retire. 
"Universities have medical doctors and lawyers [who both have practice doctorates] in tenured teaching positions, but nursing isn't there yet when it comes to having a doctorate in practice as opposed to a Ph.D.," Taylor said. "So whenever I talk with potential students and they want to teach I say, 'Where do you want to teach? What's your goal?' And if it's at a large research school then I steer them toward a Ph.D. But if they're willing to teach at a smaller school, or a community college, then I'll say the DNP is still an option for you."
How Long-Term Goals Can Help You Decide Ph.D. or DNP
If you're considering a Ph.D. or DNP, it's important to envision your end goal. If you love research and are committed to growing knowledge within the field of nursing, then the Ph.D. is probably the better choice. Additionally, if you're committed to teaching at a larger school as well as doing research, then, again, the Ph.D. is going to be the better option for you.
Yet, the DNP is the better option if you see yourself staying within the clinical setting, even as an administrator one day. Taylor provided examples of two students who are currently in a DNP program who are interested in staying on the clinical side.
"One student, a nurse anesthetist who works in an ambulatory surgery facility in the Los Angeles area is currently interested in research related to the protocol for administering anesthesia to obese persons," Taylor said. "There are a lot of surgeries that are canceled because of the specific protocols for these types of patients, which affects the bottom dollar for the facility and the patient. This student wants to develop a protocol that would address this. Another student of mine is a nurse at UCSD and her father-in-law had a stroke. When they discharged him they told the family there's a chance for depression for her father-in-law. The research shows that depression occurs pretty much 100 percent of the time. So this student is developing a protocol that will prepare families and patients who have suffered a stroke by providing depression screening tools and resources at discharge, rather than waiting for it to happen."
I became a nurse because I wanted to provide care for patients. My heart has always been at the bedside, and I wanted to get my advanced degrees so I could be a better nurse as well as work with other nurses in taking care of their patients.
Both of these examples highlight the type of applied research that a DNP would do in a clinical setting. Whereas the Ph.D. would be the one focused on conducting comprehensive and original research for obese or stroke populations (e.g. the number of delayed surgeries for obese patients or the number of stroke victims that become depressed), it's the DNPs who would take that research and figure out ways to apply it to the clinical setting to improve healthcare.
Use Your Passions to Drive Your Nursing Career Path 
Michelle Riingen, DNP, RN, CNS-BC, the associate dean and director of PLNU's RN to BSN adult degree completion program, earned her DNP instead of a Ph.D. because she wanted to enhance her clinical expertise in nursing.
"I became a nurse because I wanted to provide care for patients. My heart has always been at the bedside, and I wanted to get my advanced degrees so I could be a better nurse as well as work with other nurses in taking care of their patients," Riingen said.
What do you want to do? Where is your heart?
PLNU alumni Lindsey Ryan (05, MSN 10), on the other hand, opted to go for a Ph.D. instead of a DNP.
"One of the things I really felt passionate about was generating new knowledge, and that was what the Ph.D. program was all about," Ryan said. "The DNP-prepared nurses translate the evidence. The Ph.D.-prepared nurses are creating it. I felt very comfortable in my role with translating some of that research and implementing evidence-based practices, but I wasn't knowledgeable about creating new evidence, and that seemed really exciting to me. I love innovating. I love asking questions. So the Ph.D. route really gave me a platform to ask the questions, ask them in a scientific way, and use different methods to answer those questions."
Riingen is asked often by both PLNU nursing students and alumni if they should pursue a Ph.D. or a DNP.
"I hear that question all of the time, and my first question back to them is always, 'What do you want to do? Where is your heart?'" Riingen said.
"My advice to a young nurse considering graduate school would be to look within your own organization, identify people who are in roles using their doctoral degree, and ask them about it," Ryan shared. "There is so much value in hearing firsthand what the role looks like, what their challenges are, and what their greatest contributions are in that role. Identifying your own strengths and what makes you excited is important, too. Take time to self-reflect on what you're truly passionate about."
Ph.D. vs  DNP? PLNU Nurses Share Their Thoughts 
Mary Kay Shibley is currently the manager of clinical informatics and the electroconvulsive therapy department (ECT) at Sharp Mesa Vista. She started her DNP program this past fall.
"I truly love what I do, but I got to this place where I started to ask myself questions about what I want to do down the road. I knew I wanted to get an advanced degree in nursing but I did not want to get a Ph.D. because to me, the Ph.D. is all about research, and I've never been interested in just doing research," Shibley said. "I'm a do-er. To me, the DNP was the perfect degree because it allows me to implement things that have already been researched by other nurses."
Shibley is hoping the DNP helps her move up in Sharp Healthcare related to informatics and leadership because she recognizes the importance of technology in the healthcare field. She wants to be able to implement policy changes at the administrative level. A few months into her DNP program, she has no regrets about her decision to go back to school.
"So far I love the program. I love the ability to do the work during the week and through the web conferences where I can connect with everyone else in the course. Some of us live far away, so we're not going to get together physically, but I love that we can get together in those web conferences that are facilitated by the instructors," Shibley shared. "I did various research on DNP programs since I'm working full-time and could not back off from that since I have two children who are going to hit college in about three years. In looking at the various programs, I wanted a program that offered me the ability to work on my own but also to connect with others in a meaningful way."
Jose Chavez (07, MSN 16) started his DNP program this past fall as well. He is currently a critical care critical nurse specialist and covers the cardiac intensive care unit and the cardiac telemetry unit at Cedar Sinai. He saw a DNP as the next valuable step for his career aims in nursing.
I'm a do-er. To me, the DNP was the perfect degree because it allows me to implement things that have already been researched by other nurses.
"Nurses are expected to take on bigger roles with all of the changes, and are often expected to have an advanced degree," Chavez said. "These changes in healthcare include more technology and an aging population, which means that nursing will continue to have more responsibility within the healthcare industry. Continuing on to get a DNP furthers my stance in the profession, and that's where it's headed with terminal degrees. It prepares me in being able to apply the science and push healthcare and my career forward. My dream is to be able to push nursing into new directions, especially by advancing it in different countries."
He is also happy with his decision to pursue his DNP.
"My DNP program has been great. My peers in the program are well established in their careers," Chavez said. "It's cool to see their point of view and to hear about their experiences. I'm getting all of these different points of view that I usually wouldn't within my own specialty, such as within anesthesia or behavioral health. It's also a smaller program, and I can really feel the community, even as a DNP student."
Ryan earned her BSN and MSN at PLNU, and is now attending the University of San Diego for her Ph.D. She can't say enough about the value of going back to school to get an advanced degree beyond just the BSN, whether that's an MSN, DNP, or Ph.D.
Nurses really need to be leading and innovating some of the changes going on in healthcare.
"I wish it was mandatory for everyone to get a degree beyond the BSN just because I think there is so much value in continuing to expand your horizons and skills in nursing. And with as fast as healthcare is moving, you can't stay stagnant and constantly have to be thinking about how you are going to adapt and innovate," Ryan said. "Nurses really need to be leading and innovating some of the changes going on in healthcare."
Shibley offered advice to those nurses who have been out of school for several years and are hesitant to go back. She understands the hesitation, as she herself spent many years away from school before starting her DNP program.
"It's never too late," Shibley said. "The last time I was in school for my master's was twenty years ago. We have a nurse anesthetist in the program who hasn't been in school for thirty years. But we're all doing it together. You're never alone and the teachers are great support. PLNU has a plethora of opportunities for you to learn and grow, and so don't be afraid to try it."
Start Your Advanced Nursing Degree
Healthcare continues to expand and nurses make up a major part of this industry. Are you ready to advance your career in nursing?