PLNU's Bachelor of Arts in Strategic Communication program prepares students to ethically engage in both the marketplace and the public through discourse and action grounded in theory and practice.
The strategic communication program draws from foundational communication theory and rhetorical principles to develop practical experience in cross-cultural communication, gender communication, public relations, advertising, organizational communication, community relations, and branding. 
Upon graduating, students can expect to develop the knowledge and skill to communicate more effectively, solve problems, strengthen relationships with internal and external groups, and navigate emerging media and technologies. 
Learning Outcomes
Students who complete the strategic communication program will be able to: 
Learn basic theory, application, and performance skills within the discipline of communication.
Use communication competently in a variety of complex environmental and social contexts.
Participate in the discipline of communication in their collective communities.
Display communication competence both verbally and nonverbally in interpersonal, small group, organizational, and intercultural contexts.
Demonstrate skills in the theoretical and historical critique of media, including the integration of a Christian worldview and ethical framework for viewing, interpreting, and critiquing media messages.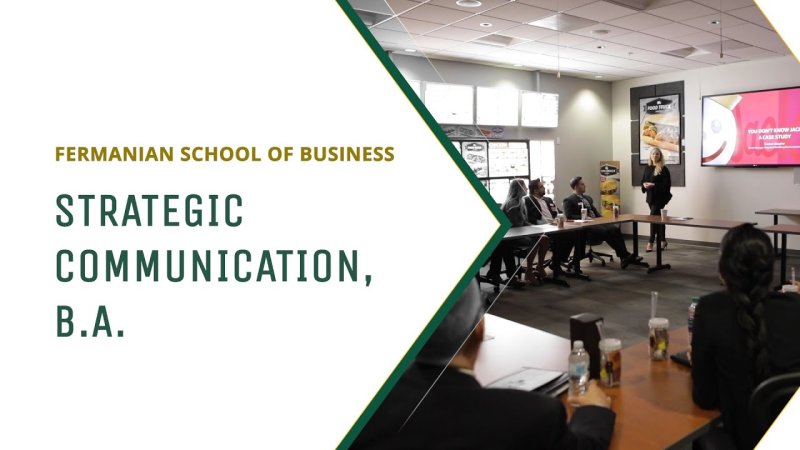 Community Oriented
As part of the PLNU community, students will be instructed and mentored by expert faculty and staff dedicated to shaping the next generation of communication leaders. PLNU is committed to providing outstanding professional education rooted in a solid foundation of Christian values, the humanities, and practical application. Students will grow in knowledge and develop skills established in virtue while exploring questions of ethical application across the curriculum.
Convenience to Fit Your Life
Our curriculum is designed with busy, working adults in mind with an entirely online format. Coursework is designed to be flexible to your needs and help you balance your other life commitments. 
Online Format 
PLNU's strategic communication program offers the flexibility of online learning and the ability to set your own schedule while also providing the benefit of participating within community. All courses are three units spanning eight weeks with the exception of the Biblical Perspectives course and a 16-week/120-hour internship. Students applying for the program can start with as little as zero college credits completed!
| | |
| --- | --- |
| Who is it for? | Busy working adults who prefer independence. |
| Program Start | Six start dates year-round |
| Program Structure  | 100% online and asynchronous (fully flexible). |
| Location | Online — at your own pace. |