Your work is more than a job — it's a sacred calling. You meet people in their weakest, most vulnerable, and joyful moments. Your patients need more than your skills and technology alone; they need your compassion, humble strength, and spiritual understanding.
PLNU's School of Nursing offers an RN to BSN degree in a hybrid format designed for working nurses. Hands-on, evidence-based instruction, mentoring, and a practical clinical component will build on the educational experience you've already achieved while preparing for your RN license.
Faithfully serve others — and fulfill your purpose.
Earn your BSN in a flexible hybrid format
This hybrid format provides invaluable in-person academic and career support from experienced nursing professionals and fellow students so you can make the most out of your BSN.
Conveniently continue your nursing education
The quality of PLNU education without the hassle of long commutes.This program features one in-person evening class per week, with the rest of the classes online. Rather than feeling like you're starting a new program, you can continue your education in the environment that's most comfortable and convenient for you. For this RN to BSN hybrid program, PLNU has partnered with these community colleges to bring our quality education and mentorship to excellent, convenient locations across San Diego: 
Southwestern College
San Diego City College
Grossmont College
Mira Costa College
Palomar College
Learn innovative patient care on your terms
This program's hybrid structure gives you the flexibility to learn when and where you want. You can complete coursework in the comfort of your home, favorite coffee shop, or local library while choosing a study schedule that works best for you. Having one in-person class per week will help you to build a routine that keeps you motivated without interrupting your weekly schedule. 
Healthcare-focused community and mentorship
A key advantage to having weekly in-person classes is the ability to enjoy PLNU's tight-knit community in person. You'll be able to form meaningful connections with fellow students as you learn and grow together in your leadership expertise. 
You'll also have access to top-tier mentorship from professors and advisors. They'll help you to leverage your strengths to expand your connections and career opportunities. You'll be able to access resources tailored to you and your career goals. 
Time for life's commitments, even for the busiest nurses
Learning shouldn't prevent you from doing what you love. Coursework is designed to be flexible to your needs and help you balance your other life commitments. 
While completing this program, you'll still be able to continue spending time with family, thriving at your full- or part-time workplace, or leisure time. 
A seamless learning transition from your ADN
A counselor and coordinator will work with you through every step of your journey to complete your bachelor's, from helping you transfer previously-earned credit to working alongside you with care and encouragement as you earn your degree and complete your clinical hours. You won't feel like you're starting a brand-new program — rather, it will be a natural continuation of your previous education experience, especially if you've attended one of the community colleges we've partnered with.
"As an ADN graduate myself, I am excited about the opportunities this RN to BSN program provides for nurses. This program paves the way for nurses to fulfill lifelong learning goals and pursue professional adventures."

Michelle Federe Riingen, DNP, RN, CNS-BC
Dean, School of Nursing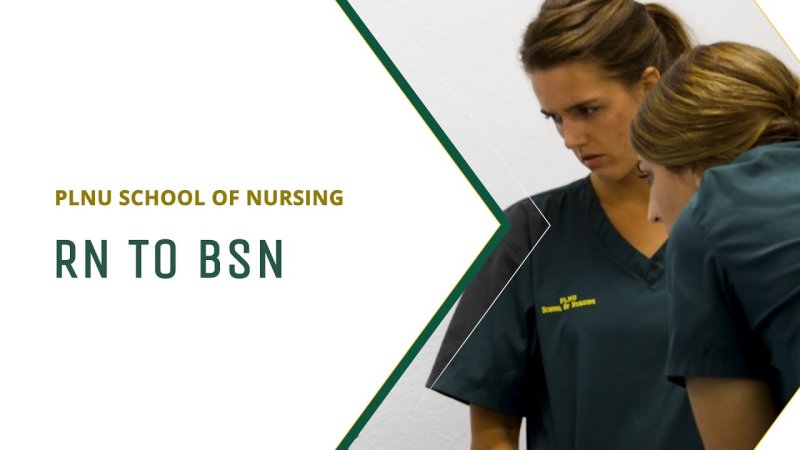 Stay up-to-date in the nursing field
A BSN is quickly becoming the industry standard, with many hospitals requiring RNs be enrolled in a BSN program as a requirement for being hired or promoted to a leadership position. Currently, BSN-prepared nurses are eligible for 37 percent more jobs and have considerably higher earning potential over the course of their careers.
Clinically Prepared
In this program, you'll complete community outreach clinical hours required by your BSN. These hours also allow you to graduate and earn a California Public Health Nurse Certification, making you more marketable and employable with industry-relevant skills and experiences.