Receive your master's in special education fully online in the state of California. Our program is built to support schedules as unique as our students. When you join PLNU's master's in special education program, you'll challenge yourself to be more effective in serving students with special needs. 
You don't work in special education because it's easy — you do it because it matters. You want to be an educator who makes a difference in your students' lives. That's what we want, too.
Everyone you encounter here will share that goal with you, from your admissions counselor to your professors. Rest assured, PLNU's School of Education will take a personal interest in you and care about your concerns, experience, beliefs, and goals.
At PLNU, we're here for the same reasons as you: We truly believe in the power of education, and we care deeply about individuals — including you. Like you, we believe all students, no matter their challenges or needs, have value and promise. We believe the right teacher can make every student's life better.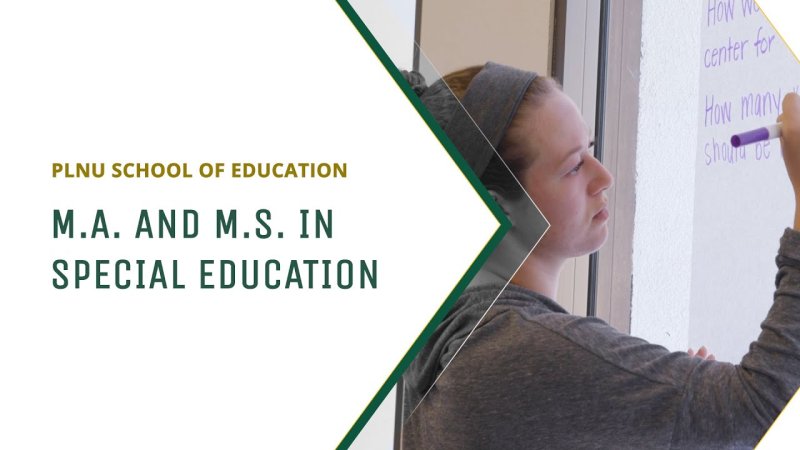 Relevant Topics
District partnerships ensure our curriculum addresses current needs and topics facing educators, and our added authorizations increase depth in areas important to you. As a Christian institution, PLNU equips you for the spiritual, emotional, and personal benefits and challenges of special education practice.
Customizable and Convenient
Complete courses and study material when it works best for your lifestyle. Our fully online program is offered through the state of California to allow our students the flexibility to create their own schedule. We understand your scholastic goals are unique to you and your lifestyle — and we're here to support you through each step of the way.
Customize your experience based on your future goals. PLNU's master's in special education offers two tracks to choose from:
Master of Arts (M.A.) in Special Education  
Master of Science (M.S.) in Special Education
The M.A. includes an action research project and has a shorter completion time; this track can be completed in as little as 12 months. This program is meant for you if you seek to continue working in a classroom after graduation and not pursue further education — such as a doctorate.
In the M.S. track, you'll complete a thesis that prepares you for entry into a doctorate-level program. Both options require the same number of units to complete.  
Both tracks include the following embedded in the program:
Reading and literacy authorization 
One additional authorization 
Google teacher certification level 1