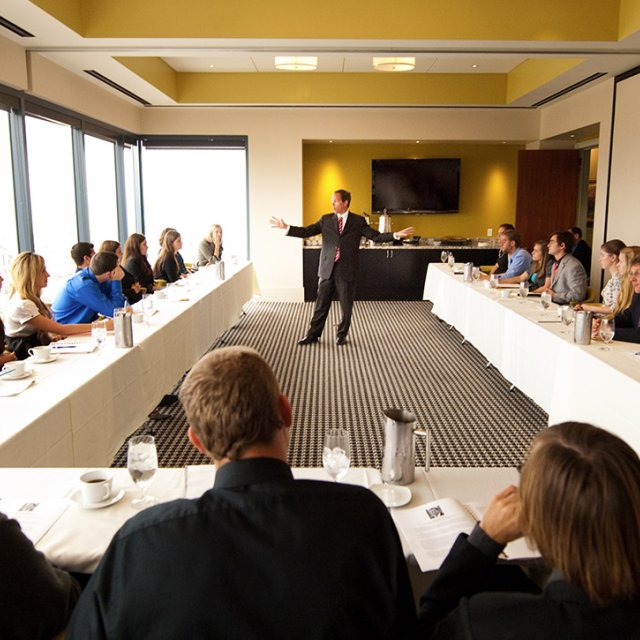 Do you share the conviction of President John F. Kennedy that "politics matters"? If so, the Institute of Politics & Public Service (IPPS) was created for students like you!
Although housed in the Department of History & Political Science, IPPS is open to all students with a passion for politics and public affairs. You will engage with peers, faculty, and civic leaders to discuss issues of political importance and prepare for a career in public service. 
Our Purpose
To enrich and promote the quality of civic life and public affairs by building bridges between PLNU and the world of politics.
What is IPPS?
The Institute of Politics and Public Service (IPPS) exists to provide you with opportunities to immerse yourself in the world of politics by bringing you into personal contact with the moral, personal, and policy sides of public affairs. You will be able to meet and interact with political leaders, activists, academics, and those involved in policymaking.
"The various speakers the IPPS brought in made what I learned in class at PLNU feel even more relevant and exciting by opening my eyes to real-life applications and different career options. I also learned about the Fulbright program through the IPPS and several PLNU professors helped me through the application process. As a Fulbright grantee, I spent nine months studying Sub-Saharan African migration in Morocco, an experience that definitely shaped my life and career."

Kristen Johnson Aster, Class of 2009
Why should you get involved?
Students involved with IPPS will have the benefits of:
Connecting with an internship in a political office, nonprofit organization, or legal office

Attending off-campus lectures and seminars

Getting invitations to hear civic leaders speak on the Point Loma campus

Attending discussion breakfasts and dinners where they can meet and interact with policymakers and broaden their knowledge of public affairs
"Completing two internships and attending IPPS seminars were definitely integral to pieces in my course of study at PLNU. They allowed me to really challenge myself and step outside my comfort zone, so I had a smooth transition into my first job. My internship experiences also helped me land a job at a similar organization before I even graduated. The IPPS events each helped me gain some excellent insight not only into the field of political science, but any career path. There was advice given and information shared at those seminars that proved to be invaluable as I left PLNU and joined the working world. I am thankful to have heard from experienced professionals from a variety of backgrounds who really delved deep into our questions and truly inspired us."

Taylor Clark McBride, Class of 2011
Faculty Advisor
Dr. Lindsey Lupo
lindseylupo@pointloma.edu
Check out upcoming events at the Department of History & Political Science Facebook Page