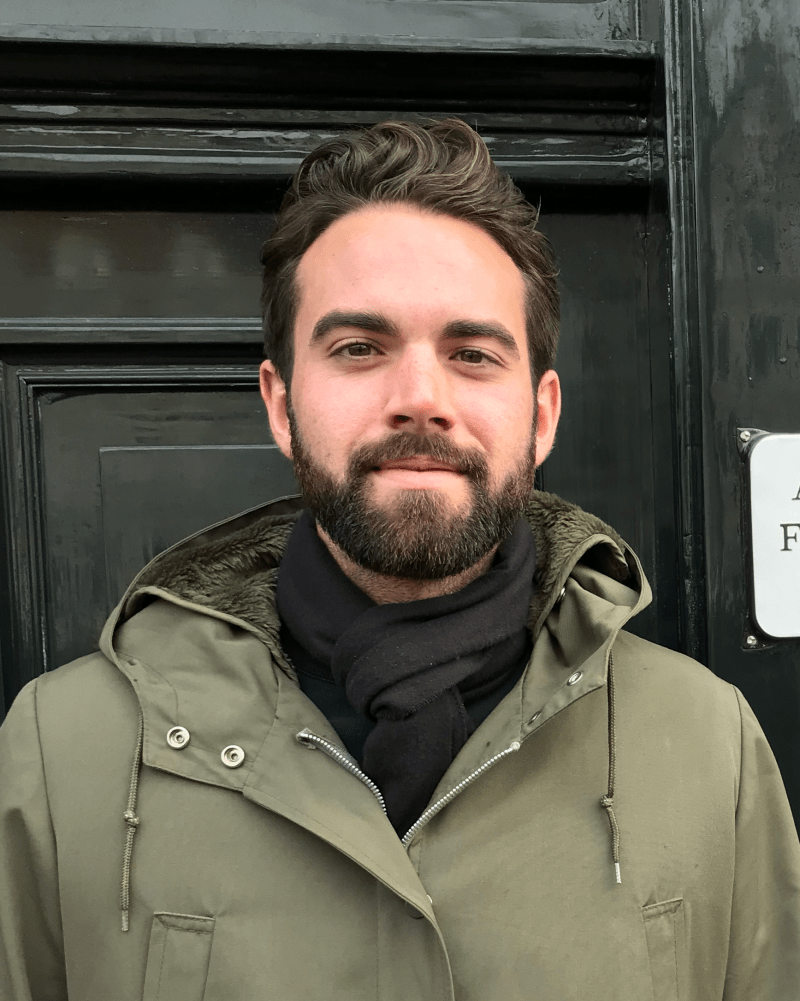 The Association of Writers & Writing Programs (AWP) just announced the 2020 Intro Journals Project Winners. PLNU alumnus Brandon Parker received Honorable Mention for his Creative Nonfiction piece, "Sounds of War." 
AWP defines the competition on their website: "The Intro Journals Project is a literary competition for the discovery and publication of the best new works by students currently enrolled in AWP member programs. Program directors are invited to nominate students' works, which are selected for publication in participating literary journals, including Colorado Review, Hayden's Ferry Review, Iron Horse Literary Review, Mid-American Review, Puerto del Sol, Quarterly West, Tahoma Literary Review, and Tampa Review (2020)."
Brandon Parker is a 2019 graduate who completed a BA in Societal Communication and a minor in Writing. Parker worked in conjunction with Robbie Maakestad (Assistant Professor of Writing) to prepare and submit his essay.
Parker provided the following abstract: "The average John Mayer fan has no idea that his 2009 album, Battle Studies, was largely inspired by American author David Grossman's book, On Killing: The Psychological Cost of Learning to Kill in War and Society. And there's a good reason as to why. In his book, Grossman—a retired Lieutenant Colonel Army Ranger, historian, and psychology professor at West Point—combines the reality of combat with substantial psychological research to prove man's powerful resistance to kill, the psychological leverage and manipulation required to get men to kill, and the trauma that results from it. In 'Sounds of War,' Marine Corps veteran, Brandon Parker, utilizes cover art, song titles, and lyrics from Battle Studies, combined with his own personal overseas experiences, as evidence for how Mayer artistically translated the psychological cost of killing to the psychological cost of heartache. Shed in its new light, Battle Studies may be a way for the average individual to better understand the often unexplainable realities of war which haunt our current and prior service members."
Katie Manning (Professor of Writing) shared, "This is a big deal. Brandon's essay, 'Sounds of War,' was competing against the best student writing that was nominated this year by all of the AWP undergraduate and graduate writing programs. We knew his essay was incredible, and we're thrilled for it to receive this recognition."
When asked what this experience has been like, Parker responded, "As someone who still doesn't necessarily consider themselves to be a writer, this award is a huge confidence boost. Writing has always been sort of a therapeutic practice for me—a way to clear my mind, so it's nice knowing that other people actually enjoy reading what I write. But more importantly, I think this award goes to show the importance of practice and constantly fine tuning the craft of writing. I have to thank the LJWL department and staff for the invaluable writing experience and knowledge I accumulated as a writing minor. And a special shout out to the professor Robbie Maakestad who worked diligently with me on this essay and nominated me for the award."
Currently, Parker is busy preparing to move to Madrid, Spain in the fall where he will be a language and cultural assistant at a public high school for a year. 
For more information about the 2020 Intro Journals Project and for a complete list of winners, visit this website: https://www.awpwriter.org/contests/intro_journals_project_overview