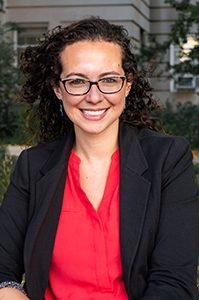 HT-RADAR Researcher Spotlight: Dr. Lara Gerassi
Research in the field of exploitation is essential to understanding how to identify and combat trafficking as well as walk alongside survivors. What often gets missed is the people and the passion that drives this critical research. One such researcher, Dr. Lara Gerassi, is an assistant professor and researcher at the University of Wisconsin-Madison. Her research focuses on changing outcomes for those who are involved or at risk of sex trafficking. Her most recent work Have you ever traded sex for money or drugs?' Health care providers' perspectives on sex trafficking risk assessments in clinics was published in March of 2021. It focuses on understanding the "perceived barriers to sex trafficking risk assessment among health care providers in a large health care organization." Her work does not stop there; alongside her published research, Dr. Gerassi mentors and teaches the next generation of change-makers at the University's Sandra Rosenbaum school of social work. She instills in her students a passion for people and brings light to the truth behind trafficking.

Dr. Gerassi was first drawn to social work in high school after being placed in the Natural Helpers program. In the program, she saw the challenges students were going through and began to see both the lack of structural support and oppression that exist and affect the outcomes for students. In her social work training, she learned about trafficking but thought of it as an issue far away, not something happening in her community. After discussions with people who have experienced exploitation, she soon realized that trafficking was entirely different than what she thought. Dr. Gerassi began to ask questions about what trafficking looks like in the United States, in her state, her neighborhood. Her work started with the hope of dispelling some of the commonly held stereotypes of trafficking, traffickers, and survivors that come in the way of positive change. When asked about some of the most impactful moments of her career, Dr. Gerassi replied that several small conversations with others in which myths about human trafficking were dispelled had been one the best moments of her career. This is why research like that of Dr. Gerassi is essential; understanding the truth behind what trafficking looks like is one of the first steps towards effective change.

As those who work in the anti-trafficking field know well, the work can be weighty. For Dr. Gerassi, it is essential to hold firm boundaries between work and family time. She takes time to do the things she enjoys, like running, baking, and spending time with her family. She also emphasizes how important it is to examine collective community care. She recognizes that self-care is a privilege since it often takes time and resources, which many do not have. She believes it is essential to look at how we can hold space in the workplace and take care of each other by structuring policies and norms to take care of each other while examining power structures that contribute to unhealthy boundaries. Another important aspect of caring for our community is finding professional groups that provide spaces for recharging work. 

Feminist scholars like Kimberle Crenshaw and Patricia Hill Collins have inspired her work. These women and all the people who have lived experience with exploitation and continue to pursue justice and activism give her hope for change. Moving forward, Dr. Gerassi hopes to continue to create impact through her projects with a more hands-on approach. She wants to continue to be a good role model and mentor for her growing research team. Most importantly, she hopes to find balance as a working mom of two. Dr. Gerassi is an accomplished researcher, a passionate teacher and mentor, and one of the faces behind research in the field of exploitation. For more information about Dr. Gerassi or to explore her research, please visit this webpage hosted by the University of Wisconsin-Madison.
Learn more about HT-RADAR at ht-radar.abolishhumantrafficking.com