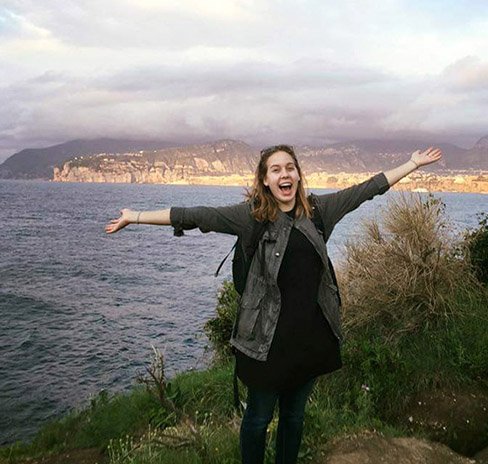 On her daily walk to John Cabot University in Rome, Italy, Layah Weiss often stopped in the old and ornate edifice of the Santa Maria Catholic Church, where she went for her devotional time and to find quiet in the whirlwind of her semester abroad. 
In the spring of her junior year, Layah, a senior management major with a concentration in global business, fulfilled her dream of studying abroad in Rome.
She started at PLNU with an undeclared major and explored her opportunities during her freshman year. When she discovered the global management concentration required a semester of study abroad, she felt that was where she was supposed to be. 
To get the process started, she collaborated with an advisor in the Office of Global Studies (OGS) to figure out the best time for her to study abroad. Her advisor showed Layah a virtual map of Italy which helped her choose which university to attend. She says there was never a moment she felt like she couldn't seek help from OGS. 
On her flight to Rome, Layah sat next to an Italian man traveling home who was excited for Layah and her upcoming semester and encouraged her to practice her Italian. 
Upon arrival, Layah went to the apartment complex she would be sharing with other American roommates. The rest of the complex was all Italian families. She says the complex was quaint and the building was a few hundred years old. It was centrally located and she took the tram or walked to school. 
From her apartment, she could also walk to the Vatican in a half hour. Since they were there during the Spring, Layah and her roommates went to the Ash Wednesday and Easter services. It was Layah's first experience with Catholic Mass. She also got to see Pope Francis speak at the Colosseum during Holy Week. 
Her classes were Monday through Thursday, which gave Layah an extra day each week to explore Rome, travel around Italy or other European countries. She traveled often with her roommates and they made it a tradition to do trips on their birthdays. They traveled to Paris for Layah's birthday weekend. Overall she traveled to ten different countries. 
Her classes included a mixture of courses for her major and general education requirements. Her favorite was a course in international business and organizational behavior. Her professor for the business class was from England and Layah enjoyed learning a European perspective on business. She also took courses in world history and literature. 
Layah says her study abroad experience will be valuable to her resume. Traveling in a foreign country required Layah to be confident in thinking on her feet, and problem-solving, which she feel are great skills to have in any future professional career. 
Though Layah loved making new friendships while abroad and when her family came to visit, she says taking time to explore the city on her own enriched her experience. Being alone made her more immersed in the culture, and solo-traveling is how she found her favorite park with a beautiful view of Rome.