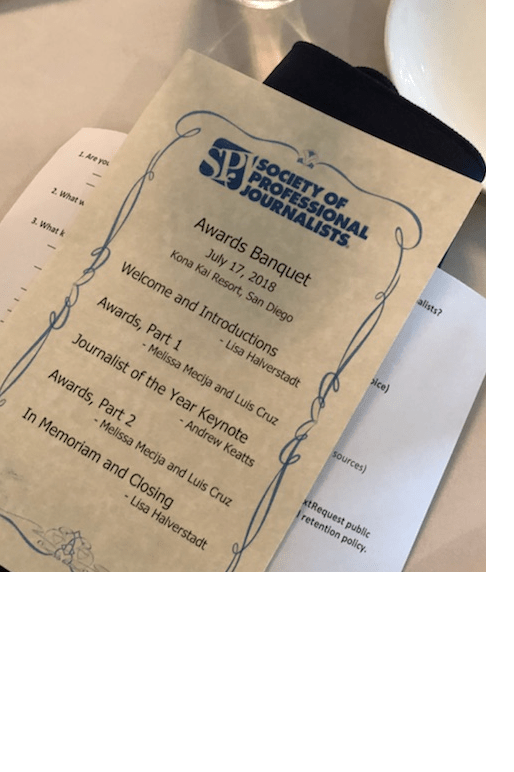 On July 17, 2018, journalism faculty, alumni, and students attended the annual awards banquet for the San Diego Pro Chapter of the Society of Professional Journalists.
Alumni Abby Hamblin and Ashly McGlone were first place winners in professional categories.
Students Lory Costello-Neeley and Victoria Davis won in professional categories for work they completed during their internships. Nick Kjeldgaard, Arielle Taramasco, Andrew Eakes and Dana Williams all won awards in student media categories. 
Congratulations to the winners!
See below for the award categories, awardee names, and media titles (PLNU journalists indicated in bold):
Special Awards, Sol Price Award for Responsible Journalism
Ashly McGlone, "Women Say Complaints of Unwanted Touching by La Jolla Teacher Went Largely Ignored", Voice of San Diego 
Audio, Podcast
Kinsee Morlan, Scott Lewis, Sara Libby, Adam Greenfield , Andrew Keatts, "I Made it in San Diego", Voice of San Diego
Troy Johnson, Erin Chambers Smith, David Martin, Archana Ram, "Happy Half Hour", San Diego Magazine
Ashly McGlone, "The Untold Story Behind the Sweetwater Schools Scandal", Voice of San Diego
Digital, Blog
Abby Hamblin, Luis Gomez, "The Conversation", The San Diego Union-Tribune 
Digital, Social Media Storytelling
Adriana Heldiz, "Breakdown of the Hepatitis A Outbreak in San Diego", Voice of San Diego
Lory Costello-Neeley, "The Surfing Contractor", Medium.com
Lory Costello-Neeley, "That Should Have been my baby", Medium.com 
Nondaily Reporting and Writing, Arts/Entertainment story
Sebastian Montes, "'Win Place Show' leaves gate with a crowded field", Del Mar Times
Denis Grasska, "Wheelchair-Bound Publisher Retells St. Paul's Story with Shades of 'Star Wars'", The Southern Cross 
Victoria Davis, "Hope for the Hopeless: My Enemy, My Brother", The Point 
Nondaily Reporting and Writing, News Feature Story
Torrey Bailey, "Local servicemen may have radiation poisoning from Fukushima", San Diego CityBeat
Alex Groves, "In the wake of Lilac fire's destruction, family tries to pick up the pieces", Temecula Valley News 
Victoria Davis, "Congregations Hope To Save Historic North Chapel At Liberty Station", Peninsula Beacon 
College Media, In-depth reporting story
. Michael McDonald, "Discharged from America", The Southwestern College Sun
Andrew Dyer, "Students say campuses not friendly to conservative values", The Daily Aztec SDSU 
Nicholas Kjeldgaard, Arielle Taramasco, "SEARCHED AND EXPELLED, STUDENT RIGHTS AND ROOM SEARCHES ON CAMPUS", The Point 
College Media, News or Feature Series (any subject)
Will Fritz, Bella Ross, Jasmine Bermudez, "Aztec Mascot Controversy", The Daily Aztec 
Andrew Eakes, Dana Williams, "#metoo Movement Hits Point Loma Nazarene University,", The Point