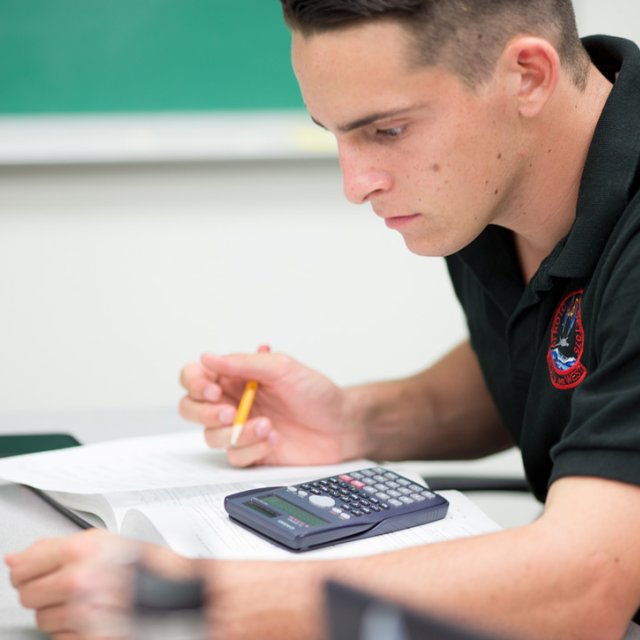 Service Learning is a semester-long course in which students will work with a team on a project that provides service for a nonprofit organization.
In addition to applying what they have learned in their coursework to complete the project, the student teams will meet regularly with their client to understand the project parameters, present their progress, and make directional revisions as necessary. This client-team communication and planning helps build the soft skills employers are looking for in future employees.
2015–16 Service Learning Projects
Sensory Signal Recovery Project
Ryan Bieber, Liam Oliver-Mallory, and Lindsay Watson
The signal recovery problem is one in which a number of measurements at various times can be used to calculate a transformation that can be used to predict future changes given other conditions. This paper details the techniques used to create such a transformation, ways to calculate with limited data, and how to improve performance of the algorithm.
Center for Pastoral Leadership Database
Brandon Colchin and Randy Hiroshige
The purpose of this Service Learning project is to provide an online database that contains the pastoral contact list for the Center for Pastoral Leadership (CPL). This database was requested by the CPL in the hopes of creating a central database available for use by all CPL staff. This tool will help the CPL as it organizes communication and maintains relationships with pastoral contacts on both a local and broader scale. The database of contacts is hosted as a MySQL instance through Amazon Web Services. Database access occurs through a website hosted as an EC2 application instance through Amazon Web Services. The website uses the Drupal platform, and the database access functionality was coded in PHP as a Drupal module.
Pre-Health Student Database and Data Importing
Sarah Elwin, Austin Krieghoff, and Ethan Soch
This paper reports on the processes relating to the implementation of a pre-health student database for the head of the chemistry department, Dr. Sara Choung. Topics include the design consideration for the database, the development of a user-interface to facilitate faculty interactions with the database, and the design and implementation of a computer program to aid the importation of preexisting data.
The Genome Comparison Project
Tim Little, Tristan Oliver-Mallory, Katelyn Ortiz, and Hannah Quinn
This project compared bacteria genomes and created visual representations of these comparisons. The bacteria genomes were first separated into each individual gene and these genes were compared against one another using an online comparison database called the Basic Local Alignment Search Tool. Bacteria genomes that were being compared were represented using tracks, with individual arrows used to represent each individual gene. These bacteria genome representations were drawn parallel to each other. The results from comparing the gene in the two genomes were represented by drawing red cross-links connecting similar genes represented by their arrow on each track.
Sarcophyton Glaucum
Will DeCino, James Morar, and Will Schumacher
The three students worked in collaboration with Dr. Maloney, Dr. Botts, and Dr. Jimenez, to assist Dr. Maloney with her research of Sarcophyton Glaucum. The first sections of the paper describe Dr. Maloney's work with the soft corals. This includes the importance of researching the corals and the current process used in the collection and classification of them. The middle sections of the paper mention the mathematical methods used to analyze the data collected from Sarcophyton Glaucum. This includes principal component analysis, hierarchical clustering, and linear discriminant analysis. The last sections of the paper present the output of the mathematical analyses. This includes a description of what the data is saying and a conclusion of the final results.
2014–15 Service Learning Projects
Locating Antibiotic Resistant Gene in Bacterial DNA
Lillian Duffey, Tyler Maskiewicz, Claire Mathews, and Clara Welcome
A client of Dr. Botts is a company wishing to create a more efficient waste treatment process by making use of the naturally developing biofilm to break down the waste, thus saving water in the process. Before this biofilm process becomes the next sewage technique, more information on the bacterial DNA is needed. This project was to begin the process in determining the location (plasmid or chromosome) of antibiotic-resistant genes in a sample of biofilm bacteria. The direct purpose was to begin the process of creating a database of DNA sequences that seem to be found only in plasmids as well as beginning to streamline that reassembly process.
Building a Student Survey Database Using Microsoft Access
Michael Bench, Craig Hollensbe, and Henry Teegarden
Over the last decade, PLNU has followed cohorts of students through their undergraduate studies by administering to them a series of standardized surveys. The results of these surveys were compiled into several large Excel files. This Service Learning group was responsible for creating a database that effectively organized this information so it could be used for data mining purposes by PLNU staff. By effectively organizing survey data, the database makes it significantly easier to answer important questions regarding student behavior. This makes it an incredibly powerful statistical tool. For example, by pulling data regarding grades and chapel attendance, one can begin to determine whether or not academic success and spirituality are correlated. For this project, the focus was on creating a database that organized data from two of the surveys taken in the last 10 years: NSSI 2005 and NSSE 2010.
2013–14 Service Learning Projects
Electrostatics Android Application
Brian Bufford, Troy Carmichael, Brendan Heldman, and Blake Herrington
This interdisciplinary team created an Android app that calculated and illustrated electrostatic point charges. The user is presented with an empty axis in which charges and sensors can be plotted with their corresponding parameters. A user can access a menu to add a sensor or charge, remove a sensor or charge, or view the list of all points and their corresponding calculation values currently present in the environment. After any update, all points are automatically plotted on the axis and the electrostatic fields created by these points are demonstrated. This tool is anticipated to be used in an education setting by students and professors.
SeqTrace Enhancement
Brooke Apffel, Joanna Borgona, Tim Dixon, Aaron McKinstry, and Ally Takeda
Antibiotic resistance is spreading rapidly and is a global health concern. It is necessary to understand the genes encoding these resistances to have hope for the future of effective antibiotics. To properly annotate and analyze the genes behind antibiotic resistance, advanced and efficient programs are necessary. The aim of this project was to enhance the open-source, free software SeqTrace to be better equipped to handle genomic data. Two things were accomplished: 1) creating an automated function that trims primers from given sequences, allowing users to input the specific primers they want to trim, allowing for slight variation on the primer sequences, and 2) creating a function that automates the process of data cleaning. Adding these functions to SeqTrace allows users to work with and manipulate DNA sequences within a free software.
Church Search
Vicente Chiquete, Jacob Rivera, Ericka Rule, and Keith Thompson
When relocating, new residents must find a variety of services. For many, a church where the family will feel comfortable is one of the most challenging things to find. This project aimed to create an online service, based on the R language, that would allow users to select the desired criteria for a church and see the offerings in the neighborhood presented both in text and on a map. Prior to creating the application and associated database, a survey was constructed and administered to gain the information with which to populate the database.
2012–13 Service Learning Projects
Abstracts
Dustin Ansley, Wileen Chiu, Joshua Lam, and Amanda Olson
Computer science is a potential college major few high school students are aware of. Yet, it is a major that leads to lucrative and satisfying jobs. The students involved in this Service Learning project contacted counselors, principals, and mathematics and science teachers at 26 local high schools, asking which of six different resources would be most helpful for introducing high school staff and students to the field of computer science. The top requests were for posters, brochures, and a short video. After studying papers on research regarding what influences the choice of a major, what characteristics make a good computer scientist, and the job prospects for computer science majors, the students produced and disseminated the posters, brochures, and video.
2011–12 Service Learning Projects
Videos to Support Learning in Elementary Statistics
Aimee Bird, Katherine Graham, Adam Kenyon, Colin Lowry, and Kevin Schick
For the MICS tutorial video project, students endeavored to create tutorial videos for a statistics class. The ultimate goal of the videos is to convey statistical concepts in a clear and concise manner. To complement this basic understanding of a particular statistical concept, the videos are also intended to provide students with a degree of intuition regarding each topic. Thus, students will understand why it would be important to use the statistical concept given a particular situation. Along with these videos, a functional, user-friendly website was also constructed during the course of this project. The website provides various sample questions and answers with each statistical concept. Having these resources available will permit students to practice and develop their ability to solve problems, and it's hoped this project will provide the foundation for constructing statistical competency.
Nursing Project 2011-2012: Determining the Value of TEAS
Alex Buttweiler, Evan Grove, and Walter Wagner
The nursing project is attempting to solve fundamental problems related to the low math and reading scores for nursing students observed over the past few years. The goal of this project is to predict retention and pass/fail for the NCLEX, which is the national exam to become a registered nurse, by analyzing grades from biology, chemistry, major nursing courses, TEAS reading/math scores, and their overall GPA. Binary logistic regression is the primary statistical method used to give predictions for the data. The outcome was that the TEAS exam had very little effect on predicting which students will pass or fail the NCLEX. The only significant factor in determining which students will be successful was GPA.
Political Science Assessment Analysis Project 2012
Alex Buttweiler, Evan Grove, and Walter Wagner
The main objective of this paper is to present the trends the Service Learning team discovered when analyzing the collection of entrance and exit surveys taken by students who are political science and international relations majors. Frequency counts were used to analyze the data; the survey answers were categorized and then analyzed based on the percentages of students responses. This paper will provide the Department of History & Political Science at PLNU with the conclusions drawn from the data given in this survey format. The outcome was that overall, students felt they were considerably better off than they were when they entered the major. The only negative outcome was that students did not feel like they were as well prepared as students from other schools overall.
Analysis of Factors Relating to Retention within PLNU's Biology Department
Cosette Tiguila and Ethan Wade
In an average year, the biology department at PLNU adds 50 to 60 new students who can be sustained by the department's current resources. Entering the 2011 – 2012 academic school year, there were nearly 100 new students, which exceeds the long-term sustainability of the department's resources; therefore, an analysis of factors that contribute to student retention was performed to determine what traits, if any, predict a student's success in the biology department. The results of this study will assist in determining how best to address the rise in the number of students. The data used for the study was from students enrolled in the following majors from 2005 – 2011: Biology – B.A., Biology – Chemistry, Biology – B.S., Environmental Science, Biology – Cell & Molecular B.A., Biology – Organismal B.A., Biology – Cell & Molecular B.S., and Biology – Organismal B.S. Due to a lack of time, no definitive analysis was accomplished, but there appears to be a correlation between a student's weighted high school GPA; English and math ACT percentile; and raw math, writing, and verbal SAT scores and whether the student switched or graduated from the biology department. Future studies are needed to determine the accuracy of this finding and also address other possible predictive factors such as college GPA, advanced placement tests taken prior to being admitted, student career goals, and extracurricular involvement.