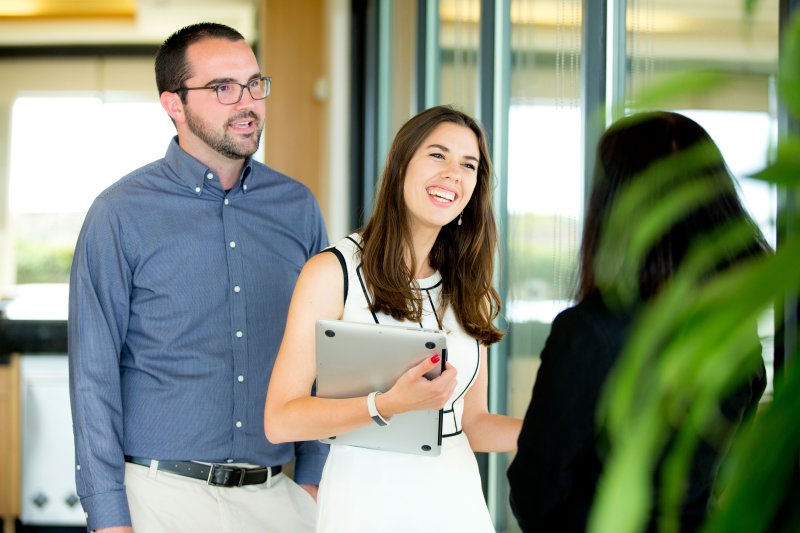 Each day the world seems to become more and more reliant on communication and the various avenues through which people receive it: TV, radio, online, social media — you name it, and communication's happening. Having the power to communicate effectively, coherently, and concisely is key. A communications degree can help you with that. 
According to College Factual, over 65,000 people earned a degree in communications in the past year alone. The benefit of a communications degree is the freedom to chart your own career path; it's a flexible major with a wide range of post-graduation jobs. Continue reading to debunk communication degree myths and learn how one of colleges' most popular degrees is actually worth earning. 
6 Myths About Communication Degrees
Myth #1: All communications majors end up as journalists or actors.

Fact: There are plenty of career paths you could take with a communications degree, and it's not limited to becoming a local news reporter or a recurring soap opera star.
Yes, communication graduates land many types of exciting jobs outside of journalism and acting. Communication is a necessary skill set in successful businesses. 
Always know how to negotiate a deal? Jobs in sales, marketing, advertising, and public relations are great avenues for a communications degree recipient. Love TikTok? A social media marketer can assist businesses that aren't up to date on the latest trends. Bilingual? Communication majors make perfect interpreters or translators, too. 
Here are some other out-of-the-box careers you could pursue after you graduate with your degree in communications, according to The Balance: 
Brand or PR Manager
Media Planner
HR Specialist 
Meeting/Event Planner
College Alumni and Development Officer
Health Educator
Myth #2: People who earn a communications degree are all extroverts and social butterflies.

Fact: Being an introvert doesn't automatically mean you can't thrive as a communications degree. In fact, it's quite the opposite.
Introvert, Dear described introverts as: "someone who prefers calm, minimally stimulating environments. Introverts tend to feel drained after socializing and regain their energy by spending time alone." 
With that said, ice-breakers or class presentations may give you pause, but there are plenty of options for those who fair on the shy side but want to pursue communications. Creativity has far more importance than being extroverted. Group discussions and class participation — whether we like it or not — are a part of almost all degree offerings. 
But the Chatty Cathys aren't the only ones who succeed in this field. There are plenty of opportunities behind the scenes (like video production, broadcast engineering, or script writing) that allow you to still be creative, and introverted, and allow you to communicate your expertise in your own way.
Myth #3: Comms is more relaxed than other degrees.
Fact: No, it's not a STEM degree, but it's not the easiest degree either. When you're a communications major, you'll have to dissect the art of communication.

For example, you'd have to analyze communication theories and their impact on culture and society. 
It's fascinating to not only understand how people communicate but also why and where, too. Those lengthy research papers and detail-oriental individual and group projects will be there waiting for you, but the ability to create your own path based on your interests and what drives you is the silver lining with this degree. 
__________
It's never too late to start your journey.
Earn your B.A. in Strategic Communications today.
__________
Myth #4: You're not going to find a job or make that much money with a communications degree.

Fact: Didn't we already go over this? Trust us, you got this! There's plenty of need for communication majors.
In fact, according to data from the U.S. Bureau of Labor Statistics (BLS), employment in occupations requiring a communications degree is projected to grow 14% by 2031— almost double the average for all jobs in the country for the same 10-year span (7.7%). 
The BLS also reports the median wage for a career in communications is roughly $62,000 annually, which is about $16,500 more per year than the average wage for all occupations. Titles like "communcations director" and "public relations manager" make an average of over $110,000 per year, according to the Bureau of Labor Statistics. 
Myth #5: All of your assignments in college will be easy.

Fact: The common misconception is that all people can communicate so it must be easy to study something everyone can do. Wrong! Don't confuse the major's broadness with easiness.
Communications is an interdisciplinary major, which means you'll be able to pull from a variety of subjects including humanities, social sciences, business, creative writing, psychology, graphic design, etc. 
By seeing how different topics connect, you'll be able to have a firmer foundation in your field of communication. Cypher Learning lists boosting cognitive abilities and increasing tolerance of ambiguity as benefits of interdisciplinary learning. Since communications is an over-arching umbrella of topics, as a student, you'll have the rare opportunity to tap into all your wide variety of interests.
Myth#6: A communications degree is just learning how to talk to people.

Fact: Majoring in communications, especially strategic communication, allows students to engage with the public, ethically, by being grounded in foundational communication theory and principles. 
Communication is more than just talking; you'll be able to uncover topics like cross-cultural, gender, public relations, organizational, and community communications. There's power in being able to communicate effectively and succinctly while also being a go-to problem solver. You'll also learn how to craft stories, which is a highly transferable skill set.
Take the Next Steps
Curious about what else you can do with a communication degree? Read here to learn how you can make a career with this degree.
Now that you know the facts behind these communication degree myths, an ideal next step is applying to join PLNU's B.A. in Strategic Communication.