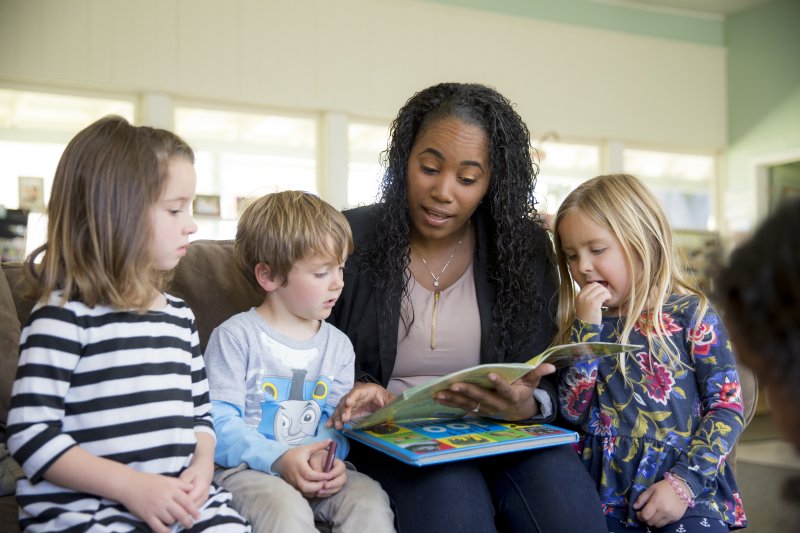 What are some of your most vivid childhood memories? Do you remember learning your ABCs or learning how to distinguish colors? People often assume that real learning begins when kids start elementary school; however, children learn a lot between the time they're born and the time they start kindergarten. 
In fact, "preschool-aged children experience profound biological brain development and achieve 90% of their adult brain volume by age 6." Since early childhood education has an important lifelong impact on children, parents and educators strive to create educational environments where children can thrive and grow. 
What Is Early Childhood Education?
Early childhood education simply refers to anything a child learns in their preschool years. For instance, identifying shapes, learning how to count objects, repeating words and sentences, learning hot from cold, recognizing faces, and learning to pray can all be considered aspects of early childhood education. Anything that impacts a child's mental, emotional, psychological, or behavioral growth is considered part of their early childhood education.
__________
It's not too late to start your journey.
Pursue your purpose at PLNU.
__________
In addition, official early childhood education (ECE) programs exist to create a framework for a child's education. Early childhood educators typically work in preschools or childcare centers, leading daily activities and monitoring children. They design state-approved lesson plans to teach their students letters of the alphabet or colors of the rainbow. Early childhood educators can also help teach parents new ways to encourage and engage their children when they're learning at home. 
Why Is Early Childhood Education (ECE) Important? 
Early childhood education yields many long-term benefits for children. Studies, such as one by Harvard, have shown how early childhood education programs can prepare children to develop the social and emotional skills they need to succeed and graduate high school. 
Other benefits of ECE can include earning higher grades and having a lifelong enthusiasm for reading and learning. Studies have also shown that children who attend high-quality ECE programs as children can develop an improved attention span which can lead to more productivity in their adult careers. 
What Careers Can You Pursue in ECE?
Early childhood educators have different job responsibilities depending on their specific positions. If you're interested in an early childhood education career, here are several options:
Preschool teacher
Childcare center director
Nanny
Childcare worker
Special education teacher
School counselor 
Those who work in schools or childcare centers create lesson plans based on pre-approved curricula. They also distribute and grade homework assignments, making sure students are familiar with shapes, numbers, and colors. Preschool teachers and childcare directors attend staff meetings and meet  one-on-one with parents. Keeping their classrooms clean and providing healthy snacks for their students is another essential job duty. 
Early childhood experts working as school counselors or special education teachers have the opportunity to develop relationships with children and students in unique and personalized ways. They can conduct research studies in order to help advocate for students who may need extra emotional, behavioral, or educational support. 
Degree Options for Early Childhood Educators  
If you've just recently found a passion for teaching children and want to start your career, pursuing a bachelor's degree in child development can be a great first step. Point Loma Nazarene University's program offers classes such as: Development of Infants and Toddlers, Early Childhood Curriculum and Learning Theory, and Adolescent Development in the Family Context. Through hands-on courses, you'll learn how to meet the emotional, behavioral, and academic needs of children. 
Becoming an early childhood educator, preschool teacher, school counselor, or special education teacher — among other ECE careers — can be incredibly rewarding in many ways. If you're already a working adult and want to further your career, earning a graduate degree might be the right step for you. If you've already been working as an educator in preschool, elementary school, middle school, or high school, a master's in teaching can set you up for more competitive positions. 
Through hands-on courses, you'll learn how to meet the emotional, behavioral, and academic needs of children. 
If you're interested in working as a school counselor or psychologist, earning your Counseling and Guidance, M.A. can help you prepare for the difficult, yet impactful conversations you'll have with students in your day-to-day life. Additionally, if you're interested in having a job that truly matters and has a lifelong impact on students, consider earning a Special Education, M.A., and becoming a special education teacher. 
If you're interested in more administrative or leadership aspects of the educational world, earning a  master's in educational administration or a Leadership in Learning, M.A. can set you up for a successful career where you can make decisions about the staff, structure, and curriculum of your early childhood education preschool or childcare program. 
Begin Your ECE Career at PLNU
Working in early childhood education can be a life-changing experience for you, your students, and the families of your students. If you want to cultivate relationships with your students as they learn to find their place in the world, consider earning one of PLNU's accredited bachelor's or master's degrees. 
You can choose to enroll in any one of our many education programs at our San Diego campus. Also, our School of Education has a campus in Bakersfield, specifically for education and teaching degrees. If you can see yourself earning your degree at PLNU and discovering a vocation that makes an impact on the lives of countless children, consider applying today. 
---
About the Author 
McKenna Themm is a poet who has her BA in Literature and Writing and is earning her MFA in Creative Writing. She is a freelance writer for PLNU, a Content Strategist at Circa Interactive, and the Managing Editor at The Los Angeles Review.