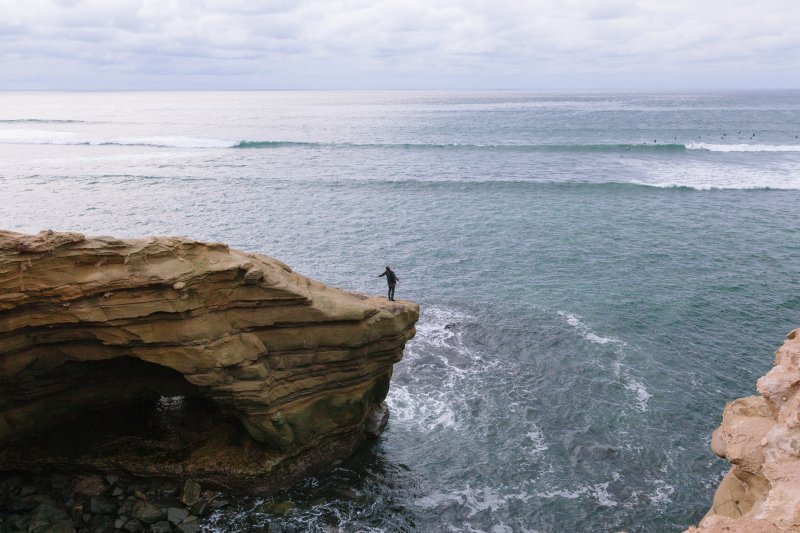 Living through a time where the best type of action is inaction can elicit feelings of hopelessness. I talked with PLNU's Kim Schaeffer, Ph.D., a Professor of Psychology known for the course he teaches in positive psychology. Together we looked at several ways we can all work to affirm the good in our lives and maintain a healthier mindset despite the uneasiness in so many of our homes right now. 
1. Recognize the Good 
Positive emotions are not permanent but they are able to produce changes in people's thoughts, actions, and responses to various events in a way that increases our well-being over time. If we work on doing little things throughout the day that produce these emotions, it can give us a better outlook long term. 
Gratitude and compassion are emotions that promote welfare in the person giving and the person(s) receiving. In Schaeffer's class, the students write gratitude letters at one point during the course to someone in their life who has made an impact on them. Then, they read this aloud to that person. Even though we aren't necessarily able to read these letters to one another in person, writing them and FaceTiming a loved one or friend to share this right now is especially beneficial. "We've all said thank you," he explains, "but this is all-encompassing [and] it promotes well-being."                
When beginning to write a letter like this for someone, consider the following: 
How have they changed my life for the better? 
Why are they an important part of my life? 
What is the best memory I have with them? 
2. Make New Goals or Tasks 
There are many different situations people are finding themselves and their families in right now but there is bound to be some form of downtime at one point. To combat the lull we might be in, we can use flow activities to stay productive. Schaeffer describes these as difficult but enjoyable tasks that allow us to feel content. "For example, I like creating spreadsheets … that seems kind of strange to a lot of people," he says, only half-jokingly. 
The reality is that these types of activities can challenge us and require more thought than a 48-hour binge on Netflix. Planning for the future or doing something that feels useful on a personal level while things are uncertain, helps to keep us in the present moment. 
__________
Who are you called to be?
Pursue your purpose at PLNU.
__________
When trying to discover ways to challenge ourselves we can ask: 
What do my short-term and long-term tasks look like for the goals I have? 
Which activities can I do right now to challenge myself? 
What parts of my life allow me to feel fulfilled? 
3. Check Thoughts and Emotions 
"I think the most important thing is to identify our thoughts, I know a lot of people are anxious and that's normal but we need to make sure our thoughts are based on facts," Schaeffer says it is important to check in on and process the anxiety we are experiencing. We must determine whether the ways we are viewing the world or our current situation are based in reality or are being blown out of proportion by the uncertainty at hand. 
While staying informed is important, too much time devoted to the news will create that rise in negative emotions. "Phrases we hear can sometimes emote feelings of anxiety," but when this happens we can take time to evaluate the feelings we are experiencing and see what is causing the distress or unrest. If we can reframe the way we process whatever we are going through, it will be easier to maintain a positive baseline for ourselves. 
As we try to check in with our emotions we should evaluate:
Is this anxiety (or other negative emotion) based in reality? 
How do these feelings correspond to what I'm doing right now? 
What can I do to stay present and calm myself? 
By no means are these suggestions all-encompassing but they do act as a starting point for us to gain some sort of control when it feels like we have none.
Helping Others Process
If you are interested in the psychology of helping others cultivate positivity, the first step into this specialized field is through earning your master's degree. At PLNU, we offer a Master's in Clinical Counseling which prepares students to become licensed marriage and family therapists (LMFT) or licensed professional clinical counselors (LPCC). If you would like to learn more, please contact us or take the next step in your career and apply today. 
About the Author
Micah Renner is the Writing & Research Assistant for Marketing and Creative Services.