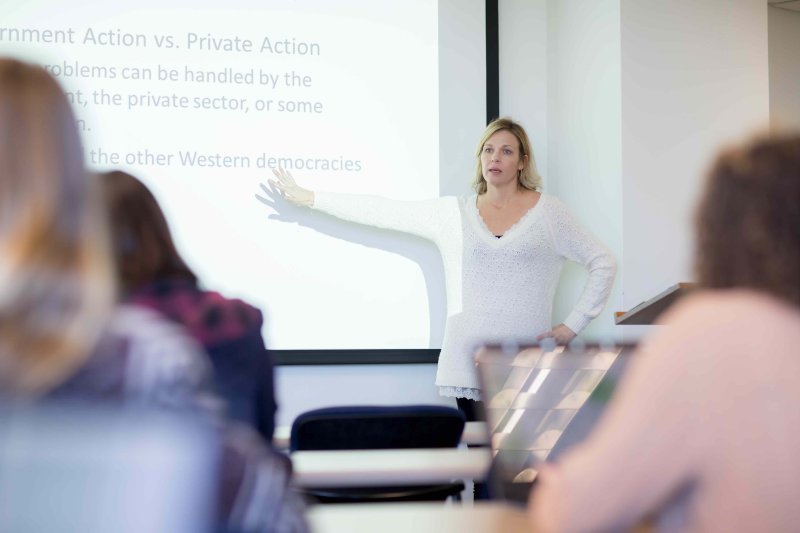 Do you enjoy helping young people learn and grow? Would you like to make a positive impact in your community? If so, earning a teaching credential in San Diego, California could be a meaningful career move. This article will break down everything you need to know about becoming a teacher in San Diego County. 
Teachers in Southern California and across the country take pride in shaping young lives. The San Diego Unified School District (SDUSD) educates over 121,000 students per year, making it the second-largest district in all of California. You can make a real difference working there, or in other area schools.
Aspiring instructors like you, however, need a teaching credential to find work. This page will give you all the information you need to do just that.
What Does It Take to Earn a Teaching Credential in California?
A teaching credential is a state-issued license allowing instructors to teach in California public schools. Valid for five years, a Preliminary Teaching Credential is available to new applicants.
To earn your credential, you'll need to hold at minimum a bachelor's degree from an accredited college or university, and complete an approved comprehensive teacher preparation program.
__________
Who are you called to be?
Pursue your purpose at PLNU.
__________
The State of California Commission on Teacher Credentialing issues Elementary Teaching Credentials (in multiple subjects) and Secondary Teaching Credentials (in a single subject) to qualified applicants.
Requirements for the preliminary credential include the following:
Elementary Teaching Credential
The requirements below are for aspiring elementary school teachers:
Create a comprehensive reading instruction course including phonetics, phonics, and decoding; language, comprehension, and literature; and both diagnostic and early intervention strategies.
Pass a two-semester course on the U.S. Constitution.
Pass a course on technology foundations in an educational setting, including general and specialized computer skills.
Secondary Teaching Credential
The requirements below are for aspiring middle and high school teachers:
Complete a California Commission on Teacher Credentialing-approved program in the subject you want to be credentialed in.
Pass a two-semester course on the U.S. Constitution.
Pass a course on technology foundations in an educational setting, including general and specialized computer skills.
In California, Secondary Teaching Credentials are available in foreign languages, English, mathematics, science, social science, music, art, and physical education.
Earning a Teaching Credential with an Existing Degree vs. in Parallel with Your Bachelor's Degree
Looking to earn your teaching credential in San Diego? You may do so with an existing degree or in parallel with your bachelor's degree. These options are known as the Traditional and Integrated Teacher Education Program (ITEP) pathways.
Traditional Teaching Credential Programs
Traditional credential programs are available in elementary school teaching, middle and high school teaching, and special education. If you already hold a bachelor's degree, this could be a great option for you.
The traditional pathway generally takes five years. It consists of earning your bachelor's degree, including four years of prerequisites, and then enrolling in a credential program. The credential program includes a blend of credential coursework and student teaching, both of which can be completed in one year.
ITEP Teaching Credential Programs
The Integrated Teacher Education Program pathway is a combined bachelor and credential option. It includes academic and professional preparation courses, along with student teaching experience in the field.
By completing an ITEP teaching credential program in San Diego, you can kick off your teaching career right after graduation. This relatively new pathway can be completed in just four years. It isn't available to students who already hold their bachelor's degree.
Aspiring teachers may also choose to complete a master's program in education to earn their teaching credential.
What Exams Do You Need to Pass to Earn Your Teaching Credential in San Diego?
To earn your teaching credential in San Diego, you will need to pass the required examinations.
Those who are working toward an Elementary Teaching Credential must pass a Reading Instruction Competence Assessment (RICA). If you're pursuing a Secondary Teaching Credential, you must pass examinations in each of the subjects you hope to teach.
All candidates for a Preliminary Credential in California must also meet the basic skills requirements set forth below. This can be achieved by completing one of the following exams:
 The California Basic Skills Education Test (CBEST) with a scaled score of 41 or higher in each of the three categories: reading, writing, and mathematics.
The California Subject Examinations for Teachers Multiple Subjects Plus Writing Skills Examination (CSET) with a scaled score of 220 or higher.
Alternatively, if you pass a basic skills examination in another state, you may submit a photocopy of your score to apply for your teaching credential in California.
For more information on how to earn your teaching credential in California, read the Certification Requirements of the CSET website.
Apply for Your Teaching Credential and Start Teaching in San Diego
Ready to begin teaching in San Diego?
After completing your academic and examination requirements, meeting your student teaching obligation, and passing a criminal background check, you can officially apply for your California teaching credential.
Once you're approved, you can begin applying to teaching jobs in San Diego.
You'll need to create an account with the district or school you're applying to, complete your application, and interview with a school administrator or panel to secure employment.
Successful applicants are extended an offer to teach — contingent on reference checks, drug testing, teaching credential verification, and a fingerprint clearance.
That's it! Complete the above steps, and you'll be ready to find work as an educator in San Diego.
Start Your Teaching Career in San Diego
Teaching is a meaningful career path with plenty of room for growth. Research indicates that teaching jobs in California will likely increase by 7% through 2026 — making now as good a time as any to earn your teaching credential in San Diego.
So, if you have a passion for helping young people transform their lives, you can begin working to earn your teaching credential by enrolling in a bachelor's or master's program at PLNU's School of Education.
PLNU looks forward to helping you launch a fulfilling teaching vocation. Our highly-ranked programs will help you discover the best way forward in your calling to educate, preparing you for opportunities in schools throughout San Diego County and Southern California. Please don't hesitate to contact us for more information.