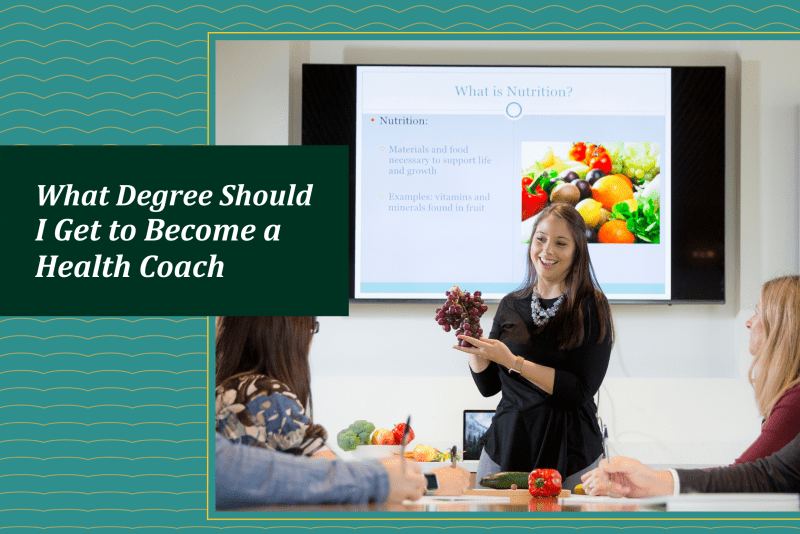 As a health coach, your main role is to help individuals achieve their health goals through personal relationships and supportive care. Many health coach careers require a bachelor's degree and some level of certification, but it can also be helpful to earn a master's degree and participate in experiential internship hours. 
Before you can sit for most official certifications, you'll be required to earn at least two years of documented work experience in the field. A master's degree is a great way to gain that experience while also earning a secondary degree.
Health Coaching Degrees
Most professional health coaches start with an undergraduate degree in nutrition, counseling or psychology, dietetics, or another related field. A bachelor's degree in one of these areas is usually also required if you're interested in further schooling. Areas like integrated health and wellness or kinesiology are also great starting points by teaching you well-rounded material on the fundamental skills and knowledge to pursue a health coaching career.
After completing an undergraduate degree, you can explore a master's degree in wellness or counseling. While a master's degree isn't strictly required to start a career in health coaching, many master's degree programs will expose you to material and network that can make your resume more attractive to potential employers. 
With a degree in tow, health coaches will often go on to complete a final certification process. There are multiple certifications, but one of the more recognized is the American Council on Exercise (ACE). To become ACE certified you must meet certain requirements:
Be at least 18 years of age. 
Hold a current CPR and AED certification with a live skills check. 
Present a current government-issued photo ID with signature (driver's license, passport, military ID). 
You must also submit proof of at least one of the following: 
Current NCCA-accredited certification in fitness, nutrition, healthcare, wellness, human resources, or a related field. 
An associate degree or higher from an accredited college or university in fitness, exercise science, nutrition, healthcare, wellness, or a related field. 
A completed health coach training and education program approved by the National Board for Health and Wellness Coaches (NBHWC).
A minimum of two years of documented work experience in coaching, leading, designing, implementing, or facilitating one or more of the following: behavior or lifestyle change, exercise, wellness, nutrition, or physical activity.
Once you meet these requirements you can sit for the official exam. A professional certification lends credibility to your resume, so taking the time to do well on a certification exam is beneficial for your career.
What is a Health Coach?
A health coach is someone who is passionate about positive change in an individual's life. Health coaching is effective because coaches partner with individuals or clients to help them modify or change current behaviors and habits to improve their health. Health coaches tend to look beyond purely physical improvement, instead focusing on a client as a whole person. They use coaching skills to address internal issues to create external change and optimize health for patients. 
Why are Health Coaches Important?
Certified health coaches play an important role in the health and wellness space. More and more employers are recognizing the need for their employees to have access to holistic health services, including health coaches. As a result, health coaches are not only important for the work they do one on one but for the services they provide. 
Health coaches work with clients in a variety of places including traditional health spaces, but they tend to go beyond a prescription or a workout. Health coaches care deeply for their clients. They listen to clients' goals and help them establish manageable, trackable touchpoints to meet those goals whether they're physical, emotional, or mental. 
__________
Who are you called to be?
Pursue your purpose at PLNU.
__________
Additionally, health coaches can be present for their clients in ways that some other health professionals — like primary care doctors — can't. For instance, a health coach can be more personal with their clients than a primary care physician. If a client is expressing an issue with meeting certain dietary restrictions, a health coach might sit down with the client in person to find ways they can incorporate the restrictions into each meal during their week.
A traditional doctor won't have the time to dedicate to an individual in that same way which may make it harder for the client to meet their goals. 
Due to their close relationship with their clients, health coaches can often go beyond initial care into very personalized health plans and goals. They fill the role of health care professional and confidante for the people they work with.
What are the Personality Traits of a Health Coach?
Good health coaches have many unique personality traits, but almost all of them have these characteristics in common.
1. They take a positive approach to client issues.
While all of these are important, health coaches are positive. If you're going to motivate someone to make lifestyle changes, even small ones, you have to maintain a positive approach during the process. 
This goes beyond maintaining a positive attitude externally. When a health coach works with a client who wants to get better at running, they're focused on how well the individual can run already, not how slow their mile time is or how far from their end goal they are currently. Incremental positive change comes from working toward a goal by focusing on what you can do well already and building from there. This type of positive psychology has been proven effective many times over in creating lasting change.
2. They care deeply about clients.
Most health professionals care about their clients, but in many traditional medicine spaces there are so many clients to take care of that it becomes overwhelming for the professionals. As a result, client care suffers from a lack of personal touch. Health coaches are often better able to control the number of clients they work with at once making it easier for them to provide personalized care and go deeper with their patients.
3. They are goal-oriented.
To help someone meet a goal, you yourself have to be goal-oriented. Health coaches are experts at taking their clients' goals and overlaying them with a realistic timeline. The process toward achieving a goal is just as important as the goal itself. Health coaches understand this and know they have to create the right environment and habits along the way for their clients to experience lasting change. 
4. They respect boundaries for both themselves and their clients.
Good health coaches want to get comfortable with their clients in order to better serve them. At the same time, they understand there are inherent issues with taking a personal approach to helping people meet their goals. A good health coach is focused on good communication, confidentiality, and trust between them and their client during the coaching process.
How Can You Become a Health Coach? 
You can become a health coach by earning a bachelor's degree in a health sciences field such as:
Psychology
Counseling
Kinesiology
Nutrition
Dietetics
Sports Medicine
After you earn your bachelor's degree, you have to decide if you want to go on to any further schooling. It isn't required to enter the field, but a secondary degree can provide helpful career connections, information, and experience. Pursuing a master's in a degree like PLNU's Master of Science in Kinesiology, Integrative Wellness is a great way to extend your knowledge.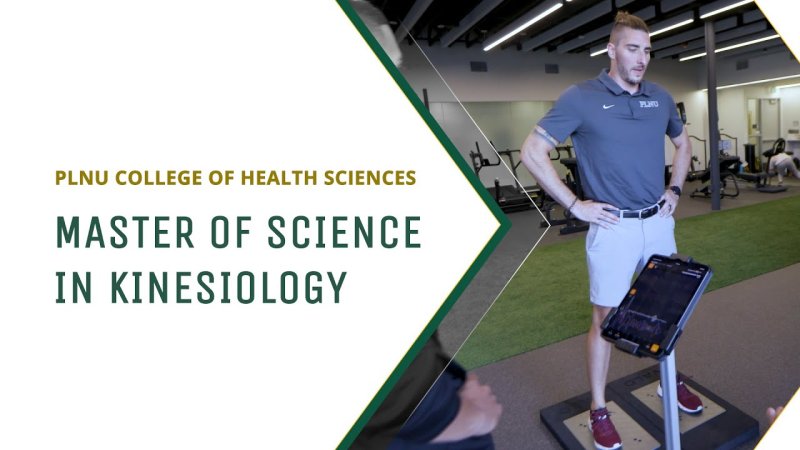 When you've completed your desired level of education you'll need to apply for certain certifications. While not strictly necessary, there are many reasons it's important to become certified if you plan on going into the health coaching field full time. Once you've taken your certification tests and passed you can start working with clients. Unlike many other health fields, there are no requirements by state for you to begin practicing. 
Explore the Next Step Toward a Career in Health Coaching
Health and wellness coaches represent a new era of care for many people. These coaches, unlike traditional medical professionals, are focused on relational practice and take a personal approach to helping their clients meet their goals. As a health coach, your job is to find ways to practice integrative wellness and improve lifestyles. The median salary for this role is just over $60,000 with positions in the field growing every year. 
Becoming a wellness coach is also a much faster process than going to medical school. Programs like PLNU's M.S. in Kinesiology, Integrative Wellness are specifically designed to provide students with an opportunity to continue their education and prepare them for full-time careers in this field.