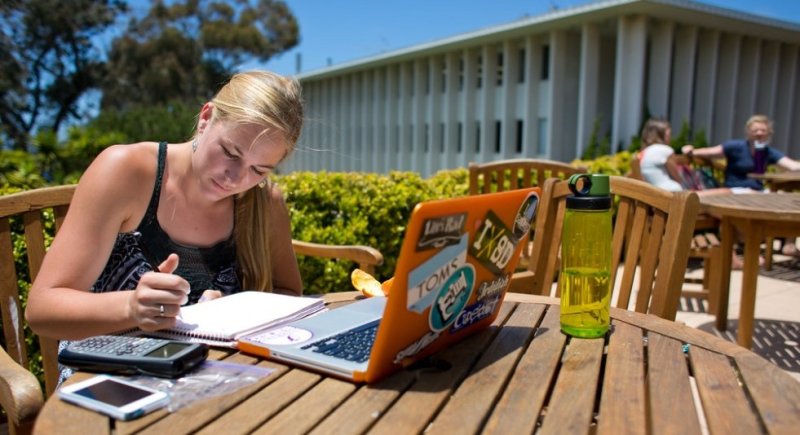 Before you know it, you'll be attending one of the most breathtaking college campuses in California. While your semester comes into full-swing with your professors regularly assigning homework and exams to study for, being able to look up from your textbook and see the Pacific Ocean surely brings a sense of peace and ease to help calm the realities and pressures of college.
Depending on what atmosphere suits you best — whether you're looking for a more isolated spot or one with a view — PLNU offers plenty of locations that combine both. Here are a few of our favorites to choose from.
1. Sunset Deck  
For those who want some fresh air and some vitamin D, Sunset Deck is the spot for you. Located just across from Bobby B's, grab yourself a cup of joe and allow the destination to make studying more enjoyable. Wave to friends as they pass to and from class and some might even stop to hit the books with you. When you feel yourself needing a moment to breathe, take a deep breath and enjoy the view. The ocean view from Sunset Deck is stunning, and whether it's midday and the ocean water is sparkling, or you're catching the sunset, this studying experience is just part of a regular day at PLNU.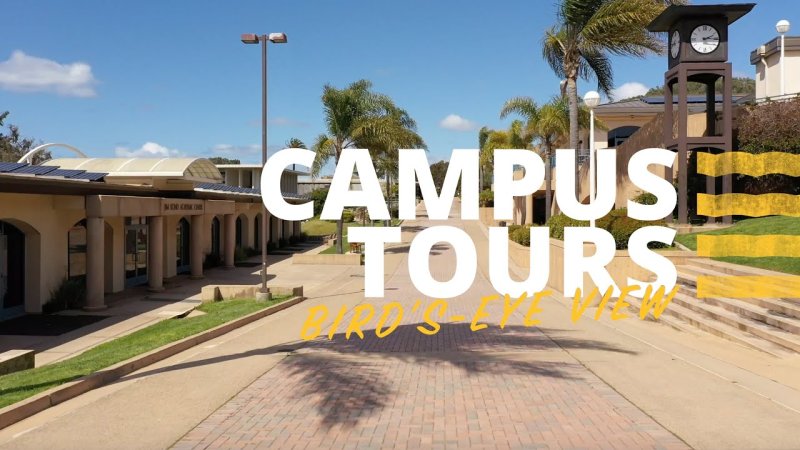 __________
Who are you called to be?
Pursue your purpose at PLNU.
__________
2. Greek Amphitheatre 
If you need the outdoors with a little more peace and quiet, then you'll definitely want to check out this specific location. Grab a blanket, lunch, all of your studying materials, and pick a spot on the grass at the Greek. PLNU's Greek Amphitheare hosts some amazing events on campus, but during the day it serves as one of the most lovely spots to study. The awe-inspiring view and peaceful atmosphere aren't too bad to experience when studying for exams! Not only will it help you be more studious, but you can also have a break over a picnic — what a life to have here at PLNU!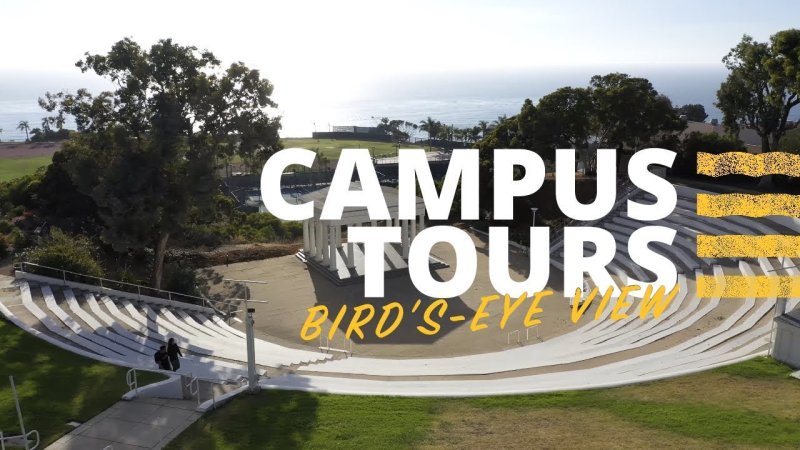 3. Latter Hall Rooftop
If you're someone who needs to be more isolated, then situate yourself on a rooftop table at Latter Hall. One of the newest buildings on campus, Latter Hall is home to students who study the sciences. This beautifully designed building provides peace and quiet to those more easily distracted. Make sure to admire the award-winning steel designs and prominent coastal location while enjoying a much-needed break from the hustle and bustle of campus life to focus on your studies at Latter Hall.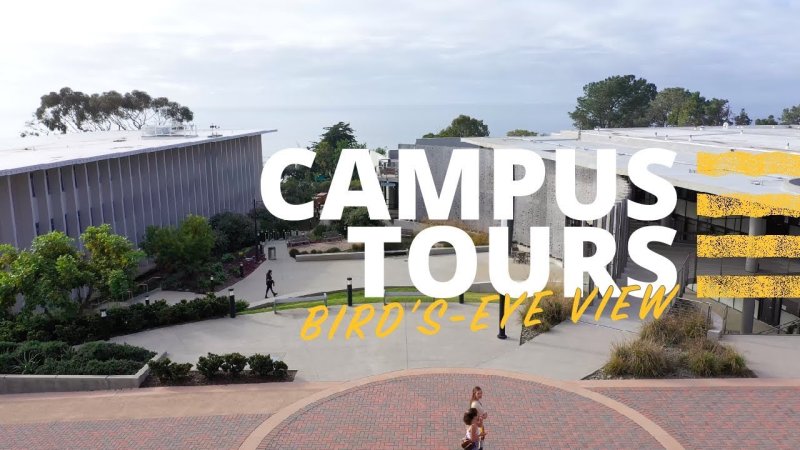 4. Ryan Library
For those who believe silence is the only way to study, Ryan Library offers many different studying spots that fit the atmosphere of your desires. The Lib offers a conducive space for you to buckle down and get your work done. On the first floor you have the option of large tables, individual study nooks, or a warm and cozy living room section. On the second floor, you'll find bubble chairs hanging right in front of the window wall, with views over campus to the ocean. The Lib's wide variety of studying sections makes for the best studying experience through and through.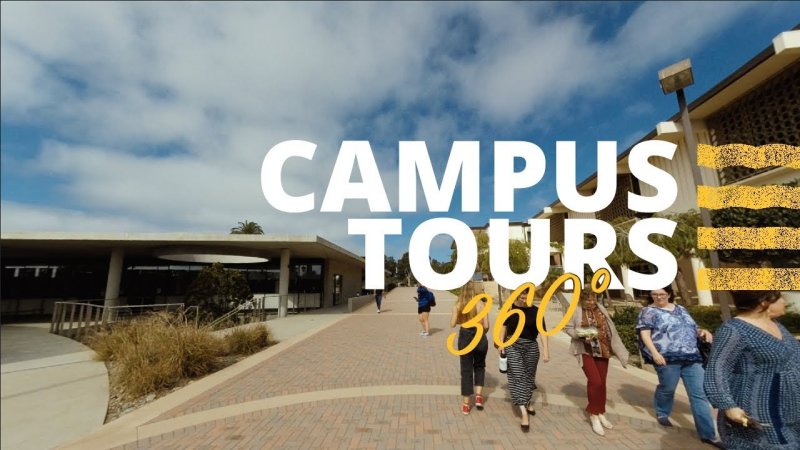 5. McCullough Park (Fermanian Business Center)
Finally, McCullough Park is one of the most beautiful, quiet, and peaceful places to study on campus. McCullough Park is a hidden gem on campus and is a fan favorite to locals and their dogs. It sits on the edge overlooking the ocean, and has a wide range of spots on the grass lawn or a table if you can snag one! Grab a couple of friends or enjoy being alone and tucked away at a secluded spot on campus. McCullough has an aroma that feels like home to any student trying to fit in some much needed studying time here.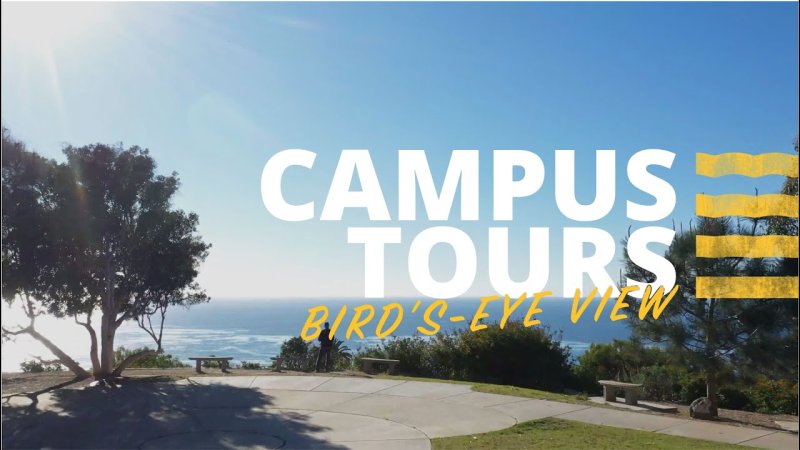 Learn More About PLNU  
There you have it, the 5 best study spots at PLNU, and there are many more to embrace and enjoy. PLNU's beach aesthetic is like none other here in San Diego, California. Whether you live in the dorms, or if you are a commuter, there is so much at Loma to discover and enjoy while building on your academic success! If you'd like to see for yourself what life at PLNU is all about, register for a tour or take a virtual visit from the comfort of home.
---
About the Author
Jasmin Segarra is a senior at Point Loma Nazarene University. She is currently studying Literature – English Education and will be pursuing her Master of Arts in Education starting fall 2021.