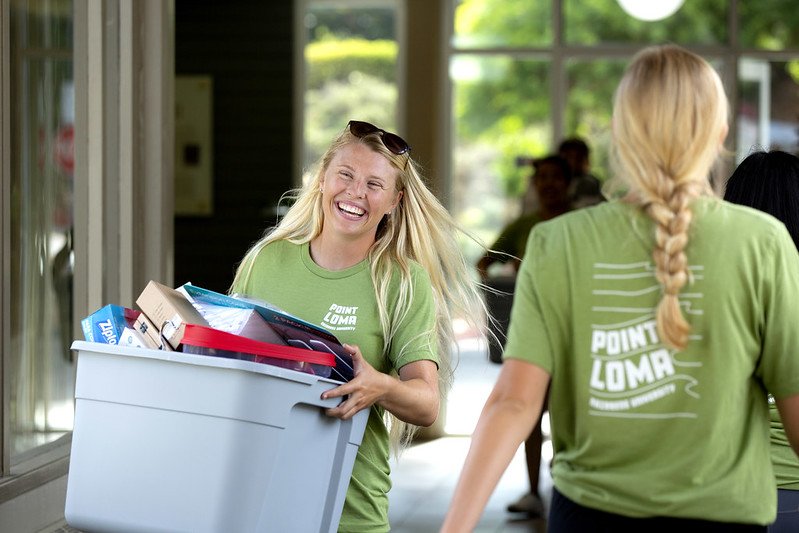 Your college education is not only a large investment in your future but also in your personal growth and transformation. When choosing where to go to college, while challenging, it's important to keep your options open. Finding the college with the right programs and features you're looking for might mean considering looking both in state and out of state.
We interviewed Connor Mathisen, an undergraduate admissions counselor for PLNU and Class of 2017 alumnus, about the benefits of studying out of state. Mathisen is passionate about the benefits of attending college out of state both personally and professionally. Per his admissions role, he visits high schools across the Midwest and west coast, encouraging students from cities like Portland, Sacramento, Chicago, and Denver to keep their educational options open.
Here are four benefits that make studying at an out-of-state university an exemplary option for students, regardless of where they went to high school or where they're going after college.
Experience Fresh Locations and Cultures
Perhaps the most obvious appeal of studying out of state is living in and discovering a new location. Experiencing weather, population density, topography, and tourist sites (Although some tourist spots may take time to reopen due to the pandemic, many natural areas like beaches, parks, trails, and monuments will remain open, as well as many shopping sites).
PLNU's beautiful beachside campus certainly offers a rare college experience for students, even compared to other universities in San Diego. Watching the sun set over the Pacific Ocean, surfing between classes, or studying on the steps of PLNU's historic Greek Amphitheatre while feeling the ocean breeze are just a few activities unique to Point Loma's campus. Click here for a virtual tour of PLNU. 
Mathisen compared studying out of state to studying abroad. Given the state of things in the world during the pandemic, it may be a while before US students can safely study in other countries; so studying in another state may be the best comparable alternative for now.
"San Diego is practically a different country from where I grew up," Mathisen said. "The beach, the unique location, experiencing sunny weather … to an extent, it was like studying abroad the whole time."
__________
Who are you called to be?
Pursue your purpose at PLNU.
__________
In addition, large cities like San Diego have much to offer in culture, diversity, and tourism. Denser populations often point to more industries, events, shops, and attractions. Big cities help to fuel academic and professional aspirations of all kinds such as internships and job opportunities.
In a diversity study by the financial interest site Wallethub, out of 501 of the largest U.S. cities, San Diego was named 21st in overall diversity, 18th in cultural diversity, and seventh in socioeconomic diversity. It was also the ninth-largest city examined. The study was based on factors like race/ethnicity, religion, household structure, and cultural events. Here are some more statistics as well as San Diego's statement of commitment to diversity and inclusion in its workforce.
Thrive in a New Community 
Many students come to college looking for a clean slate — an opportunity to start over socially and even reinvent themselves. Attending college out of state can help students find new communities, friend groups, and relationships.
"High school can be an awesome time," Mathisen said, "but it can also be a really difficult time. A lot of students are looking for college to have the opportunity to branch out, meet new people, new relationships. This can be the reset button."
Mathisen thinks if he had attended an in-state school, he may have gone to college with many of the same people he went to high school with. Attending PLNU helped him broaden his horizons, and even led him to live in San Diego after graduation.
Attending college out of state can help students find new communities, friend groups, and relationships.
"One of the things that I was most excited about traveling out of state was living in a city that had a wider range of cultural experiences. I grew up in a small town in rural Oregon. As you can imagine, it's not the most diverse area. Moving to San Diego (which is one of the most diverse cities in the country), I have learned a ton in the last eight years living here. It's a huge advantage, and I see a lot of students are looking for the same thing."
Mathisen observed that many people considering PLNU are from small, private schools looking for a more diverse area. Living in a metropolitan area can provide unique connections — personal and professional — that smaller, homogenous towns might not.
"They want to be a part of the conversations happening around the world about cultural diversity and social justice," Mathisen said. "Living in a city like San Diego and going to a school like PLNU allows you to have those conversations and learn something."
Click here for a snapshot of San Diego's arts and culture, or here for information about one of the most popular cultural sites near PLNU's campus, Balboa Park.
Build Your Independence
Mathisen said one of the toughest things for new college students can also be the healthiest: space from your family.
"The biggest things students are concerned about with out-of-state school is being away from your family," Mathisen said. "It differs from student to student, but a lot of students say 'I want some healthy space from my family.' I had a great relationship with my family, but I still wanted to do [college] on my own."
Mathisen helps many prospective students view the experience of studying away from family as a formative one — a challenge to overcome. He remembers his lack of a "safety cushion," regarding things like being able to drive home to do laundry or stay for the weekend, as an edifying experience. He believes being able to rely more on himself and his peers helped him begin a new chapter of self-discovery.
San Diego is also home to many internships and job opportunities for college students and recent graduates.
"Plus, at the end of the day, San Diego is a pretty cool place for your family to come visit," Mathisen reminded.
San Diego is also home to many internships and job opportunities for college students and recent graduates. Industries like agriculture, healthcare, biotechnology, finance, outdoor recreation, and tourism make up the backbone of the coastal city's economy. Career opportunities span a wide range of industries, which makes San Diego an ideal spot for any field — even for students who haven't yet decided their major. It's never too early to start building connections.
Click here for a formal report about the biggest industries in San Diego. 
Enjoy Dependable Private School
Some students may wonder about the value of education at a smaller, private school, as well as the tuition difference. With smaller class sizes, the opportunity for getting to know professors and classmates within your program makes for a more tight-knit education experience than you'd receive at a larger school.
"One of the first things a student thinks about when they think of UCLA, UC San Diego, UC Berkeley, is the academic prowess of those schools. Academic proficiency at PLNU is going to challenge students and prepare them as well as a state school or a UC."
A key difference between private and state colleges is that state universities charge more for students from other states. Mathisen explained that since Point Loma is a private university, their tuition is the same for in-state and out-of-state students. PLNU's tuition is very comparable to the raised California state university tuition for out-of-state students. This is the case for many other private colleges as well.
"If you want to go to a UC from out of state, it's between double and triple the tuition cost to study out of state," Mathisen said. "PLNU is not the cheapest school around, but you have the same opportunity for scholarship and need-based aid that in-state students do when looking at private schools. Private schools out of state are certainly more affordable than state schools."
Click here for additional information on studying out of state without breaking the bank. Click here for PLNU's resource on How to Apply for Financial Aid.
College is an opportunity for you to grow, step outside your comfort zone, and discover the next steps you want to take in life. What better way to heighten this effect than going to school in another state — a place beyond your own backyard? 
Start your online college search today! Click here if you're interested in applying to PLNU, and here to schedule an in-person or virtual tour. 
---
About the Author 
Toby Franklin is a reader and writer of speculative fiction and comic books. He loves alluring stories, especially if they come from unexpected places. "Mask of the Sentinels," the graphic novel he co-created with his twin brother, is available now on ComiXology.