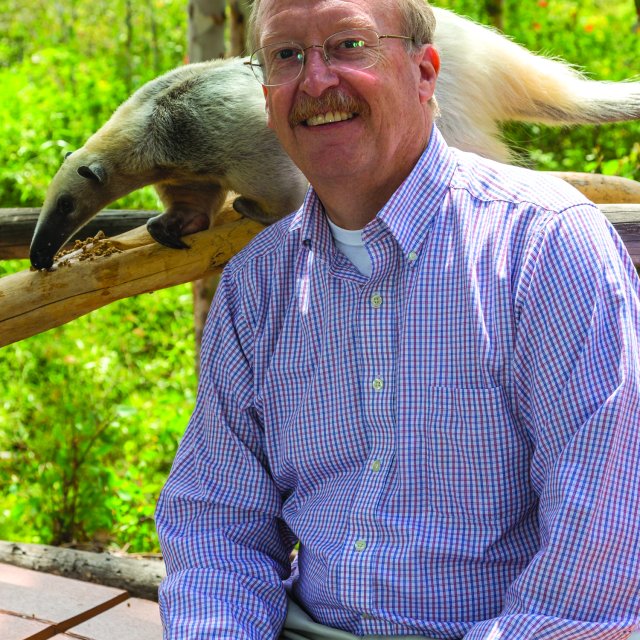 Dr. Bob Wiese (82) first became interested in conservation and wildlife preservation as a biology student at PLNU. Involved in one of the first summer research groups to participate in field biology, Wiese worked with fellow students to study endangered birds on San Clemente Island. Feeling an instant connection with and gratification from that work, he went on to study genetics and breeding programs at the graduate level at Colorado State University.
Equipped with a talent and passion for keeping wildlife populations healthy, Wiese started his career with the Association of Zoos and Aquariums, an accrediting body for zoos and aquariums, where he worked with zoos across the country to set up breeding programs for endangered animals. After six years in this position, he was hired by the Forth Worth Zoo to not only help with its breeding programs, but also to assist with the zoo's daily operations, gaining valuable experience and knowledge in the areas of exhibit design and animal welfare.
In 2006, after working with the Fort Worth Zoo for 10 years, Wiese came back to his Southern California roots, signing on with San Diego Zoo Global as its chief life sciences officer. Here, he oversees the health and well-being of all animals and plants and helps ensure the guest experience is always enjoyable and educational. But perhaps most importantly, Wiese seeks to engage in conservation projects across the globe and inspire those visiting the zoo to do the same.
"The goal of SD Zoo Global is to lead the fight against extinction, and we want to energize people to help us in that fight," said Wiese. "So when I bring in new animals to the zoo, I try to determine which species the public will be more interested in and engage with and which animal's story will inspire the public and increase its efforts to try to save that animal." With so many responsibilities, Wiese admits that no two days are ever alike. Between consulting and mentoring for zoos and conservation programs across the world and participating in national and international conferences, Wiese has no shortage of things to do. In a matter of weeks he has traveled from Colorado to study genetic variations in black-footed ferrets to Tasmania, where he helped re-introduce Tasmanian Devils into the wild after a fatal disease threatened the entire population.
When not traveling the globe, Wiese is involved with strategic planning initiatives, exhibit design, and animal welfare policy at the San Diego Zoo and Safari Park. Though the San Diego team does a great job providing optimal nutrition, healthcare, social interaction, and breeding programs, Wiese knows there is always room for improvement and is constantly looking for ways to provide better care for every animal that calls San Diego home.
"People tend to think about elephants and rhinos and how they need good nutrition and mental and physical stimulation and adequate enclosures that can support their overall well-being," Wiese said. "But people don't realize that every animal needs that, from the elephants and rhinos down to the snakes and lizards, and it's our job to provide those things."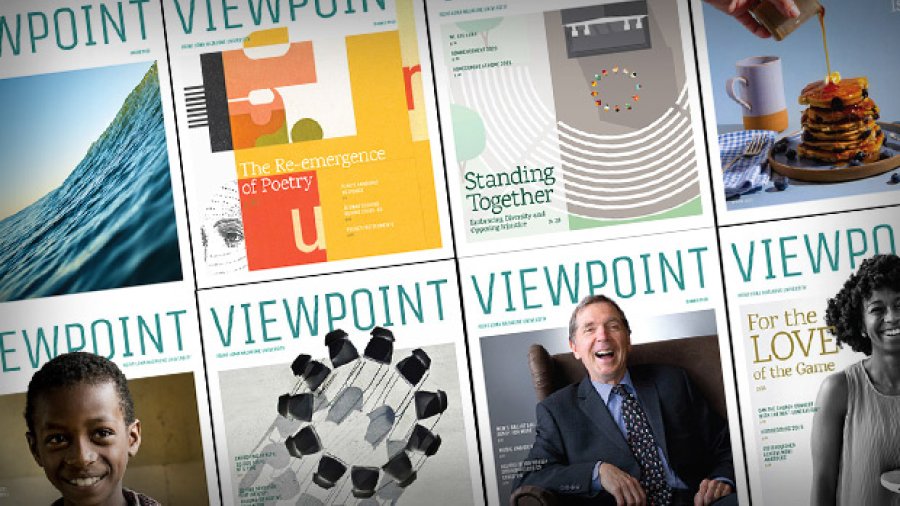 The Viewpoint
PLNU's university publication, the Viewpoint, seeks to contribute relevant and vital stories that grapple with life's profound questions from a uniquely Christian perspective. Through features, profiles, and news updates, the Viewpoint highlights stories of university alumni, staff, faculty, and students who are pursuing who they are called to be.