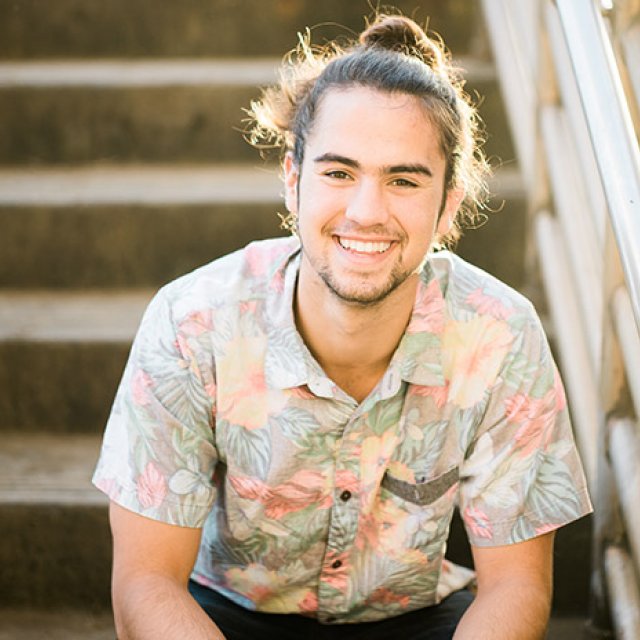 As a technical marketing engineer with Cyth Systems, Ryan Bieber communicates systems integration to audiences in need of services in areas such as automated test equipment, embedded controls, and machine vision.
Ryan graduated from PLNU in 2016 with a B.S in engineering physics with an emphasis mechanics and a minor in computational science with an emphasis in physics.
After graduating from PLNU Ryan traveled throughout the Western United States with the University's Summer Ministry Team (SMT) playing the bass guitar. When he returned to San Diego, Ryan's plan was to take the California Basic Educational Skills Test (CBEST) and begin substitute teaching while applying for engineering jobs.
That was the plan until Dr. Maria Zack, Chair of the Mathematical, Information & Computer Sciences, sent Ryan an email from the CEO of Cyth Systems who was inquiring if Dr. Zack knew of anyone looking for a job. Ryan sent over his resume in the morning, and by evening the CEO was calling Ryan in for an interview.
During his interview, Ryan talked about his senior project he completed at PLNU, which piqued their interest, so he was invited back for another interview to present his project to the management at Cyth. Dressed in a suit, expecting the presentation to be very formal, Ryan, laughed as he said the engineers took him to lunch after the presentation, so he went out for burgers in a suit with a group of engineers wearing jeans.
Ryan completed one more test in using National Instruments' dataflow computer programming language, LabVIEW. With his minor in computational science, Ryan was able to teach himself the language. The hiring managers at Cyth realized Ryan had impeccable soft skills — especially writing and communications — and wanted him to take on the marketing role.
Ryan remembers speaking with the PLNU's Career Services and saying that while he loves engineering he also wanted a job where he was consistently interacting with people; he knew the marketing job would be a perfect match for his skills and interests.
His engineering education gives Ryan the ability to communicate Cyth's engineering projects to others. On a day-to-day basis, Ryan works on communicating the company's products, services and news on the website. He creates marketing campaigns around the projects they work on and strategize ways to disseminate that information to best reach their target audience. He also plans the logistics, builds and demonstrates "demos" of their products/services for trade shows and other related events. Their products (specifically Circaflex) service clients in varying industries, including industrial, medical and biotech device development.
Ryan says studying engineering at PLNU was great because the class sizes were small and there is a lot of accountability. There is a heavy workload associated with the science majors, but while it is necessary to go into class and work on projects over the weekend, the students form a strong bond. "The department prepared us well, it's very heavy on the physics side of engineering physics," he says. Seniors in the engineering and physics programs, along with their upper division coursework complete a senior project that can be tailored to the student's interest Ryan adds.
In addition to his academics, Ryan was involved in residential life; he served as a Resident Assistant (RA) during his junior and senior year in Goodwin Hall. He served in the worship ministry on campus and played in the chapel band. With the rest of his time, he played intramural basketball and tennis, and became heavily involved with The Response Church located in Point Loma.
"Point Loma has a lot to offer community wise, and that shapes you to go out and be a part of other communities after leaving PLNU."