While we worked hard to prepare for an on-campus fall semester, we were at the same time aggressively preparing to provide a robust and excellent virtual educational experience in the case that national, state, or county guidance made us unable to open campus.
We will also continue to prepare for a return to a vibrant in-person learning and living environment when we are allowed to do so.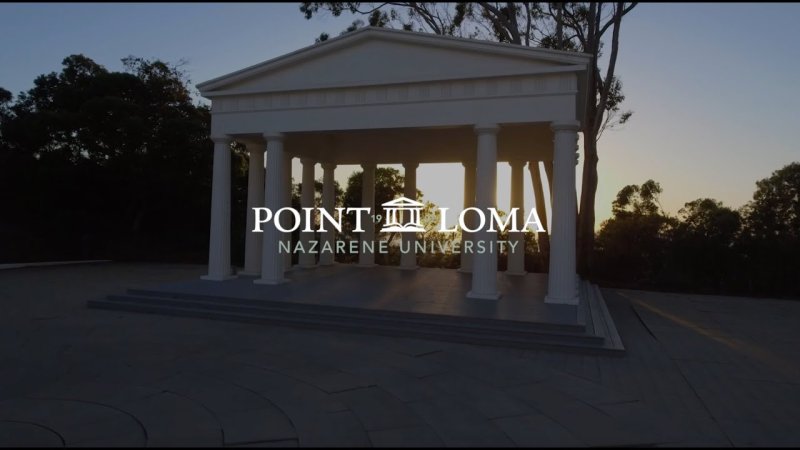 This fall's remote learning experience and environment was built intentionally. Last spring we had just one week to convert all of our classes to virtual instruction. With months to prepare and reimagine since then, we have built an innovative virtual experience that is instructive, yet communal. It will include:
Synchronous Zoom class times in addition to asynchronous course material. 25-50% of class material will be synchronous, meaning you will learn live and side-by-side with students and your professor in Zoom. This is an improvement over the spring semester where we heard from students that a mix of live class time and independent work was the ideal balance.
Individualized approaches for students in multiple time zones. Professors will reach out to individual students if they live in another time zone to ensure access to course materials and resources.
Smart video and audio technology in every classroom on campus. This will allow faculty and students to seamlessly transition to face-to-face or virtual when needed. This also allows for a familiar environment in the virtual or hybrid classroom.
All classes and coursework built out in our virtual learning platform, Canvas. This is applicable to remote, hybrid, and face-to-face learning. Faculty have also built out their courses in modular format with module-by-module pivot plans for how to adapt their course to remote or face-to-face learning at any time. All classes built in Canvas are following consistent templates so that students have a single source and location for their assignments, lessons, and communication within each class.
The same amended academic calendar that allows for greater likelihood of a spring face-to-face start. View the New Academic Calendar
Shift to on-campus instruction during the fall semester, when possible. When we are given approval to return to a face-to-face modality and to allow increased residential housing, there will be a two-week window to affect the transition back to campus.

October 19 would be the last possible start date on campus.
We would announce the transition no later than October 5.
If by October 5 we cannot return face to face, we will complete the fall semester remotely.
No matter what, we will accommodate those students choosing to remain remote with remote instruction for the entire semester.
2020-21 Academic Calendar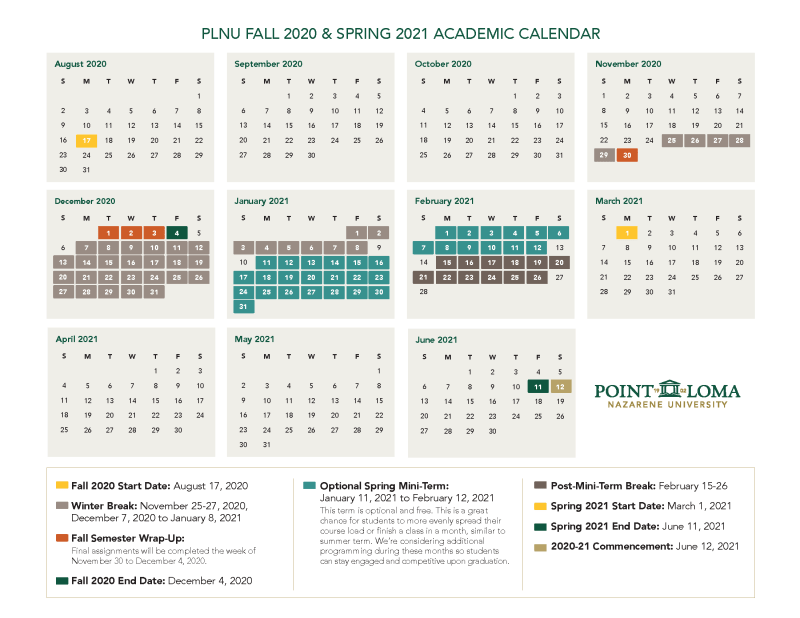 Download the Fall 2020 & Spring 2021 Academic Calendar as a PDF
The Fall 2020 Semester will begin Monday, Aug. 17, 2020. Final assignments and final exams will be completed the week after Thanksgiving break. The fall semester will conclude Friday, Dec. 4, 2020.
Winter Break will be Dec. 5, 2020-Jan. 10, 2021. There will also be the addition of a Spring Mini-Term that will take place Jan. 11-Feb. 12, 2021. This Spring Mini-Term will function similarly to a summer term so students can have the opportunity to spread out their class load during this time, fit in an additional course, or just take a break. If you choose to take a class this term, and you're enrolled full time in the fall and spring semesters, it will be free of charge. See a full list of courses offered during the Spring Mini-Term.
The Spring 2021 Semester will begin Monday, March 1, 2021, and conclude Friday, June 11, 2021. Spring 2021 Commencement will be held Saturday, June 12, 2021.
The Graduate and Adult Degree Completion Academic Calendars will remain the same.
How PLNU Prepared Professors Over the Summer
In response to student and parent feedback, PLNU created the Faculty Preparedness Working Group. This unit is responsible for:
Training, assessing, and holding professors accountable to classroom virtual and hybrid standards in teaching and technology.
Supporting faculty with peer coaches in each department who are experts in instructional design.

Instructional design: The process of creating, developing and delivering instructional learning experiences, both digital and physical, in a consistent and reliable fashion toward an efficient, effective, appealing, engaging and inspiring acquisition of knowledge.

Developing instructional design resources and tools including: class templates, virtual and hybrid course planning guides, and engagement training.
The Faculty Preparedness Working Group will also perform a final quality assurance standards check on each class before they begin.
Who can I contact if I need more information?
For questions regarding traditional undergraduate education, please contact: 
Vice Provost Jim Daichendt (jimdaichendt@pointloma.edu).
For questions regarding graduate and/or degree completion education, please contact:
Vice Provost Holly Orozco (horozco@pointloma.edu).