For the Spring 2021 semester, we had planned for a hybrid class model. With the intent to provide asynchronous (not happening in real-time) virtual classwork with some synchronous (education that happens in real time, with a set class schedule) teaching online, with ability to meet in person with reduced in-person capacity depending on which tier San Diego County is in.
While San Diego County is now in the orange tier, we have expanded our academic delivery for the spring to offer outdoor fully face-to-face courses, indoor labs and studios, hybrid courses (as initially planned), and fully virtual courses. 
PLNU has prepared for the spring with the knowledge that labs, clinicals, and studio courses could operate indoors with appropriate masks and distancing. With the opportunity for outdoor instruction at any capacity, PLNU has begun the construction of seven outdoor classrooms which will each accommodate 43 students at distance. 
These seven outdoor classrooms will host over 60 separate courses throughout the semester and will allow the majority of PLNU students to have some face-to-face courses as soon as the semester starts.
When San Diego County moves to the red tier we will be able to have any class indoors or outdoors as long as we maintain masking and 6-foot distancing. The move to the red tier will also enable the synchronous elements of hybrid classes to begin face-to-face sessions in their assigned rooms and potentially expand more elements of a class to in-person instruction depending on class size. This instructional transition will take place one week after San Diego County moves to the red tier. Our campus teams have established classroom capacity for the 6-foot distancing as classroom assignments are finalized. 
Due to pedagogical reasons and individual health considerations, there will be some courses that will meet virtually this semester. These courses are primarily language courses that benefit from students and faculty easily being able to see the others' mouths in order to improve the teaching and learning process. There are also some limited exceptions for courses taught by those faculty needing to remain remote for health reasons.
We recognize that some students whether for personal health or family reasons have chosen to continue learning remotely and these modalities, with some limited exceptions, will be able to support remote learners. Even outdoor classes will be equipped with appropriate technology to allow remote participation by students as needed.
Students were able to request a change in the modality of their Spring 2021 course(s) during the first two weeks of the Spring 2021 semester, from March 1 – March 12. The modality change request period is now closed.
Regardless of what tier California is in, labs, practicums, and studio arts courses will be held in-person. Labs, clinicals, and internships will also be allowed in any tier. 
The virtual experience is instructive, yet communal. It will include:
Synchronous Zoom class times in addition to asynchronous course material. 25-50% of class material will be synchronous, meaning you will learn live and side-by-side with students and your professor in Zoom. This is an improvement over the spring semester where we heard from students that a mix of live class time and independent work was the ideal balance.
Smart video and audio technology in every classroom - and outdoor classroom -  on campus. This will allow faculty and students to seamlessly transition to face-to-face or virtual when needed. This also allows for a familiar environment in the virtual or hybrid classroom for students needing to remain remote this spring.
All classes and coursework built out in our virtual learning platform, Canvas. This is applicable to remote, hybrid, and face-to-face learning. Faculty have also built out their courses in modular format with module-by-module pivot plans for how to adapt their course to remote or face-to-face learning at any time. All classes built in Canvas are following consistent templates so that students have a single source and location for their assignments, lessons, and communication within each class.
2020-21 Academic Calendar
PLNU was one of the only universities in California to push the spring start back to March. This shift was determined in order to increase the likelihood of a face-to-face or hybrid start to the semester. With Covid case spikes increasing in late 2020, we are glad we made this decision.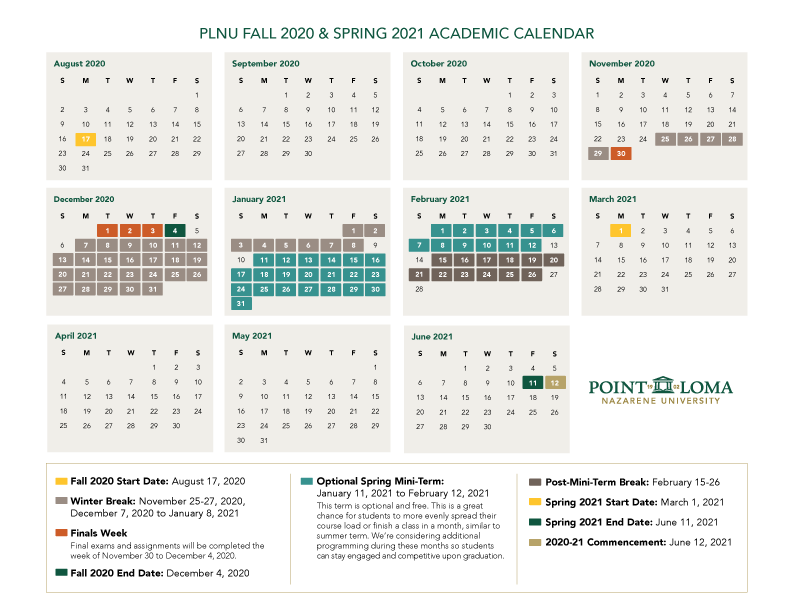 Download the Fall 2020 & Spring 2021 Academic Calendar as a PDF
The fall semester concluded on Friday, Dec. 4, 2020.
Winter Break spanned Dec. 5, 2020-Jan. 10, 2021. 
The Spring Mini-Term was from Jan. 11-Feb. 12, 2021. The Spring Mini-Term functioned similarly to a summer term so students could have the opportunity to spread out their class load, fit in an additional course, or just take a break. If a student chose to take a class during this term, and they enrolled full time in the fall and spring semesters, it was free of charge.
The Spring 2021 Semester will begin Monday, March 1, 2021, and conclude Friday, June 11, 2021. Spring 2021 Commencement will be held Saturday, June 12, 2021.

Due to COVID-19, some adjustments were made to the Spring 2021 Academic Calendar. The changes are outlined below. There are two Mental Health days added to the calendar and spaced apart to provide a break to both students and faculty. 

Mental Health Day: Wednesday, March 31. Classes will not meet this day.
Classes will meet on Friday, April 2, Good Friday. 
Classes will meet on Monday, April 5.
Advising Chapel will take place on Friday, April 9.
Advising begins Monday, April 12.
Priority Online Registration for Fall 2021: April 26 - May 7
Mental Health Day: Wednesday, May 5. Classes will not meet this day.
Classes will meet on Monday, May 31, Memorial Day.

The Graduate and Adult Degree Completion Academic Calendars will remain the same.
How PLNU Professors Are Prepared
This past spring, PLNU created the Faculty Preparedness Working Group. This unit is responsible for:
Training, assessing, and holding professors accountable to classroom virtual and hybrid standards in teaching and technology.
Supporting faculty with peer coaches in each department who are experts in instructional design.

Instructional design: The process of creating, developing and delivering instructional learning experiences, both digital and physical, in a consistent and reliable fashion toward an efficient, effective, appealing, engaging and inspiring acquisition of knowledge.

Developing instructional design resources and tools including: class templates, virtual and hybrid course planning guides, and engagement training.
The Faculty Preparedness Working Group will also perform a final quality assurance standards check on each class before they begin.
Who can I contact if I need more information?
For questions regarding traditional undergraduate education, please contact: 
Vice Provost Jim Daichendt (jimdaichendt@pointloma.edu).