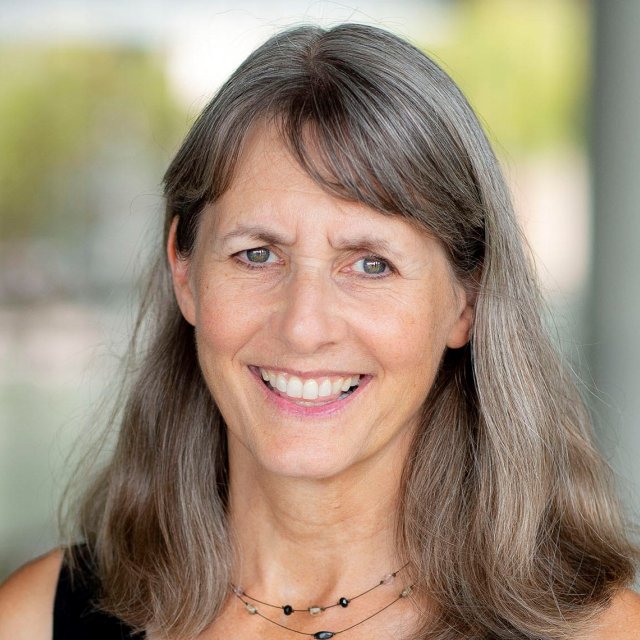 Dr. Dianne Anderson, Program Director of the MS in General Biology, earned her MS in Microbiology at San Diego State University, as well as a Ph.D. in Math & Science Education jointly from San Diego State University and University of California, San Diego.  In addition to serving as director of the program, she teaches courses in general biology, organismal biology, applied plant biology, and history/philosophy of science.  Her research focuses on student learning of challenging biology concepts. The products of her research, a diagnostic test called the Conceptual Inventory of Natural Selection (CINS) and biology concept cartoons, are used by teachers, researchers, and professors in classrooms across the country.  We sat down with her to learn more about her professional journey.
Q: How did you first fall in love with science?

A: Some of my earliest childhood memories are of playing outside, climbing trees, and doing "experiments" such as burying small animals that I found dead on our farm, then digging them up later to see what happened to them!  I have also always been fascinated by plants, and by the time I was in middle school, my bedroom looked like a jungle due to my houseplant collection. I had a wonderfully creative and inspiring high school science teacher who encouraged my interest in the natural world. Majoring in biology when I moved on to college was an easy choice - I did not even consider any other options. 

Q: What are your greatest passions as a science teacher?

A: My goal is always to create learning opportunities for my students by asking them to explore phenomena, by providing information then having them apply it in a new context, or by asking them to think about ways that biology can address major problems in the world.  I always strive to help students see how they can apply what they are learning outside the classroom.  I also take great joy in seeing the potential in students who may not recognize it for themselves, then helping them to see how they could use the skills that I point out to them.  In addition, since PLNU is a Christian university, I have the opportunity to have conversations with my students about how faith and science are complimentary ways to understand life.

Q: Tell us about your research interests.

A: Soon after I completed my master's degree, I was hired as a professor at San Diego City College to teach biology.  After a few years, I became frustrated by the lack of understanding that many of my students demonstrated on exams and assignments even though I was confident that I had explained the concept well.  I had a lot to learn, but that curiosity regarding how students learn led me to choose a Ph.D. program in science education.  As I began my doctoral studies, I learned that teaching materials and approaches will be much more effective when they are informed by research on how students learn.  This reality has transformed my approach to teaching and set the research agenda for my career.  I develop evidence-based teaching materials as tools for teachers and professors to use when teaching the most challenging topics in biology, such as natural selection.

Q: How does the new PLNU science complex benefit students and faculty in the sciences?

A: I remember walking into Sator & Latter Halls for the first time, and I am sure that my jaw dropped open.  I had seen the plans on paper, but actually walking into the rooms was incredible.  We now had so much teaching space, so much storage space, and so much research space in our new building!  In addition, the building was designed so beautifully to allow for light and views of outside spaces in every lecture and lab space.   A few years later, the Rohr Science building was completely remodeled so that we now have all of our faculty offices together, which encourages collaboration, and we also have a field biology teaching lab with its own prep room and a greenhouse.  These facilities have greatly enhanced some of the courses that I teach in terms of the hands-on experience for students.

Q: What makes the PLNU MS program in biology unique?

A:  The MS in Biology at PLNU is truly a unique program for several reasons.  First, it is the only part-time program in general biology in southern CA that allows professionals to keep their job.  Second, it is unusual to have a graduate degree in biology at a Christian university.  This allows students a chance to participate in discussions and classes that address the intersection of faith and science.  Third, classes are taught by PLNU biology professors who have developed excellent teaching methods far beyond the traditional lecture approach, since that is NOT how people learn science.