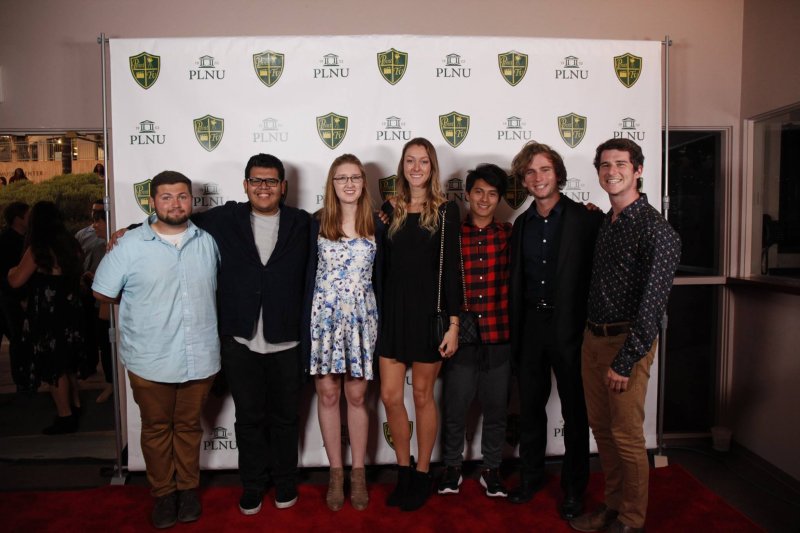 Last semester, Point TV held the first ever Glammy's TV and Film Festival. While there have been several PLNU film festivals in the past, the Glammys were unlike anything Point TV has put on in the past. With an MC, a red carpet, a professional photographer, and a chocolate fountain, future PLNU film festivals have quite the night to live up to.
Every semester at PLNU, the new media communication and broadcast journalism students are required to take a course in which they make a short film. While most of them are evidently beginner films, there was one project that went above and beyond what was expected. Natalie Martyn's short film Unplugged won Best Intro to TV and Film Group Project. Several new students put hard work into this project, reflected a strong future for the media communications major and great films to look forward to in the future.
A new award was introduced at the 2017 Glammys known as "The Pathos Award." This award was given to the project that really tugged on the audience's heartstrings. There was one resounding film that left the room silent and that was Delilah directed by Isaiah Knott. This significant award will now be a tradition for future Glammys.
Several awards were given out at the festival, but the clear film of the night was I HAVE TO KILL MY PROFESSOR directed by Jonathan Pickett. This short took home seven awards including Best Screenplay, Best Director, Best Cinematography, Best Film Score, Best Editing, and Best Film of the Year. Many PLNU students put in countless hours of work into I HAVE TO KILL MY PROFESSOR and it showed.
Most of the past PLNU film festivals have mainly drawn the media com and broadcast journalism majors, their friends, and families. The Glammys drew a variety of students, and host of the night, Jordan Hill, shared his thoughts.
"English majors were incentivized by extra credit. Kinesiology majors were there for their fondue cheat meals. And nursing majors got lost while studying and thought Solomon Theater was a bathroom. It was a great mix!"
While it is true that several students were given an incentive to attend, they left being extremely entertained and impressed with all the projects. Brook Chebny, senior business administration major, was one of many in attendance.
"They were definitely better than I expected them to be. I think each one had an interesting story line and the students did a great job capturing it on camera. I really enjoyed seeing all the different films and seeing how creative the students here are."
PLNU communications students are finally getting the recognition they deserve from other students. The 2018 Glammys will take place in April and will remain a night for anyone and everyone to attend.
For more information regarding the Glammy's TV and Film Festival, contact Alan Hueth at alanhueth@pointloma.edu or Paige Adlhoch at paigeadlhoch213@pointloma.edu