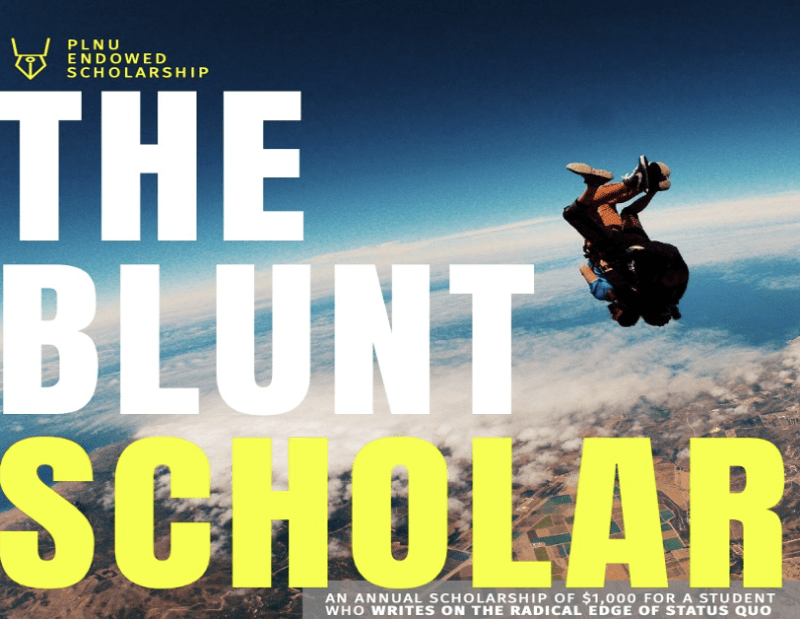 The 2022 Blunt Scholarship for Independent Journalism and Creative Writing
The 2022 Blunt Scholarship, an annual scholarship of $1,000 for a selected student who writes on the edge of status quo, is now open until April 1 at noon. The application process is open to any current PLNU student with any major who has a gift for writing and at least a 3.5 GPA during the fall semester.
Lainie Alfaro, Blunt Scholar '21, shares about her experience as a Blunt Scholar here.
The Blunt Scholarship is funded through the generous gifts of alumni and friends in honor of Professors Noel Riley Fitch and Michael David McKinney in appreciation of their mentorship during the "Blunt Year" of 1976 (when The Point student newspaper was blunted and banned, shut down, and staff writers were led to publish an underground newspaper called The Blunt). Forty years later, the "Bluntees" endowed a scholarship for like-minded current students. Read background story in the alumni Viewpoint magazine here. 
"The purpose of the Blunt Scholarship is to support witty, gifted and idealistic students with a radical edge who write and publish their work. The ideal candidate will be someone with intellectual curiosity, who is well read, socially conscious, and who has formed opinions and beliefs that challenge the status quo. Candidates should feel a sense of responsibility to the larger community and have thought about their relationship to it." - (BSIJ Agreement 4.b)
Application Details:
Applicants must submit a published sample of their writing and a 1-3 page personal essay describing with wit and wisdom why they should be selected as a Blunt Scholar. Two letters of recommendation from faculty members, staff, and/or fellow students (who are familiar with the Blunt) must accompany the application. Essay and letters should reveal—with an edge of creativity and sarcasm--why the applicant fits the image of the Blunt Scholar and would fulfill the purpose of the scholarship program. The selection committee considers a published writing sample to be a work published or produced in any non-professional forum, including high school and college works, online publications, and multimedia productions. 
Send questions, recommendations, writing samples, and application materials to the LJWL Department Chairs (Jacque Mitchell and Paula Cronovich) who will organize and send on to the alumni Blunt Selection Committee. You can also email LJWL Department Assistant Madi Bucci for more info at mbucci@pointloma.edu.