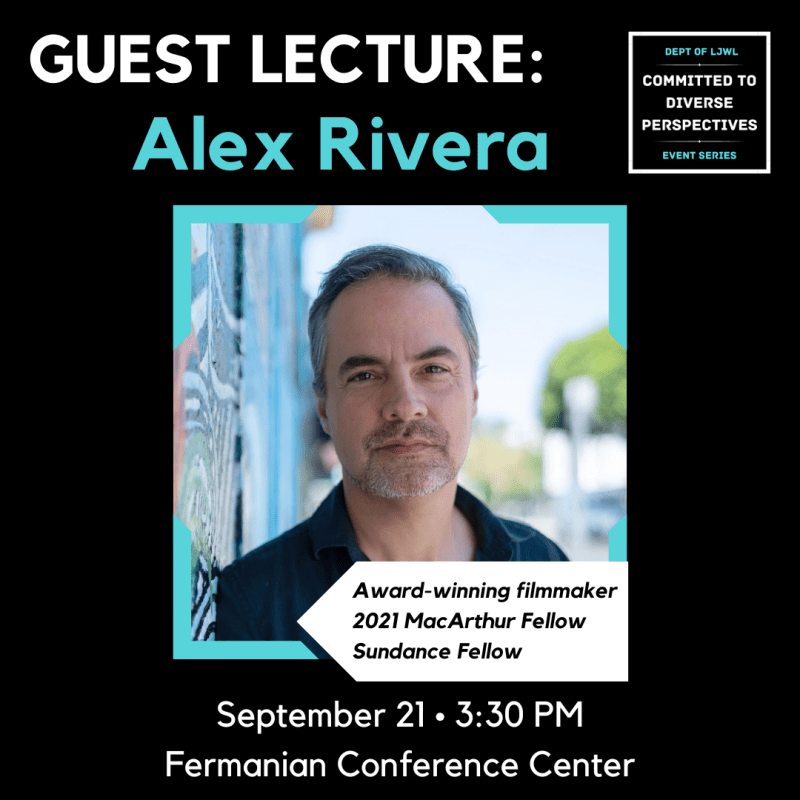 The Dept of LJWL Committed to Diverse Perspectives series presents an afternoon with award-winning filmmaker Alex Rivera on Thursday, September 21 at 3:30pm in Fermanian Conference Center.
Alex Rivera is an award-winning filmmaker, a 2021 MacArthur Fellow, and a Sundance Fellow. His films include Sleep Dealer (winner of multiple Sundance awards & the Berlin International Film Festival), The Infiltrators (also a Sundance winner), and The Sixth Section, which is available on Vimeo here. 
During his day at PLNU on September 21, Rivera will give a lecture titled "Artificial Intelligence, Science Fiction, and Rasquache Futures." The lecture will discuss his work which, for more than a quarter-century, has used science-fictional imagery to illuminate and interrogate Latinx lives and politics. Rivera will also discuss how the recent, and profound, emergence of a rhetoric and reality around 'artificial intelligence' has impacted his image-making and thinking about questions of technology, labor, and power. 
Jacque Mitchell, professor of Spanish and co-chair of the Dept of LJWL, shares her thoughts on Rivera's upcoming visit: "What a privilege to have Alex Rivera on campus! His films document the stories and experiences of immigrants we never get to hear. His approach and creativity is always surprising, and his commitment to diverse voices is unwavering. I know he will have an unforgettable impact on our community." 
Join the Dept of LJWL for this timely lecture and discussion on Thursday, September 21 at 3:30pm in Fermanian Conference Center. Event is free and open to all. Learn more about Rivera and the upcoming event here.