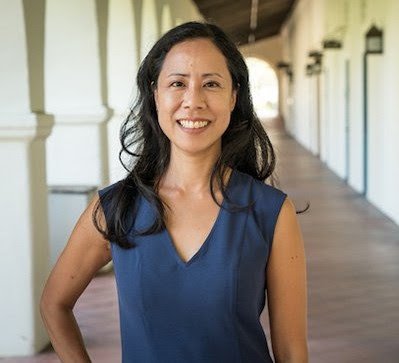 HT-RADAR Researcher Spotlight
Dr. Lianne Urada, PhD, MSW, LCSW

Dr. Lianne Urada, PhD, MSW, LCSW is an Assistant Professor at SDSU in the School of Social Work, with a focus on Community Development within the Macro Social Work track. She is an avid and passionate researcher, involved in a wide range of many federally and privately funded grants. She serves as co-chair of the Research and Data subcommittee of our San Diego Regional Human Trafficking-Commercial Sexual Exploitation of Children Advisory Council alongside Dr. Monica Ulibarri. Dr. Urada's passion shines through her work of extensive research projects and experiences. 

Throughout her education, she was greatly influenced by her professors. While she was always interested in social activism, she was encouraged to pursue her own journey of activism through research after working with a Professor who focused on the WWII Japanese American Internment Camps in the U.S., which also had impacted her family. After she went directly from her undergraduate program to the Masters of Social Work program at UCLA, she was given the opportunity to do an internship on HIV in the Philippines (where she returned later to do her PhD dissertation). This was when HIV was at its height, and prevention was a major point of interest. She conducted outreach to women in the sex trade who worked in bars, massage parlors, and nightclubs. Her eyes were opened through this experience to the prevalence of human trafficking and the sex trade, leading up to its intersection with the HIV crisis. As she worked in the communities of Manila, she began to see the societal and structural issues that impacted women's limited choices for employment that drove them into vulnerable situations. Thus, her eagerness to combat trafficking through intervention research began. 

One of Dr. Urada's core principles is to actively and continuously support the communities she interacts with. She doesn't want to be a helicopter researcher, taking off once her study is done, never to be seen again. Instead, she acknowledges the deep connection she creates through her field work and passionately dives into the issues that those communities may face in the future. In each study, her favorite part of the work is being able to have direct interaction with the people. While she was in the Philippines completing her internship, she was followed every day by two little Filipina girls during her commute to work. Looking back, she finds hope in knowing that those girls were able to know about the drop-in center where they could receive services. Just by being there and meeting the community members, she made a difference. She still can remember the stories of people who struggled yet survived. The time she spent there, doing direct ground work, will always have a special place in her heart. 

As a continual learner, intervention strategist, and innovative woman, Dr. Urada creatively addresses the interrelated sector of community issues and their ability to be fought with intervention research. She looks out for those who are the most hidden and marginalized, those that may not have access to beneficial services. We look forward to her valuable contribution as co-chair of the Research and Data subcommittee, and the work she continues to do in combating human trafficking.