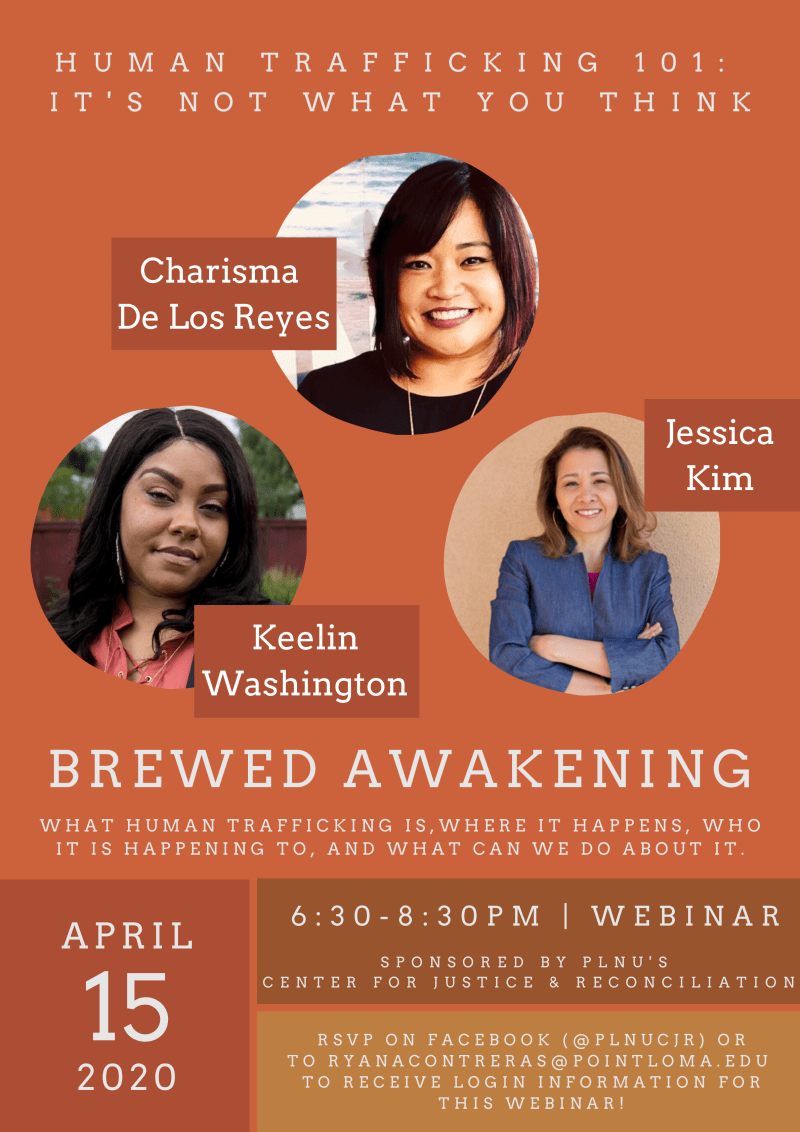 Human Trafficking 101
Thank you for watching our Webinar: Brewed Awakening Human Trafficking 101!
If you missed the live webinar, click here to watch the recording where we discuss:
These days we hear about human trafficking, but what is it really? Where is it happening? Who does it happen to? What can I really do about it? 
Our speakers mentioned many ways to get involved. We have listed them here for easy reference. If you have any questions, please reach out to CJR@pointloma.edu or sign up for updates from the Center for Justice & Reconciliation. Thank you for joining us in the fight to end human trafficking.  
Charisma De Los Reyes
Ways to get involved:
Resources for those affected:
Keelin Washington
Ways to get involved:
kNOw MORE human trafficking awareness and prevention curriculum
Generate Hope
Jessica Kim
Ways to get involved:
---
More about our speakers:
Charisma De Los Reyes
Charisma De Los Reyes, MSW, is a Project Specialist for the San Diego County Office of Education, Student Support Services Division.  Her area of practice is student wellness and developing positive school climate. She also has over 15 years of social services experience in child welfare investigations, family preservation and engagement, placement and congregate care as well as the development and implementation of community child maltreatment prevention projects.  Charisma has been recognized for her advocacy and dedication to children who have experienced child abuse and neglect, in addition to her efforts to develop cross-system procedures for collaboration and coordination in child protection.  And for these efforts she received Senator Pro Tempore Toni Atkins' Woman of the Year award. She's been a community organizer and activist with 20+ years experience engaging in social justice and advocacy work.  She is also an adjunct professor at Point Loma Nazarene University and University of Southern California (USC) lecturing on topics such as gender-based violence, innovation and social impact.
Jessica Kim
Jessica Kim is a graduate from PLNU and a Master in Social Work Candidate. Jessica is a human trafficking survivor's advocate with almost 10 years of experience in prevention, education, research, and public speaking. After she escaped 10 years of sexual exploitation under the control of her step-father, she found freedom through education. Passionate about learning and books, Jessica now uses her knowledge and life experience to educate and inspire a wide range of audiences, including teens, survivors, researchers, teachers, counselors, social workers, and law enforcement. Through her work with San Diego Child Welfare Services, she developed expertise in System Dynamics, a program designed to tackle dynamic social issues with innovative, design-driven, and transdisciplinary solutions. She is currently in the development stage of OnRamps, a multidisciplinary, collaborative effort to build financial opportunities to independence for survivors of trafficking. She is vice president of the Survivor Leader Network of San Diego and on the Advisory Council as the Survivor Voice for The San Diego Regional Human Trafficking & the Commercial Sexual Exploitation of Children Advisory Council.
Keelin Washington
Keelin Washington is currently completing her Social Working and Psychology dual-degree program. She is a lived experience expert who has dedicated her life to making a difference. She is currently a lead program facilitator of the kNOw MORE program, an anti-human trafficking awareness curriculum for middle school and high school age youth.  She has taught at schools all over San Diego County, talked with thousands of students, and partners with other lived experience experts to continue the work. She is Lead Transition Resident Guide at Generate Hope, a safe house for survivors of human trafficking.  There she is able to walk alongside the ladies into the transition back into the community. She has spoken at the Hope Rising conference and has done a training video for companies who work with survivors. Since escaping her trafficker she has dedicated her life to bringing awareness and recovery to the community and survivors she serves.