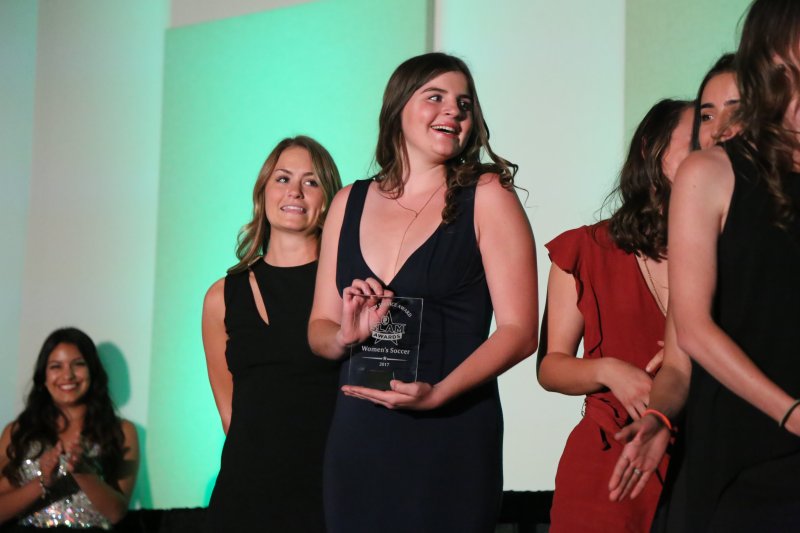 SAN DIEGO - On Sunday, April 30, a crowd of 350 people stepped out in style for the inaugural Sea Lions Athletic Merit (S.L.A.M.) Awards held at the Liberty Station Conference Center. Dressed to impress from head to toe, over 200 student-athletes brought their A-game as they made their way down the red carpet towards the ceremony.
 
The S.L.A.M. Awards was created as a celebration of academic, athletic and community excellence achieved by our 2016-17 student-athletes, and is slated to be an annual event to close out the school year. PLNU baseball alum Judson Richards ('04) served as emcee for the evening's program, which included 18 award categories presented by PLNU administration, athletic staff and coaches.

Athletic director Ethan Hamilton awarded two individuals with special recognition in the course of the program. An honorary Athletic Staff Award was given to Richey Rodgers, for his commitment to excellence as a key member of the athletic facilities team. A Lifetime Achievement Award was presented to Dr. Carroll Land, former athletic director and baseball head coach, for his 49 years of service in PLNU Athletics. Hereafter, the award is renamed the Land Lifetime Achievement Award in his honor. The final two awards, Sea Lion of the Year and Team of the Year, were presented by President Bob Brower and Ethan Hamilton, respectively. Sea Lion of the Year was awarded to Sami Swanson (Women's Soccer), and the recipient of the Team of the Year award was the Cross Country team.
All Inaugural S.L.A.M. Award Winners
Team Service Award – Women's Soccer
Each year, along with other PLNU athletic teams, the women's soccer team spends the day working at Special Olympics Day hosted on our track and field. After the event finished, they packed up leftovers and personally delivered them to San Diego homeless. The Special Olympics Executive Leadership team commended their service saying: "They set the standard for being Christian athletes doing God's work on and off the field." Additionally, last summer, 15 players traveled to Zambia, Africa, on a two-week LoveWorks' missions trip. They ministered and taught in an underprivileged school and church, and also donated $5,000 toward building upgrades. A number of the women's soccer student-athletes are also engaged in the campus community, serving in variety of roles for activities such as: Rock Climbing club, Student-Athlete Advisory Committee, D-group, BREAK club, MOSAIC, Physics club, Elderly Outreach Ministry, Love Art Gallery, and Students for Environmental Action and Awareness club. Other nominees: All teams
Male Freshman of the Year – Sterling Somers
Sterling averaged 8.9 points and 4.6 rebounds per game as he was named the 2016-17 PacWest Freshman of the Year. He won three-straight PacWest Freshman of the Week honors and scored a career-high 22 points at Chaminade. He also stepped up in the PacWest tournament, scoring 19 points and grabbing six rebounds against the PacWest Player of the Year. Other nominees: Micah Pries
Female Freshman of the Year – Cara Keturakis
Cara started every match as the Sea Lions' setter during her freshman season. She finished third in the PacWest with 9.72 assists per set, despite PLNU ranking seventh in assists as a team. She posted a triple-double, the first for PLNU in NCAA Division II, with 12 kills, 47 assists and 21 digs in a win over Azusa Pacific. Cara had 13 double-doubles and posted a PacWest season-high 61 assists against Hawaii Hilo. Other nominees: Jordan Sienkiewicz
Team Performance of the Year – Men's Basketball
The Men's Basketball team received the award for their victory over California Baptist University. With the TV cameras on and CBU celebrating their final game in their home gym, the Point Loma men's basketball team went on the road and stunned the Number 5 team in the country by beating them 77 to 71, with a stellar comeback victory televised on Fox Sports. PLNU outscored the Lancers 23 to 7 in the final six minutes, including a 12 to 2 run in the final 3 minutes and 9 seconds. The final blow came from Mike Planeta who knocked down a 3-pointer in the corner off a pass from Josh Rodriguez to secure the victory and close down CBU's gym with a loss for the Lancers. Other nominees: Baseball, Cross Country, Men's Soccer, Women's Basketball, Women's Tennis
Male Athlete Performance of the Year – Nico Tagaloa
Nico totaled nine points in Point Loma's win over the defending PacWest champions Fresno Pacific on Senior Day. He scored four goals and had an assist to tie the NCAA single-game high mark for points this season. He played a part in the Sea Lions' first five goals, by scoring the first two, assisting the third then scoring the fourth and fifth. Those four goals also matched a PLNU school record. Other nominees: Trevor Abshire
​​​​​​​Co-Female Athlete Performance of the Year – Roya Rustamzada
Roya earned the award for her performance in Regionals in Anchorage, Alaska, against rival Cal Baptist. She stepped up for the Sea Lions in their NCAA West Regional game, scoring 21 points and grabbing 18 rebounds against the No. 3 team in the country. It was her 15th double-double of the season, and she also had three assists, three blocks and two steals. The most impressive moment was when she was fouled on a 3-pointer as time was expiring, and stepped to the free throw line to knock down all her free throws and send the game into overtime.
​​​​​​​Co-Female Athlete Performance of the Year – Alex Hernandez
Alex Hernandez earned the honor for her outstanding performance at the 2017 PacWest Championships when she set new school, stadium and PacWest records by winning the 10,000-meter with a time of 36:13.74. With all eyes on her and so far ahead of the pack that she lapped the second place finisher, Hernandez shattered the previous PacWest record in the 10k by over a minute and a half and broke the school record which had stood since 1989. Other nominees: Brianna Bartello, Hannah Benoit Bucher, Cara Keturakis
​​​​​​​Coach of the Year - Lisa Faulkner
In her first season at PLNU and as a first-year head coach, Lisa Faulkner guided the Point Loma women's basketball team to a 24-6 record and to the No. 7 seed in the NCAA West Regional. The Sea Lions had their best-ever season in the PacWest Conference and finished second in the standings with a 17-3 record. They also reached the PacWest Championship game. Coach Faulkner led her team to two different nine-game winning streaks, and had two of her players, Alex Brunk and Roya Rustamzada, earn All-West Region honors. Other nominees: All PLNU coaches
Sportsmanship Award – Larissa Lakin
Larissa was selected by her peers because of her upbeat attitude despite enduring a season-ending injury at the start of both her freshman and sophomore years. She never complained, but maintained an incredible spirit throughout her rehab and remained a positive voice for her entire team. Her cheerfulness and unyielding support spoke volumes to her teammates and coaches. Other nominees: Megan Angerstein, Hannah Chiu, Cameron Gilbert, Alex Hernandez, Larissa Lakin, Jesse Miritello, Melanie Quijano, Lindsey Redmond, Steven Velazquez, Stephen Young
Co-Academic Success Award – Women's Golf
The Women's Golf team earned a combined GPA of 3.671 in the Fall semester and a 3.589 cumulative GPA. In the 2016 season, they also earned academic honors as six Sea Lions grabbed PacWest All-Academic honors.
​​​​​​​Co-Academic Success Award – Men's Tennis
The Men's Tennis team earned a combined GPA of 3.581 in the Fall semester and a 3.567 cumulative GPA, as six of their student-athletes received PacWest All-Academic honors. Other nominees: All Teams
Leadership Award – Anna Viettry
Anna is regarded among her peers as a true leader, and someone who has earned her teammates' and peers' respect. This past year, Anna served as President and a board member on the Student-Athlete Athletic Advisory Committee – a student-led committee made up of representatives from each of our 11 sports teams. This committee represents the collective voice of student-athletes across the nation in NCAA Division II Athletics. Anna was also selected as team captain on the women's basketball team and is considered a strong spiritual leader. In the campus community, she is involved in intramurals and serves as Intramurals Director. She has performed all of her leadership responsibilities with excellence, and all while maintaining an impressive 3.9 GPA. Other nominees: Jack Alston, Rima Antous, Josie Frye, Ryan Garcia, Cara Keturakis, Mike Planeta, Sami Swanson, Regina von Koch, Demi White
Heart of A Sea Lion Award – Erin Beezhold
Erin, a track and field student-athlete, was selected by her peers to receive this award for her perseverance. Despite battling injuries that kept her from competition, she continued going to practice, participating in any way she could, even if that meant doing ab workouts with her immobilizing boot on her foot. Throughout the season, her spirits were always high, her smile was infectious, and she didn't give up, no matter what challenge she faced. Other nominees: Riley Abraham, Brianna Bartello, Nicole Camaratta, Samantha Krakower, Courtnie Marshall, Brendon Millington, Trevor Peterson, Michelle Picca, Travis Takata, Sean Williams
Best Dressed Award – Eric Pierce & Ariel Oriarte
This award was voted on by all the student-athletes for the male and female who stood out from the rest of their peers for their excellent sense of style. From the men's baseball team and the women's soccer team, Eric and Ariel received the award for Male and Female Best Dressed. Other nominees: Hannah Benoit Bucher, Haley Fuller, Shelby Groeneveld, Gage Jensen, Jack Langborg, Carol Schroeder, Demi White
Fan of the Year – Brock Lusky
As ASB Director of School Spirit and a Green Sea Hooligan, Brock led PLNU's student section in cheering on the Sea Lions at home athletic contests. Over the last three years, he also played a key role in encouraging student attendance at games through a variety of ASB-sponsored promotions, including Dash for the Cash, the Dating Game and Glow in the Dark Dodgeball. Other nominees: James Konoske, Brock Lusky, Austin Stephens, Janie Unkefer, Alexa Wise, Dr. Bill Wood
Comeback Player of the Year – Celine Lum
As a freshman, Celine set a personal best and a NCAA Division II women's provisional qualifying mark in the pole vault at her first collegiate meet, making her the first Point Loma track and field athlete to attain a NCAA D-II provisional mark in school history. That vault also tied her for 3rd All-Time in the pole vault at Point Loma. Just two weeks later, she was diagnosed with a stress fracture in her shin which ended her season. This year, she is back in action. Celine won the pole vault at the 2017 PacWest Championships and remains atop the conference Performance List for the pole vault by over three inches. She once again hit the provisional qualifying mark for the NCAA D-II championships (*held in Florida at the end of May). Other nominees: Shelby Groeneveld, Brendon Millington, Trevor Peterson
Female Athlete of the Year – Hannah Benoit Bucher
Hannah has made her mark both in cross country and in track in her first season at Point Loma. During the fall, she helped lead PLNU to its best finish at three post-season meets: the PacWest Championships, the West Regional and the NCAA Championships. She finished second at the PacWest Championships and ninth at regionals. She was also named PacWest Newcomer of the Year and collected USTFCCCA All-Academic honors. So far in the track season, Benoit Bucher has already eclipsed school records in both the 800 meter and the 1500 meter, and was the PacWest Conference Champion in the 800m. She is currently seventh in the country in the 1500m with a time of 4:24.63 and has a great chance to represent Point Loma at the 2017 NCAA Track & Field Championships at the end of May. Other nominees: Alex Brunk, Ariel Oriarte
Male Athlete of Year – Ryan Garcia
Ryan Garcia has been a force in the Sea Lions' lineup and throughout the PacWest Conference since joining the team four years ago. This season, Ryan is hitting .355 and is ranked in the top 5 in the PacWest in walks, home runs, on-base percentage and slugging percentage. He also reached base safely in 69 straight games between 2015 and 2017. Garcia will leave PLNU with his name scattered throughout the record books, as he ranks in the top 5 in school history in doubles, home runs, walks and runs batted in. Other nominees: Tyler Allen, Ryan Garcia, Josh Rodriguez, Kellen Sheppard, Stephen Young
Sea Lion of the Year – Sami Swanson
Sami has been a key member for the success of the women's soccer team – winning back-to-back conference championships in 2014 and 2015, and nearly winning it this past year. She plays center midfielder, which is arguably the toughest position on the field due to the combined offensive and defensive responsibilities. Coach Hall considers her one of his team's smartest, hardest-working and fittest players. Sami has started every game since she was a freshman and was named PacWest Freshman of the Year. Sami was voted to the All-PacWest team for the third time as a midfielder. She started in all 18 matches on a team that had a shutout streak for a total of 808 consecutive minutes. Sami is the quintessential model of a PLNU student-athlete, maintaining a 3.9GPA and earning multiple scholar-athlete awards. She has served in many leadership roles, including Team Captain since second semester of her sophomore year, a spiritual leader on the team and in her family, a student leader in the planning and training efforts for the team's Africa Trip, and a D-group leader and an Alpha group leader among her peers in the PLNU community. Other nominees: Hannah Benoit Bucher, CJ Erion, Cara Keturakis, Andrew Ritchie, Kellen Sheppard, Anna Viettry, Regina von Koch
Team of the Year – Cross Country
The Point Loma women's Cross Country team was one of the top teams both in the PacWest and the West Region all season, and they proved it by placing 12th at the 2016 NCAA Division II Championships. The team earned the right to run for the national title by placing second at the PacWest Championships and fourth in the NCAA West Regional. At nationals, PLNU placed 12th out of 32 teams and Brianna Bartello captured All-American honors by finishing 37th. In addition, Jerry Arvin was named PacWest Coach of the Year and Hannah Benoit Bucher was voted PacWest Newcomer of the Year. Five Sea Lions also earned All-PacWest honors and Benoit Bucher and Alex Hernandez earned USTFCCCA All-Academic honors. Other nominees: All PLNU Teams