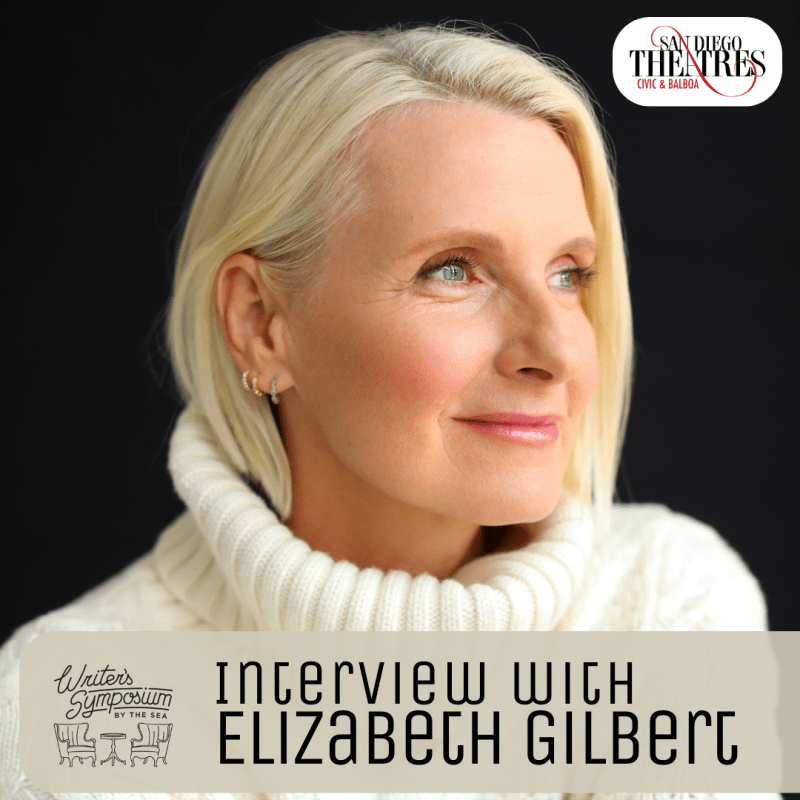 New York Times bestselling author Elizabeth Gilbert will join San Diego Theatres for an author talk and moderated discussion with Dean Nelson at Balboa Theatre. The event will be held in partnership with the 29th annual Writer's Symposium by the Sea.
Gilbert is the author of novels City of Girls, The Signature of All Things, and Stern Men, which was a New York Times Notable Book. She has also published the story collection Pilgrims and the nonfiction books Big Magic, Committed, The Last American Man, and Eat, Pray, Love.
A graduate of New York University, Gilbert spent her early post-graduate years traveling around the country and collecting experiences for her stories. She eventually compiled these stories into her first book Pilgrims, which was a finalist for the PEN/Hemingway award. Gilbert also worked as a journalist for the New York Times, GQ, and Spin. She was a three-time finalist for The National Magazine Award, and one of her articles in GQ about bartending on the Lower East Side inspired the movie Coyote Ugly. 
Though several of Gilbert's works have gained national recognition, she is best known for her 2006 memoir Eat, Pray, Love. The memoir recounts her journey around the world on her own after a difficult divorce. An international bestseller, the book has been translated into over 30 languages and has sold over 12 million copies worldwide; it was also adapted into a film starring Julia Roberts in 2010.  
Dean Nelson shares his thoughts on Gilbert coming to San Diego during the same week of the Writer's Symposium by the Sea:
"Everything aligned perfectly for us to partner with San Diego Theatres in having Elizabeth Gilbert talk about writing and life. Her experience, her perspective on love and loss, her pursuit of finding meaning, and her commitment to the craft of writing will be on full display." — Dean Nelson, Director of the Writer's Symposium by the Sea
Gilbert will give a talk and then join Dean Nelson in a conversation on Writing That Inspires at Balboa Theatre on February 22, 2023. She will also visit PLNU campus on February 22 for an event with the M.A. in Writing program, which will be open to the public. More details about the on-campus event coming soon. Click here for more information on Elizabeth Gilbert. 
For more information about the 29th Annual Writer's Symposium by the Sea, visit pointloma.edu/2024writers.
This event is hosted in partnership with San Diego Theatres.