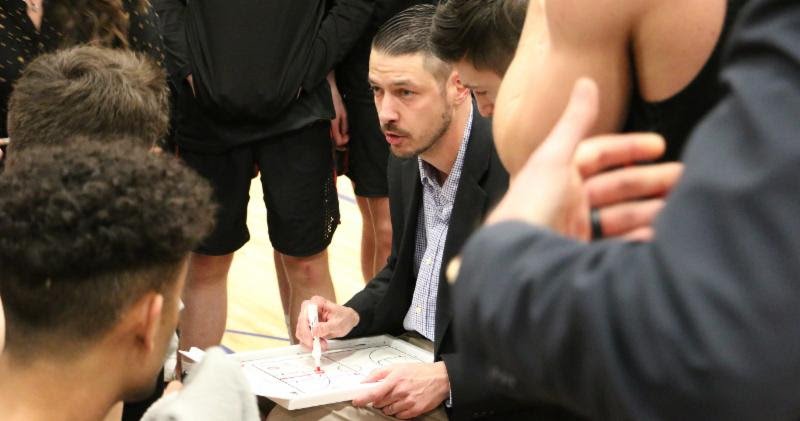 Matt Logie has been named the newest head coach of the Point Loma men's basketball team, announced Athletic Director Ethan Hamilton on Thursday, Apr. 25. Logie will become the 15th coach in the history of the PLNU men's basketball program.
"I am really excited to welcome Matt, Julia, Addy (9) and Luke (6) to Point Loma and know they will be a great fit into this amazing community," said Hamilton. "I am thrilled to see him build on the momentum that continues to grow with our program.  His track record speaks for itself, but I was even more impressed with his commitment to helping young men grow on and off the court."
Logie joins Point Loma after spending the past eight seasons as the head coach at Whitworth. During his tenure, the Pirates won .847 percent of their games, the highest winning percentage in the history of the NCAA (min. five years). His teams earned a bid to the NCAA Tournament in seven of his eight seasons, and he guided Whitworth to five straight Northwest Conference Championships (2011-16), and to six postseason titles (2011-16 & 2017 18).
"I would like to thank President Brower and Athletic Director Ethan Hamilton for their trust in me and my vision for the future of Sea Lion basketball," said coach Logie. "From the beginning of our conversations, Ethan shared such an exciting vision for the continued growth of Point Loma basketball, and for capitalizing on the unbelievable momentum of this year's run to the National Championship game along with the foundation that coach Ryan Looney and long-time assistant coach Jordan Courneya have established on the Point.
"The combination of the most stunning campus in America, a world-class education, and a focus on developing the whole person provide an unbelievable platform to compete for championships and attract some of the country's best student-athletes," Logie continued. "I truly feel this program is poised to capitalize on that foundation for many years to come and we are looking forward to being a part of the Point Loma basketball family. We can't wait to get started!"
Logie is a three-time NWC Coach of the Year and a two-time finalist for the Glenn Robinson National Coach of the Year. He led Whitworth to a No. 1 national ranking in 2015-16, and he is the only coach in NCAA Division III history to win 100 games in his first four years. His teams have also been strong in the classroom with a 3.30 grade point average over his eight years at the helm.
Prior to joining Whitworth, Logie played and was an assistant coach at Division I Lehigh. He was a student-athlete for the Mountain Hawks from 1999-2003 and graduated as the school's seventh all-time leading scorer (1,524 points). He would go on to work as an assistant coach for five seasons at his alma mater before being promoted to associate head coach. While there he recruited CJ McCollum, the 2013 NBA Draft pick and current member of the Portland Trail Blazers, and helped lead the Mountain Hawks into the 2010 NCAA Tournament.
"My family and I are humbled and honored to lead a basketball program with such great tradition, potential, and mission fit as Point Loma Nazarene University," said Logie. "I would like to thank God first and foremost for paving the way for this day to be possible; it is beyond humbling. I would also like to thank my wife Julia for her unwavering support and sacrifice. Very few understand the demands of a coach's wife and she has supported me every step of the way in order to make this dream a reality. I would also like to thank my extended family for all of their love and support, it is truly a joy to include our family in the lives of our basketball family and I look forward to all of us joining the fabric of the Point Loma and San Diego community."
The Sea Lions are coming off a 31-5 season, in which they made a run to the NCAA Division II Championship game. PLNU will bring back five student-athletes that played significant minutes and 10 total letterwinners.