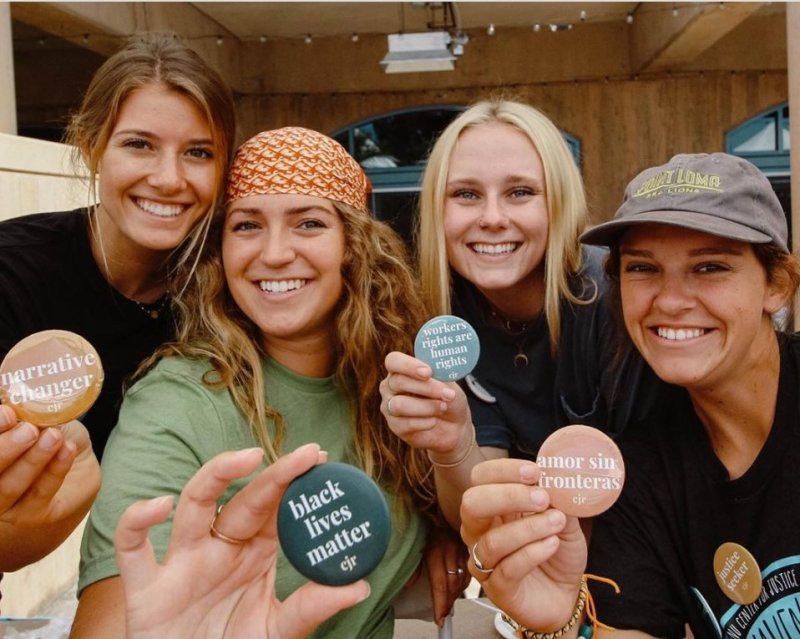 During their internship with the Center for Justice & Reconciliation, Ana Gates and Danielle Jorgensen are leading two teams of student ambassadors for the 2019/2020 school year.
Ana Gates
Ana is a junior marketing major with an interest in nonprofit administration. She is from Mission Viejo, CA and in her free time she enjoys surfing and playing beach volleyball. On campus, Ana is a media technician, chapel sound technician, and an ASB Cabinet member. She is super stoked to be a part of CJR and is looking forward to learning about ways to better protect people and the planet! 
Danielle Jorgensen
Danielle is a sophomore International Studies major with a heart for Fair Trade and others. She grew up in the Bay Area's Silicon Valley and spends her free time enjoying the beach or a good meal with friends and family. After graduation, she hopes to pursue an education and career in law to further advocate for ethical and sustainable practices.
The Ambassador program serves as a way for students to engage with social justice and connect with others that share this passion. Ambassadors get to learn and work in areas such as: Fair Trade, Immigration, Racial Justice, Anti-human trafficking, and more. It also means building a community on campus that is passionate about social justice. By meeting regularly, they have the opportunity to grow and learn together to advocate for social justice both at PLNU and in the greater San Diego Area.
Meet our 2019/2020 Ambassadors:
Gerardo De La Riva-Sanchez
Sophomore Criminal Justice major
Zachary Lyons
Freshman Psychology major
Emily Steinhouser
Freshman Christian Studies major
Lindsey Dishon
Freshman Social work/Business administration major
Megan Aberg
Sophomore International Peace Studies major
Jessica Buell
Freshman Pre-nursing major
Katrina Cloyes
Morgan Rego
Freshman Biblical Studies and Philosophy major
Dana Calhoun
Freshman Sociology major and minor in Non-Profit Management
Brianne Bachman
Junior Psychology major and minors in History & Marketing
Aspen Cook
Freshman Psychology major
Sophia Malak
Junior Elementary Education major
Erin O'Crowley
Sophomore Psychology major
Ella Osterweil
Sophomore International Development major
Deborah Jimenez
Sophomore International Peace Studies major
Kiersten Gihring
Sophomore International Development major