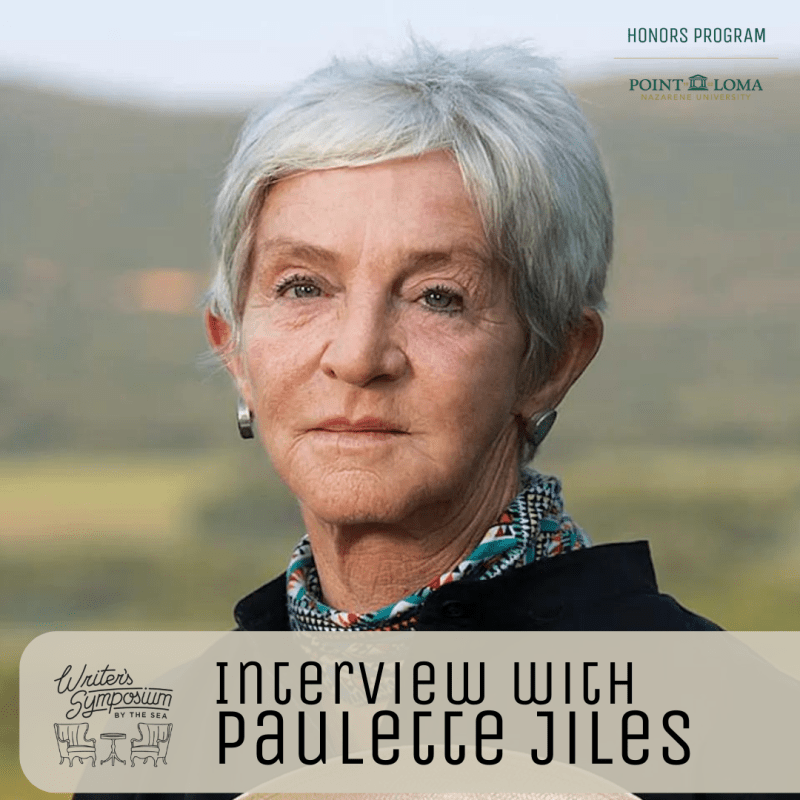 Novelist, poet, and memoirist Paulette Jiles will be interviewed by Ben Cater in a conversation about Writing That Inspires as part of the 29th Annual Writer's Symposium by the Sea. 
Jiles's newest book is Chenneville, a historical fiction novel published in September 2023. The novel tells the story of a man "consumed with grief, driven by vengeance" who "undertakes an unrelenting odyssey across the lawless post-Civil War frontier seeking redemption." 
Chenneville follows a long line of historical fiction / western novels by Jiles, the most well-known titles being Enemy Women, Stormy Weather, The Color of Lightning, Lighthouse Island, and News of the World, which was a finalist for the 2016 National Book Award and was adapted into a film starring Tom Hanks. 
Jiles's entrance into the world of westerns began with a research project on her own family. While researching her great-great-grandfather, who disappeared from Missouri public record during the Civil War, Jiles came across stories of the Union militia imprisoning Missouri women who they suspected of aiding rebels. This discovery inspired her to write her first historical fiction novel Enemy Women. Other historical figures have continued to inspire her work, such as the story of Black frontier legend Britt Johnson, who is a character in The Color of Lightning and News of the World. 
Though Jiles is most known for her historical fiction, her writing career did not start there. She attended the University of Missouri–Kansas City, graduating with a major in Romance Languages. After graduation she worked as a freelance writer (1968-69) for the Canadian Broadcasting Corporation (CBC) in Toronto and in the far north of Ontario and in the Quebec Arctic, helping to set up native language, one-watt FM radio stations with Anishinaabe and Inuktitut indigenous people. In the process, she learned the Ojibwe language spoken by the Anishinaabeg tribes in Ontario and elsewhere. She lived in a log cabin and learned how to survive during the long cold northern winters. Later, she became a reporter at an Indian language newspaper, writing about forest fires, crimes of passion, and serious bush plane accidents.
Jiles's first published book was the collection of poetry Waterloo Express (1973). She focused on poetry during her years in Canada, winning the prestigious Governor General's Award for Celestial Navigation in 1985. Though she has experience across genres, Jiles finds the process of writing a novel to be most challenging—and most rewarding:
"The most challenging writing is for me the novel. I keep discovering new things, new tools, new approaches. I can't wait to try them out. I worked with the dystopian and cli-fi aspects in Lighthouse Island, learned a lot simply by writing it, went back and re-wrote it, and it is all absorbing, fun, fascinating. The closer I get to fairy and folk tale, the happier I am." — Paulette Jiles, Interview with Washington Independent Review of Books, 2017
After years of travel, Jiles now lives on a 32-acre ranchito in a small town in the Texas Hill Country with two horses, a donkey, a cat and a dog. She sings alto in a church choir, rides remote trails in Texas with friends, and plays the Irish tin whistle in a small bluegrass gospel band called Picking on the Porch. Click here for more information about Paulette Jiles.
For more information about the 29th Annual Writer's Symposium by the Sea, visit pointloma.edu/2024writers.
This event is hosted in partnership with the PLNU Honors Program and Warwick's.