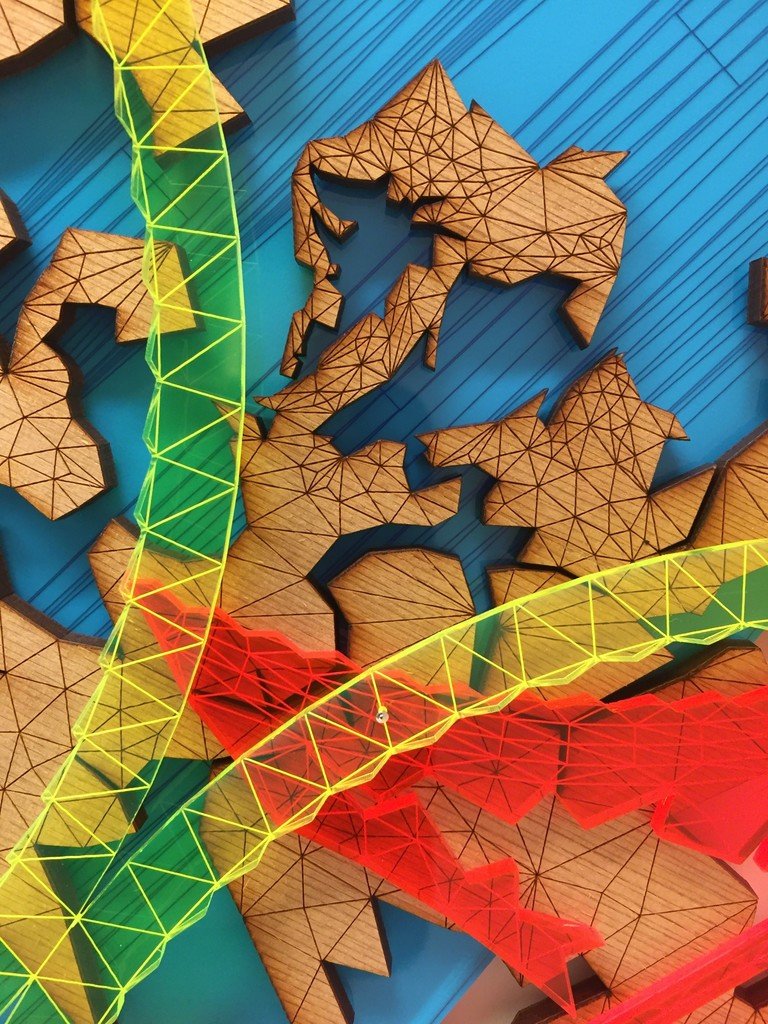 The charged national debate over guns, the debate over the accessibility of "3D printed" versions of them, and recent shootings of horrific proportions have all been catalysts for PLNU professor David Adey's new work, which will be shown for the first time in a solo exhibition titled "There Be Dragons" at Quint Gallery.
Adey's exhibition includes a grouping of 15 cedar posts or columns in which he has embedded colorful components of the AR-15 in plastic, to create sculptures that are formally enticing and symbolically disquieting.
In another series, featuring 15 wall mounted relief compositions, he has taken the same digital 3D model of the AR-15 lower receiver, and, using software, he has reconfigured its three-dimensional elements as flattened forms. He has used these laser-cut shapes as elements in a series of elegant geometric abstractions, fashioned from veiled versions of the weapon layered with elements of a flattened 3D scan of his own body. This group of works, in his view, beg the question: "How many steps away from the original can the work be and still be legal?" The series of 15 compositions, together, contain all the data for one AR-15 lower receiver.
The exhibition will also include a preview of a forthcoming documentary by filmmakers Andrew Norbeck and Jared Callahan. This short film chronicles Adey's creative inquiry into the world of guns, and the process of creating his sculpture titled 2,127 Rounds.
Hear Adey give an interview about the exhibit below:
Photo and press release used courtesy of artsy.net. View their entire story here.