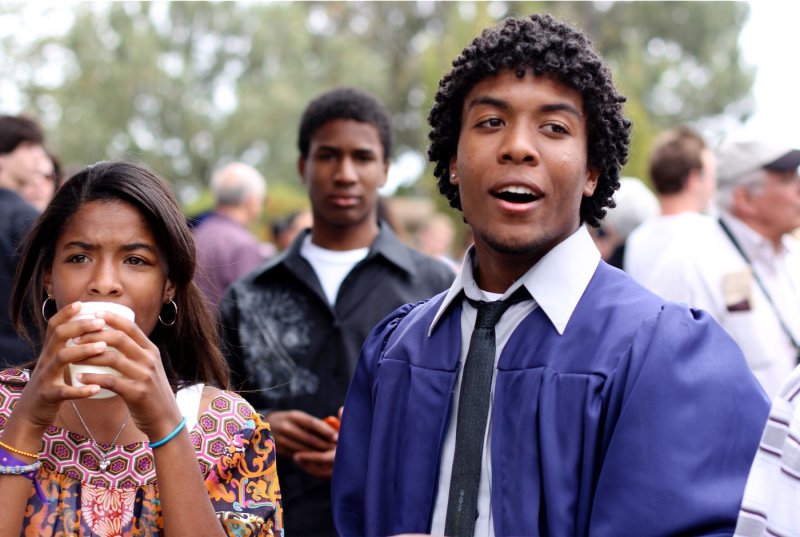 For the 23rd consecutive year the Special Olympics Regional Athletics Meet returned to PLNU's campus on Saturday, April 23rd to celebrate the joy of sport for all athletes.
Sponsored by Point Loma's Department Family & Consumer Sciences, the School of Education and the PLNU Athletics Department, nearly 300 PLNU students, faculty and staff and countless community members from across San Diego joined together to serve 250 athletes and their families.
In addition to PLNU's leadership, this year's event received large community support. As the Gold Medal sponsor, Geico Insurance provided invaluable support for the day's activities. According to event director, PLNU's Susan Rogers, "Their support wasn't limited to a monetary donation; Geico employees joined with PLNU volunteers to serve athletes and their families to make this event memorable for each individual." A regular presence at the annual event, police officers from the cities of Coronado and San Diego were on hand to encourage and congratulate each athlete. The Chula Vista Kiwanis Club provided a barbeque lunch and San Diego County Parks and Recreation were also on hand to support the event.
"Personally for me, one of the best Athletics Meets ever, once again our students are the key," said longtime event organizer, and Special Olympics supporter, Jim Johnson Ph.D.. "Comments about their love and genuineness reflect why this event is indeed a premier banner for what PLNU represents to the community and who are students really are as servant leaders."
This year's event was especially significant to PLNU as it was dedicated to the life and memory of Beryl Pagan who passed away on April 18th. As an instructional services librarian at PLNU, Pagan was the heartbeat of Ryan Library. A Point Loma alumna, she was an advocate for persons with disabilities and a true friend to everyone she met. "It was a glorious day," said Rogers. "Moreover, we were able to honor our dear friend, Beryl Pagan. She was honored in the opening ceremony with a tribute and bowls of candy in her memory."
An encouraging and uplifting event for athletes, spectators and volunteers alike, this year's Athletics Meet was yet another testament to PLNU's commitment to the mission and vision of the Special Olympics. In addition to the annual track meet, this past summer, PLNU joined with one hundred other communities across Southern California as a part of the Special Olympics World Games Host Town program. In advance of the Opening Ceremonies in July 2015, more than 7,000 athletes from 177 countries were welcomed to Southern California. The San Diego Point Loma Host Town welcomed athletes from Albania, Burkina Faso, and Finland for three days to prepare for the games.
PLNU looks forward to the 24th Annual Athletics Meet in April of 2017 and you are invited to join us!