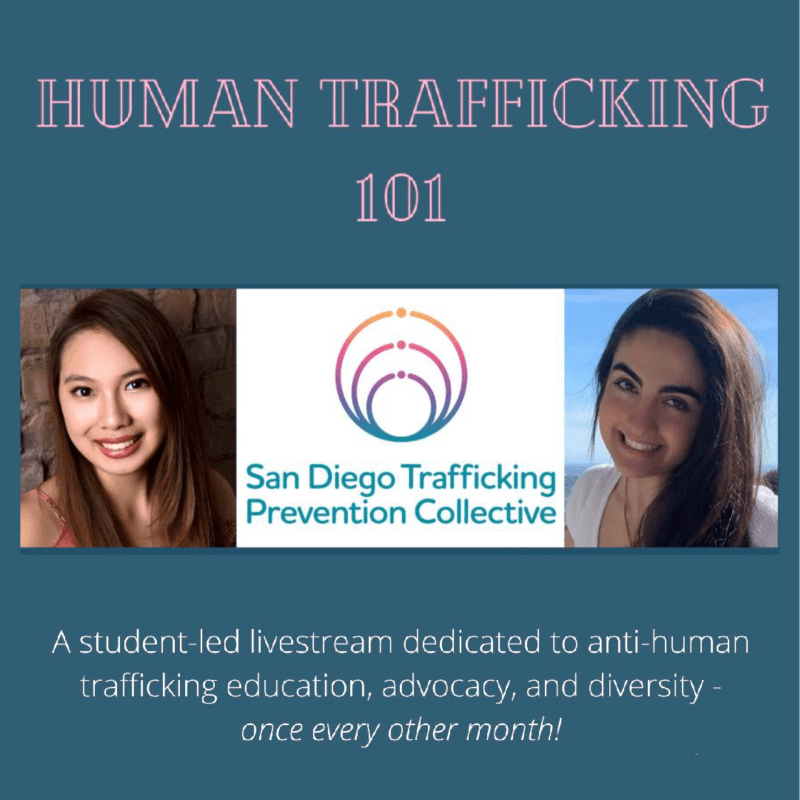 As educational programs scrambled to adjust to social distancing measures, student leaders from the San Diego Trafficking Prevention (SDTPC) Advisory Committee rose to the challenge and launched a new opportunity to engage their peers in human trafficking awareness.
Part of the San Diego Trafficking Prevention Collective, kNOw MORE! is a drama-based and student-centered human trafficking awareness and prevention curriculum, for middle school- and high school-aged youth in San Diego County. After schools transitioned to distance learning, the kNOw MORE! team put their heads together to bring this increasingly important prevention curriculum to students as they study at home. While creating this all new format, kNOw MORE! Director, Catherine Hanna Schrock gathered the Student Trafficking Advisory Committee to beta test the virtual curriculum. Lily Roughneen and Shawdi Sani were part of this group. Feeling impacted by their new understanding of the red flags and vulnerabilities of human trafficking, they were motivated to educate their peers as well.  
After seeing the kNOw MORE program, Lily was moved to hold an awareness day and an awareness week on her high school campus! She also collected donations from the community for a transition house in her neighborhood.
Lily says, "I think it is really important to keep the conversation going about human trafficking."
Shawdi Sani, also a member of the Student Trafficking Advisory Committee, first learned about human trafficking during a project in 11th grade. She started a club in her own high school, worked with community members, and held an educational event and benefit concert at her school!
Shawdi reflects, "I think education is crucial for youth because human trafficking is not just a problem in other countries and states, but in our own city. I am extremely excited to be a part of [the Student Trafficking Advisory Committee] who are equally as passionate and committed to this issue."
In an effort to act on their growing passion for trafficking prevention education, the Student Trafficking Advisory Committee launched a livestream series to help educate young adults on the basics of human trafficking. Student leaders Tiffany Cuaresma, Shawdi Sani, and Catherine Wang held their first livestream on the July World Day Against Trafficking, featuring a Human Trafficking 101 with guest speakers Jessica Kim, MSW, and Catherine Hanna Schrock.
Join the next webinar on Thursday, September 24, 2020 from 6:30pm – 7:30pm to watch an interview with Jaimee Johnson, survivor and victim advocate. During suicide awareness month, Jaimee will speak about the interconnectedness between suicide, mental health and human trafficking. Follow the San Diego Trafficking Prevention Collective on Instagram for more information on this student led initiative: https://www.instagram.com/sandiegotpc/