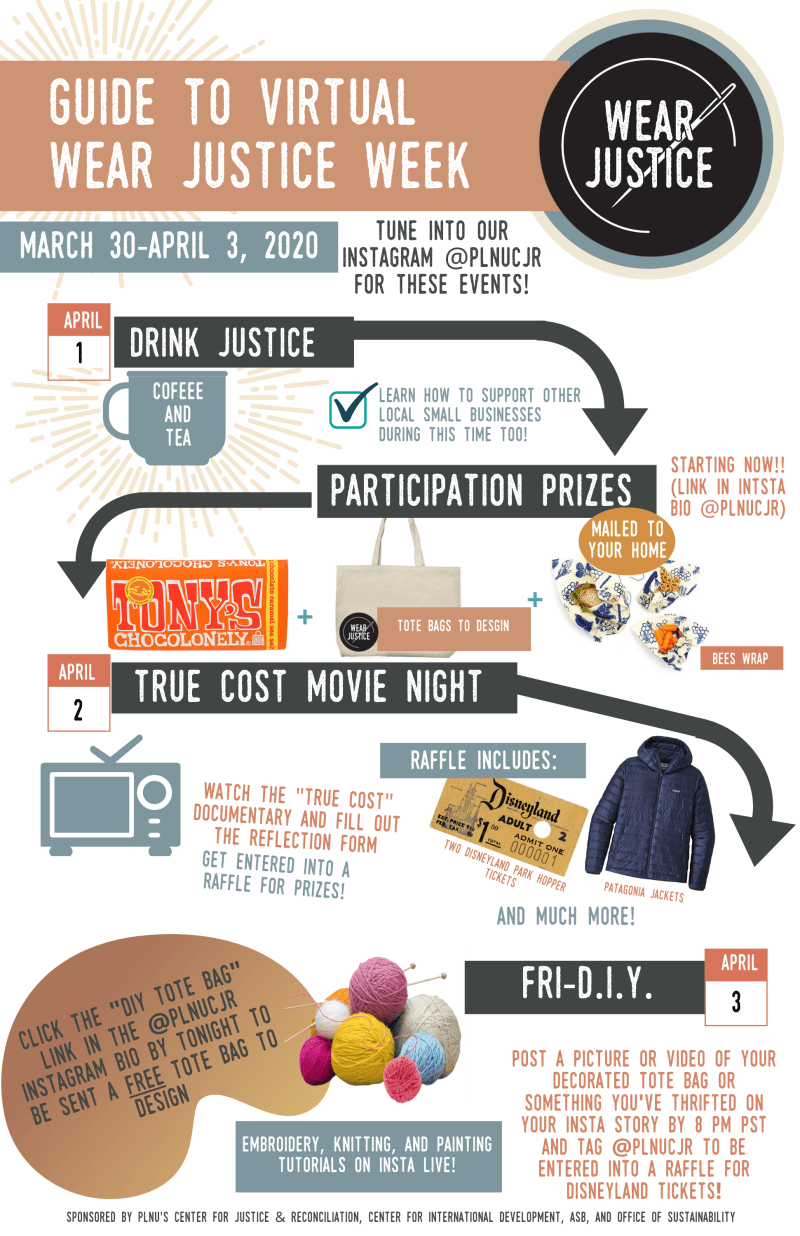 Wear Justice is returning to PLNU March 30 - April 3, 2020
Raising awareness and action around ethically produced goods and the exploitation behind the clothes we wear.
The fashion industry is one of the most dominant forces of our current world: it helps us tell those around us who we are, it brings together beauty and design, and it displays important cultural symbols. The fashion industry also accounts for the second largest polluter in the world, creating huge amounts of waste through the constant cycle of ever-changing styles and trends, not to mention the cheap disposability of most clothing made today. Store windows in huge shopping centers boast $2 t-shirts, buy one get one free jeans, $10 dresses – but who is behind these deals? Who are the people producing these unbelievably cheap clothing items?
These are the questions Elaine Giles, sophomore intern at the Center for Justice & Reconciliation, began asking in December 2017. After learning about the harmful effects of the clothing industry on people and the environment in her freshman sociology class through the documentary The True Cost, she felt that a crucial conversation was missing about the connection between the fashion industry, poverty, and pollution. Out of this desire to bring light to the issues created by fast fashion and to amplify the voices of those victimized by the industry came Wear Justice.
Wear Justice began as that simple notion: let's have a conversation about changing the script of consumption in a way that honors and respects the people who create our clothing. It started those crucial conversations about consumption, and highlighted simple ways to reduce impact on human trafficking in production and pollution. The fair followed the "Buy-erarchy of Needs", which encourages consumers to first use what you already have, then borrow, swap, thrift, or make before considering purchasing any new clothing items.
This year, the Center for Justice & Reconciliation is bringing Wear Justice Week back to Point Loma in a brand new, interactive online format. The event will take place throughout the week of March 30th - April 3rd, 2020, with a social media campaign and movie night. The CJR hopes to continue these critical conversations about the fashion industry and how our purchasing practices affect people and the planet through our third annual Wear Justice week.
Join us for Virtual Wear Justice Week 2020 by following @PLNUCJR on Instagram!
Learn more about fast fashion, support local businesses, join us online for a screening of the film, The True Cost, and create your own up-cycled D.I.Y. projects. Enter to win raffle items from sponsors such as Patagonia, Disneyland, Grove Collaborative, Tony's Chocolonely, Malia Designs, Purpose Jewelry, Lena, In-N-Out, Freedom's Promise, and Bee's Wrap all week long! 
Check out our overview of how you can get involved in the week's activities!
Watch The True Cost here with a PLNU login or on Amazon Prime, and complete this discussion guide by 9pm PST on 4/2/2020 to enter to win Patagonia Gear and Disneyland Tickets!
Let's open up space for conversations and questions surrounding fast fashion, and create new avenues to consume consciously.
This event is brought to you by The Center for Justice and Reconciliation in partnership with ASB, the Office of Sustainability and the Center for International Development.