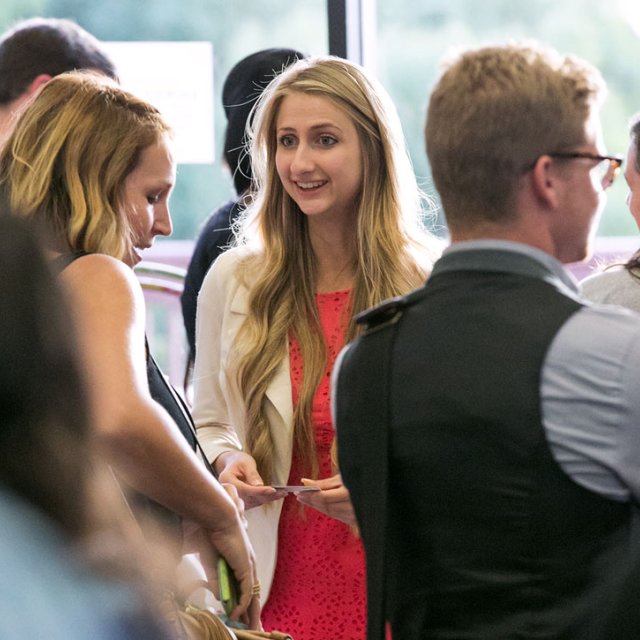 You don't have to wait until after you graduate to get connected to the San Diego art and design communities. AIGA and PLNU's Career Services both host events, giving students the opportunity to network, learn more about their craft, and even find work.
Unite
Every year, the AIGA student groups from across San Diego collaborate to host Unite, an event for students and working professionals featuring distinguished speakers. The local design community comes together to make connections, get inspired, and even win prizes!
Career Services Networking Events
PLNU's Career Services offers outstanding networking events, creating a jovial environment and inviting PLNU students and professionals from around San Diego to connect with one another.
Career Services also offers career coaching, resources, and employment opportunities on and off campus, as well as professional mentoring connections with alumni, so you can establish meaningful professional relationships and get one step closer to living out your calling.
Y Design Conference
The AIGA San Diego Y Design Conference is a national-caliber design conference hosted by AIGA San Diego. It brings together industry thinkers, innovators, and change-makers for two days of creativity and collaboration.
The Y Design Conference has a reputation for featuring some of the most established names in design as well as up-and-coming talent.
Senior Capstone Experience
All art or graphic design majors complete their studies with a senior capstone experience, either a solo exhibition in the Keller Gallery, or portfolio review, where they present their work to faculty and industry professionals.
Cultural Resources
PLNU students enjoy proximity to major art museums, galleries, and prominent design firms in the San Diego and L.A. areas, which provide unique opportunities to experience art and design firsthand. Additionally, our faculty have cultivated relationships with museums, galleries, and the design industry.
Visiting Artist Program
Each year, we bring national and regional professional artists to exhibit their work, give talks, and speak one-on-one with students in studio settings. We were pleased to have Steve Prince visit PLNU this year.