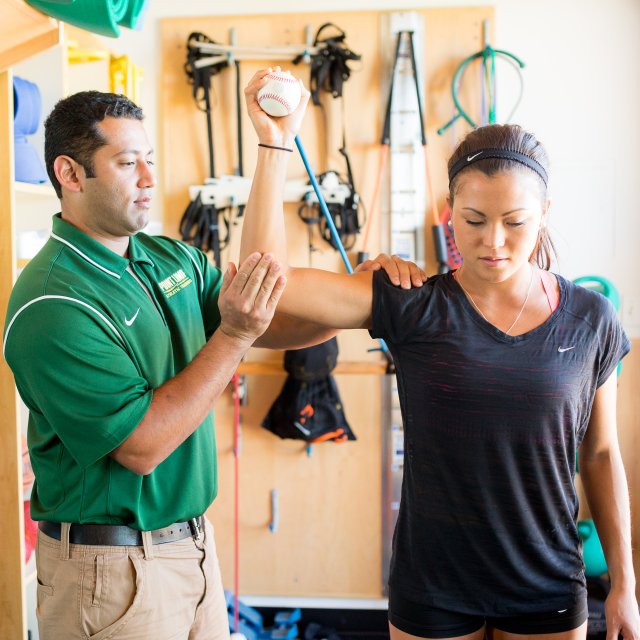 Pre-Allied Health + M.S. in Athletic Training Five-Year Program
The Pre-Allied Health + M.S. in Athletic Training  is a dual 3+2 degree program for incoming first-year students (freshmen).
Students complete a B.A. in Health and Human Performance with a concentration in Pre-Allied Health, and then also earn an M.S. in Athletic Training in 5 years total. Prospective students interested in this option will apply to PLNU as an undergraduate Health and Human Performance Pre-Allied Health Concentration student. 
Prospective transfer students are welcome to apply, you will apply to PLNU as an undergraduate Health and Human Performance Pre-Allied Health Concentration. Please contact your undergraduate academic advisor to explore your options.
Additionally, the prerequisite coursework for MSAT acceptance is integrated into the Pre-Allied Health Concentration within the Health and Human Performance major core curriculum.
Current PLNU Student Information
MS-AT Application Info for Current PLNU Students
Athletic Training, M.S. 
The 3+2 accelerated Athletic Training, M.S. program in is coordination with the Bachelor of Arts in Health and Human Performance (Pre-Allied Health Concentration) and prerequisites at Point Loma Nazarene University. Working with your advisor for this route of admission is critical for the application process, and applicants will apply directly through the internal application below.
Application Checklist For Students Pursing the MS in 5
Note: The application is completed entirely online with the exception of transcripts, which can be submitted electronically through the application or to Raaya Harris at rharris1@pointloma.edu
1. Submit *online application* for admission into the program using the link at the bottom of the page during your 3rd year. Students will be required to apply to the graduate program in the summer of the 4th year using the link on the graduate MSAT website to officially become a graduate student. The program director will send a reminder email to the student in May of their graduating year. 
2. Cumulative GPA of 3.0 or higher in last 60 undergraduate credits.
Meets prerequisites with no course grade below a "C" and all prerequisites taken in the previous seven years
3. Completed the following prerequisite courses prior to enrollment into the program:
Anatomy and Physiology with a lab
Biology
Chemistry
Physics/Biomechanics
Psychology
4. Submit an hours verification form (50 hours volunteering under the direct supervision of a certified athletic trainer. Please have all hours of verification submitted by July 1st of the application year. If you need help finding volunteering opportunities, please contact Ryan Nokes, clinical education coordinator at rnokes@pointloma.edu.)
5. Has read, signed, and meets the technical standards for admission.
6. Has read the athletic training student handbook and understands the communicable disease policy. Students will sign a communicable disease policy and handbook verification form upon admittance into the program.
7. Provides Immunizations Records and completes the Immunization Record form.
8. Completes a Student Health Assessment physical examination. Physical examination must be done by physician/physician assistant/nurse practitioner.
9. Provides a valid, up-to-date CPR Certification. CPR Certifications must be Emergency Cardiac Care or CPR/AED for the Professional Rescuer (note: online CPR courses and Lay Responder Certification are not accepted).
10. Completes an interview with the athletic training program selection committee. All applicants will be scored by each selection committee member using a standardized interview rubric to reduce interviewer bias.
*If you are not currently a PLNU undergraduate student, please do not fill out the above application. Prospective students can apply for the MS-AT program after their third year. Students already with a bachelor's degree may apply on the MS-AT program page.