Do you have a deep passion for learning about the human body as well as desire to aid in patient treatment and rehabilitation? Are sports and the field of competition somewhere you thrive and are passionate about? Does a career that combines healthcare and physical activity sound like the optimal environment for you?
At Point Loma Nazarene University, you can earn your Master of Science in Athletic Training (MS-AT) alongside your bachelor's degree in San Diego's only master's level professional program for athletic trainers. Athletic trainers play a critical role in the prevention, assessment, treatment, and rehabilitation of their patients.
With employment opportunities for athletic training professionals expected to grow by 21% through 2024* earning your MS-AT could be the right decision for you today.
*Based on data from the Bureau of Labor Statistics, 2014-2024
This program will help you optimize your learning, career, and your impact on others as you develop skills in injury evaluation, functional rehabilitation, prescribing therapeutic modalities, and healthcare management. You'll also gain the clinical proficiency necessary to pass the Board of Certification (BOC) exam to become a certified athletic trainer at the end of your studies.
"Our program consists of extensive clinical experiences designed to provide a multifaceted learning experience that will shape the student into sound clinicians who are service-oriented and focused on providing quality patient care." 

Nicole Cosby, Ph.D., ATC
MS–AT Program Director
From current undergraduate students to those already with bachelor's degree who are looking for a career change, our new MS-AT program is designed to prepare individuals for the dynamic and growing field of athletic training and meet the growing demand for master's level professionals. Program options are available for students at any stage of their career journey.
The MS-AT program is offered in 2 different formats:
M.S. in 5 (3 + 2)  program for students without a bachelor's degree. We offer an accelerated program in which you earn both a bachelor's and master's degree. The program takes five years to complete.

For more information on the 3+2 route and the application process please click here to visit our undergraduate web page which provides information on the Health and Human Performance major and your route to transition into the MS-AT. 

Two-year professional program for students who have already earned a bachelor's degree. Please continue to explore this website.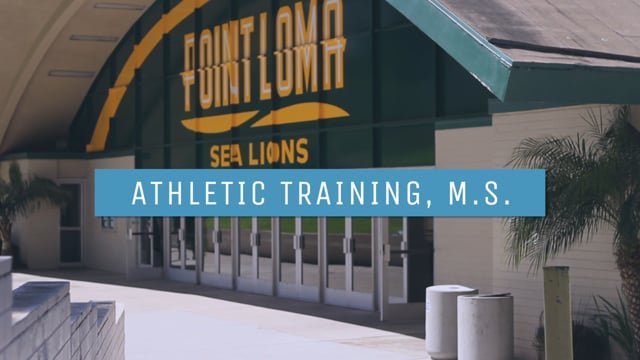 Relevant Experience
Gain clinical skills through diverse internship opportunities, take courses that pair a functional, applied learning approach with the latest industry research and trends, giving you the real-world experience today to fulfill your potential tomorrow.
Professional Preparedness
Gain exposure to valuable clinical experiences designed to prepare you for your vocation while learning from faculty with diverse skill sets in athletic training, physical therapy, and medicine.
Please Click Here to See a List of Clinical Sites Associated with PLNU's MS-AT Program.
Pursue Your Purpose
Become challenged and fully equipped to become highly effective allied healthcare professionals who incorporate a Christian perspective, academic excellence, and professional/relational proficiency into clinical practice.