Do you have a deep passion for learning about the human body as well as a desire to aid in patient treatment and rehabilitation? Are sports and the field of competition somewhere you thrive and are passionate about? Does a career that combines healthcare and physical activity sound like the optimal environment for you?
At Point Loma Nazarene University, you can earn your Master of Science in Athletic Training (MS-AT) degree at Balboa Regional Center which hosts our state-of-the-art athletic training, human performance, and biomechanics labs. These facilities allow you to practically apply athletic training skills in real time and learn from renowned faculty. Our labs are also used by our faculty and students to support professional athletes and organizations across Southern California.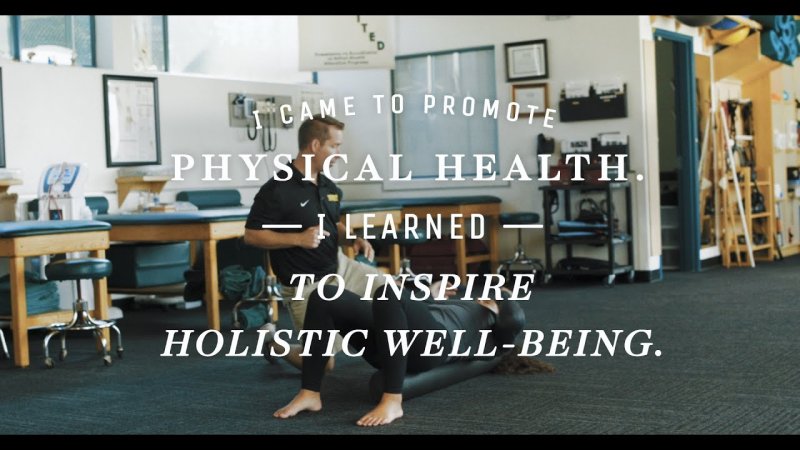 PLNU's hands-on MS-AT program features three concentrations that prepare you for professional practice after graduation. You have the flexibility to choose one of the following concentrations allowing you to be successful — and more marketable — in your future career and vocation:
This concentration is meant for individuals with aspirations to teach athletic training or sports medicine within the career teaching education pathways in a high school setting or those wanting to teach as an adjunct or part-time professor at a college/university. The anatomy education concentration will allow you to take a fully online anatomy course where you'll dive deeper into the anatomy of the human body.
To prepare you for teaching in a classroom setting, students start by learning about some of the best practices in the scholarship of teaching and learning in higher education, followed by hands-on teaching experience in the anatomy laboratory and classroom. Throughout the program, you'll learn how to integrate your clinical experience as an athletic trainer and your knowledge of educational practices to teach the next generation of healthcare professionals. By graduation, students can expect to gain the necessary experience and hours needed to teach classes in anatomy.
2. Biomechanics 
This concentration is meant for individuals who are passionate about applying 3D motion capture technology to study joint motion in sports movements and interested in using a hands-on practical application of your knowledge with professional sports teams and athletes. 
In the biomechanics concentration, students take an eight-week biomechanics course, study with a nationally recognized biomechanist, utilize PLNU's state-of-the-art biomechanics lab, and complete an internship that involves learning the motion capture, force platform, and electromyography systems while possibly working with professional teams and athletes.
Biomechanics is a technical concentration that requires strong mathematical skills and frequent work with hardware and software systems. Those completing this concentration will not only be prepared to work as a certified athletic trainer but will also gain the skills to work as a biomechanist if that's the desired career path.
3. Sport Performance* 
The sport performance concentration is meant for individuals who are excited about the sport and tactic strength and conditioning side of athletic training. 
In this concentration, you'll learn how to not only be a well-rounded athletic trainer but how to incorporate the principles of strength training and conditioning to a myriad of differential populations. You'll learn the principles of coaching, weight training, injury analysis, energy system analysis, testing and exercise programming, all with the goal of learning how to monitor, evaluate, and enhance performance.
After graduation, you'll have the knowledge, skills, and abilities to work with various populations, such as youth, high school, collegiate, military, firefighters, law enforcement, and first responders to not only enhance performance but reduce premature morbidity and mortality.

*Students who choose the sport performance concentration will also be eligible to take the NSCA Strength And Conditioning (CSCS) Exam. 
Benefits of a concentration
PLNU empowers MS-AT students to take charge of their career and vocation unlike any other athletic training master's program. Not only will you graduate with a degree from an accredited program, you'll also graduate with the skills, hands-on clinical experience, and professional resources to make you a well-rounded AT. You have the flexibility to tailor this program to your goals; after the first year of structured learning, your second year will branch into a more specialized clinical experience to prepare you for what it's actually like to have a career in the practice. 

Through PLNU's program, students learn invaluable skills from highly trained professors as well as from other fellow master's students in the kinesiology field to give you a well-rounded experience of what working with various healthcare practitioners looks like. By graduation, you'll understand how to use and apply your skills in your chosen concentration while also working with a diverse range of professionals.
Athletic trainers play a critical role in the prevention, assessment, treatment, and rehabilitation of their patients. With employment opportunities for athletic training professionals expected to grow by 17% through 2031*, earning your MS-AT could be the right decision for you today.
*Based on data from the U.S. Bureau of Labor Statistics, 2021-2031.
This program will help you optimize your learning, your career, and your impact on others as you develop skills in injury evaluation, functional rehabilitation, prescribing therapeutic modalities, and healthcare management. You'll also gain the clinical proficiency necessary to pass the Board of Certification (BOC) exam to become a certified athletic trainer at the end of your studies.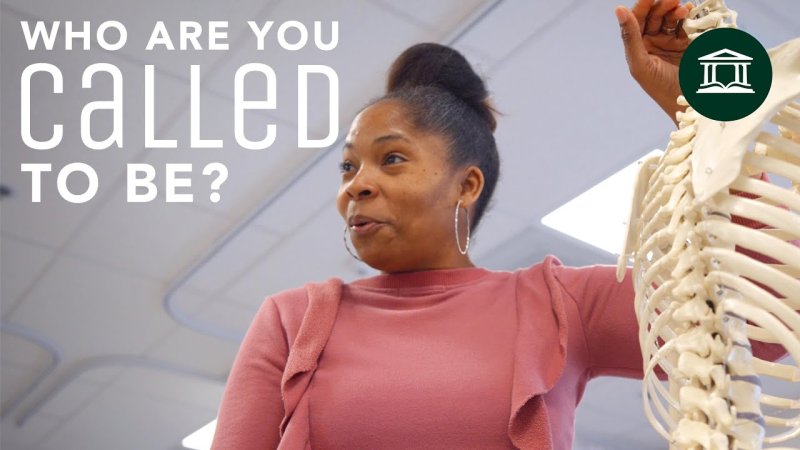 "Our program consists of extensive clinical experiences designed to provide a multifaceted learning experience that will shape students into sound clinicians who are service-oriented and focused on providing quality patient care." 

Nicole Cosby, Ph.D., ATC
MS–AT Program Director
From current undergraduate students to those already with their bachelor's degree looking for a career change, PLNU's flexible MS-AT program is designed to prepare individuals for the dynamic and growing field of athletic training and to meet the growing demand for master's-level professionals. Program options are available for students at any stage of their career journey.
The MS-AT program is offered in two different formats:
M.S. in 5 (3 + 2)  program for students without a bachelor's degree. PLNU offers an accelerated program in which you can earn both a bachelor's and master's degree. The program takes five years to complete.

For more information on the 3+2 route and the application process please click here to visit our undergraduate webpage, which provides information on the health and human performance major and your route to transition into the MS-AT. 

Two-year professional program for students who have already earned a bachelor's degree. Please continue to explore this website.
Program Goals
Prepare students to successfully pass the Board of Certification (BOC) Examination. (PLO-1)
Produce ethical, professional, and evidence-based certified athletic trainers who provide high-quality patient-centered care. (PLO-2,3)
Provide a variety of clinical experiences that exposes students to diverse patient populations and healthcare settings.  (PLO-4)
Create healthcare leaders who are willing to serve others through their selected vocation and calling. (PLO-1,4,5)
Program Learning Outcomes
Upon completion of the MS-AT, the successful student will be able to:
Demonstrate the knowledge and skills required to become a certified athletic trainer.
Critically evaluate and integrate the best available evidence for clinical decision making.
Deliver new evidence that is intended to change clinical practice to various healthcare communities through scholarly research presentations and symposiums.
Describe the importance of collaborating with multiple healthcare professionals to improve patient care in diverse populations.
Demonstrate preparedness for their vocation and calling.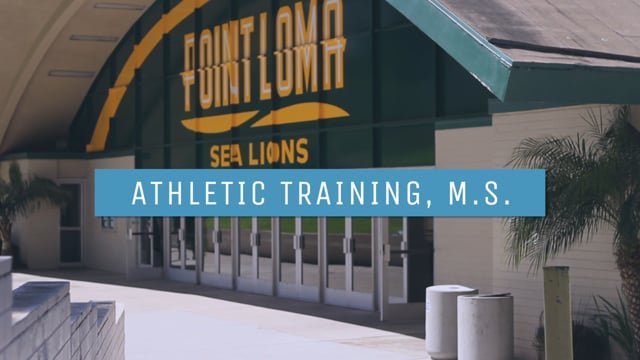 Relevant Experience
Gain clinical skills through diverse internship opportunities, choose a concentration that sets you apart from other athletic trainers, and take courses that pair a functional, applied learning approach with the latest industry research and trends, giving you the real-world experience today to fulfill your potential tomorrow.
Professional Preparedness
Gain exposure to valuable clinical experiences designed to prepare you for your vocation while learning from faculty with diverse skill sets in athletic training.
Your clinical experience is valuable. It allows you to put into practice the hands-on skills you learn in the classroom. Our department consistently partners with clinical sites to give students the best possible opportunities as they step into the clinical portion of the program. Some of the many clinical sites we partner with include:
Professional sports (SD Padres, SD Legion)
NCAA DI athletics (Stanford, San Diego State University, University of California San Diego, University of San Diego)
NCAA DII athletics (Point Loma Nazarene University, Cal State San Marcos)
Community colleges and high schools
Occupational medicine (SD Fire, Amazon, Industrial Athlete Pros)
PLNU partners with over 20 clinical sites in the San Diego region. Please click here to see a list of clinical sites associated with PLNU's MS-AT program.
Note: All clinical sites are currently requiring students to be fully vaccinated against COVID-19 (two doses + booster). Failure to meet your clinical site's vaccination requirements could hinder your progression in the MS-AT and your ability to graduate on time.
Pursue Your Purpose
Become challenged and fully equipped to serve as a highly effective allied healthcare professional who incorporates a Christian perspective, academic excellence, and professional/relational proficiency into clinical practice.