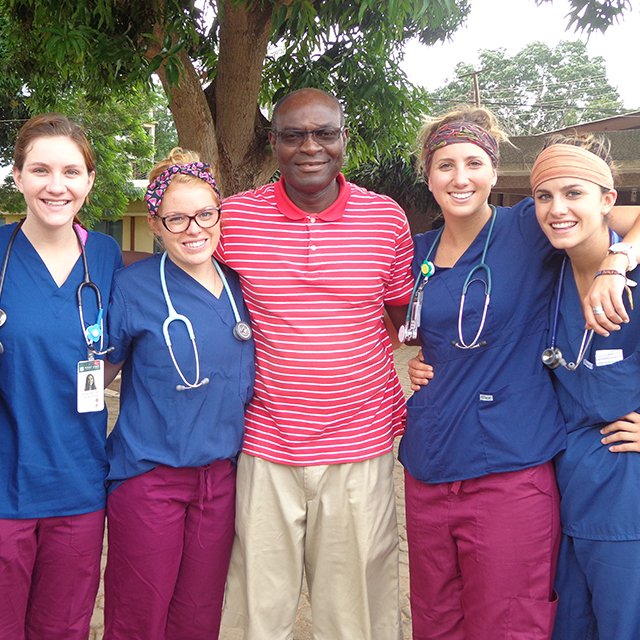 Do you want to put your nursing skills to work in underserved regions of the world? Does the idea of international travel and cross-cultural living excite you? If so, consider spending a semester studying with your peers at the Human Factor Leadership Academy (HFLA) in Akatsi, Ghana.
The Study Abroad Office (SAO) at PLNU helps students participate in incredible programs in every region of the world, with new locations and programs offered every year. PLNU students have studied in over 50 different countries on every continent.
Studying abroad has a much deeper purpose than exploring a new country. It allows us to understand and appreciate the cultural diversity we encounter both overseas and back at home. It helps us comprehend the nature of world events, and prepares us to act as informed global citizens. It provides us with perspective, tolerance, and compassion, all while enhancing our learning and strengthening our academic abilities. It is the ultimate real-world experience.
Ghana
Gain hands-on experience in tropical medicine and maternal health at Sacred Heart Hospital in Ghana. You will have the opportunity to work daily shifts at the hospital alongside Sacred Heart doctors and nurses and PLNU nursing faculty while also taking nursing elective courses. You'll go beyond the traditional classroom by learning through group discussions, development projects, cultural tours, and travel. You will also have the opportunity to partner with female health educators in rural villages and teach health education to the children at the HFLA.
Courses:
NSG 441 Transcultural Nursing & Tropical Medicine (2 units)
NSG 446 Health of Women in a Multicultural World (3 units)
You will also have the chance to go on exciting excursions, such as:
Askosombo Dam and the Volta Lake
Cape Coast Castle Ghana
Dudu Fishing Village
Kakum National Park
Canoe Ride on Lotor Lake
Wli Waterfall Hike
Monkey Sanctuary
Climb Mount Afadjato
Questions?
Contact Dr. Senyo Adjibolosoo at senyoadjibolosoo@pointloma.edu or Kevin Doyle at kdoyle@pointloma.edu.